What Ukraine expects from the U.S., and will Kyiv lose an ally after the elections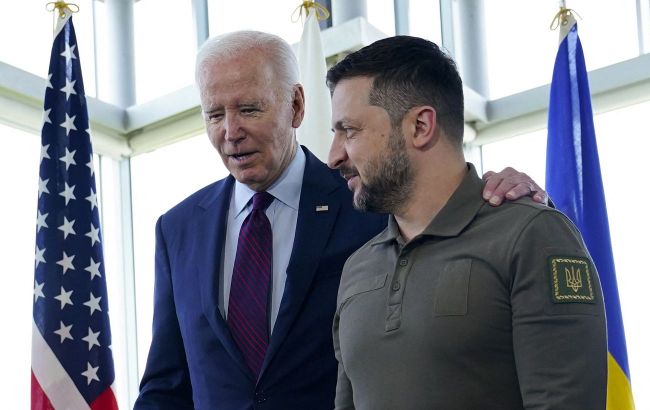 Photo: Presidents Joe Biden and Volodymyr Zelenskyy (Getty Images)
Why did Antony Blinken come to Kyiv, what will Volodymyr Zelenskyy and Joe Biden soon discuss, and will Donald Trump's election become a catastrophe for Ukraine – more details in the material by RBC-Ukraine.
Next week, President Volodymyr Zelenskyy will depart for the United States for the second time during the full-scale war. The official agenda includes participation in the UN General Assembly session. However, undoubtedly, a separate meeting with American President Joe Biden will also take place.
Ukrainian and American leaders have an endless number of topics to discuss. Their recent negotiations at the NATO summit in Vilnius, which lasted twice as long as planned, attest to this. According to Zelenskyy, "we could talk even longer."
This is not surprising, as the United States is Ukraine's number one ally in terms of various forms of assistance and the core of the entire Western coalition. But Ukraine has also become deeply ingrained in the American domestic agenda and will certainly be one of the main topics in the presidential campaign gaining momentum.
Trump and everyone else
With the onset of the full-scale war, Zelenskyy's team made a bet not only on the political establishment but also on a direct appeal to voters in Western countries. Voters from below pushed their governments to provide assistance to Ukraine. Overall, this approach proved successful, with a bright example being Germany, where the political elite's inertia was overcome by public pressure.
On the other hand, if public sentiment changes in any allied country, not in favor of Ukraine, its leadership will also have to adjust the level of its involvement in the war accordingly.
Current trends in the attitudes of ordinary Americans give some cause for concern. According to a CNN poll conducted by the research company SSRS in the past six months, the number of voters who believe that the U.S. should provide more assistance to Ukraine has decreased from 62% to 48%. Moreover, opinions are highly polarized: supporters of Democrats are much more inclined to help Ukraine than Republicans.
Speaker of the House of Representatives, Republican Kevin McCarthy (Photo: Getty Images)
In other polls, numbers may differ, but the overall trend is clear – the popularity of a pro-Ukraine position in the United States is decreasing, though not catastrophically (the majority of Americans still support further assistance to Ukraine). Another alarming moment is that on the Ukrainian issue, non-partisan voters are getting closer to the positions of Republicans, particularly the undecided electorate, which will decide the fate of the 2024 presidential race.
A similar situation is seen in the political elite. Ukraine still has the support of both American political parties, as they never tire of reminding. However, the camp of Ukraine skeptics (Republicans who support Donald Trump) is becoming not only louder but also more influential over time.
This month, bipartisan support for Ukraine in Congress will face a serious test. The Biden administration has submitted a budget proposal for consideration, with a total of 40 billion dollars, of which 24 billion is allocated for assistance to Ukraine (though direct military aid is limited to 13.1 billion dollars, some of which will go toward replenishing Pentagon stocks).
Both sides – the Biden administration and Ukraine skeptics from the Trump camp – are resorting to various tactics, as Politico reports. For example, the White House has included funding for various unrelated but popular issues among voters in the "Ukraine" bill, such as drug control (a tactic also popular in Ukraine's Parliament). The bet is that it will be difficult for Republicans to explain why they didn't vote for it. Additionally, the timing of the congressional vote coincides with President Zelenskyy's visit and public appearances in the United States, which is also planned to be used as a pressure factor.
Opponents have their populist arguments. The most obvious one is that the White House's proposal allocates 24 billion for issues related to the Russian-Ukrainian war and only 16 billion for domestic U.S. needs. Therefore, Trumpists are already spreading their favorite argument: that Biden and his team are more concerned about Ukraine's problems, which are thousands of miles away, than the interests of Americans themselves.
Of course, as in politics everywhere, the personal factor plays a role. The key role in passing the new aid package is played by the Speaker of the House of Representatives Kevin McCarthy. His position is very precarious; he only assumed the role on his fifteenth attempt earlier this year. The Trumpist wing of the Republican faction openly blackmails him with possible resignation, and they have been successful.
After months of hesitation, he finally decided to initiate impeachment proceedings against Biden – an initiative that has no theoretical chance of success but is strongly supported by Donald Trump and his supporters. In the context of the growing personal rivalry between Biden and McCarthy, the successful passage of a new aid package to Ukraine becomes even more problematic.
In July, 70 Republican congressmen (a third of the entire faction) voted to completely stop any aid to Ukraine. The proposal was resoundingly defeated, but the history of impeachment shows that the Trumpist minority within the Republican Party can influence the party's position.
All these difficulties are a preview of what may await Ukraine next year when the presidential campaign in the United States picks up full steam. It is said by informed sources in Kyiv that receiving aid from the United States in 2024 will be more challenging than it is now.
On the Democratic side, there is no particular intrigue – Biden currently appears to be the uncontested candidate. Among Republicans, the competition is in full swing, although the leader is clear: according to the average poll data from FiveThirtyEight, Donald Trump leads with 53% support among Republicans. Florida Governor Ron DeSantis, who appeared to be a real competitor to Trump just a few years ago, has sharply declined in position but still holds second place with 13.4% support.
Surprisingly, 38-year-old businessman of Indian origin Vivek Ramaswamy, who has no political experience, has risen to third place with a rating of 7%. Obviously, Ramaswamy's popularity surge was fueled by his sharp and controversial statements, including those regarding Ukraine. He not only advocates for ending aid to Ukraine but also for "freezing the conflict," which means recognizing Russia's occupation of part of Ukrainian territory.
Vivek Ramaswamy (Photo: Getty Images)
Ramaswamy, who is said to be "trying to be a bigger Trump than Trump himself," has gained the favor of the former president. Indeed, Trump announced his openness to the idea of nominating Ramaswamy as his vice president candidate. Clearly, this is the young businessman's role in this campaign, as his chances of becoming the Republican presidential candidate are very slim.
For Ukraine in this situation, the most dangerous aspect is that the three most popular Republican candidates - Trump, DeSantis, and Ramaswamy - hold anti-Ukrainian positions or, at the very least, have made ambiguous statements about Kyiv, as in the case of DeSantis. Ukraine's supporters, including former vice-president Michael Pence and former U.S. representative to the UN Nikki Haley, currently lag behind in the polls and have almost no chance of winning the nomination.
The question of how such differing positions on the most important issue of U.S. foreign policy, Russian aggression against Ukraine, can coexist within one party has long puzzled American experts and journalists. The Republican Party no longer resembles itself from the days of Ronald Reagan.
"For Republicans, historically hawkish and supportive of American interventionism, the internal battle over Ukraine aid underscores what analysts say is the party's broader struggle to define what it represents - a long-smoldering question that is expected to grow more torrid as the next election cycle heats up," writes The Washington Post.
For Ukraine, the question is simpler but more global: Is the potential election of Trump, with currently 50/50 odds, a disaster or not? And what to do if he does become the next President of the United States?
Important caveat: numerous criminal cases against Trump, according to American law, do not prevent him from running for president, and even if he receives a guilty verdict, he can still run for office.
Donald Trump (Photo: Getty Images)
Alyona Hetmanchuk, Director of the New Europe Center, acknowledges in a conversation with RBC-Ukraine that in the Ukrainian situation, they have to consider the scenario of Trump's possible victory.
"It would have been worse if we came out and said that Trump's election is a disaster for us. With Biden, there is more predictability; we already know his approaches, and know how to influence them, although it is happening slowly and at a high cost to us. With Trump, we don't know what to expect; for him, the question of Ukraine's integrity is not sacred. And after all the accusations and criminal proceedings, many experts, military personnel, diplomats who worked with him during his first term won't go to him," Hetmanchuk says.
In a recent interview with The Economist, Zelenskyy stated that Trump would never support Putin if he were elected. "That isn't what strong Americans do," the President said.
Such statements may become part of the Ukrainian government's overall strategy for the next year, and in the worst-case scenario, in the event of Trump's election, during his presidency. A competent source in the Ukrainian government explained to RBC-Ukraine that it is possible to work with Trump. The main thing is to create situations where he will be forced to make decisions in favor of Ukraine, such as fearing new accusations of working for Moscow. In any case, with Trump in the White House, things will become much more complicated for Ukraine, although his election will not be a "disaster" for us.
Training in the American manner
In any case, Ukraine currently has to deal with President Biden and his administration. Despite the significant volume of contacts between the leadership of both countries and the multi-billion-dollar American aid, it's not possible to describe the current relations between Kyiv and Washington as ideal. Ukraine consistently expresses dissatisfaction with the levels of military aid, often voicing these concerns publicly. The U.S. states that they are doing everything possible. The infamous "Ukraine fatigue" within the American establishment, if it exists, fortunately, hasn't manifested itself in practical actions yet.
Of course, both Ukraine and the U.S. have their national interests, and they are far from aligning completely. However, given Ukraine's current circumstances, this dissonance has very specific consequences. The problem isn't just that there is a difference in vision for ending the war between Kyiv and Washington. The problem lies more in the fact that the American government doesn't currently have a concrete vision of the future, as acknowledged by all the sources RBC-Ukraine spoke with.
Volodymyr Zelenskyy and Antony Blinken (Photo: president.gov.ua)
"There is still no answer to the question of whether Washington's general stance anticipates ending the war in a 'negotiated peace' or 'negotiated settlement' format, which inherently involves some concessions from the Ukrainian side. There are many indications that this is the most optimal scenario for them, evidenced by their calibrated, measured support," says Alyona Hetmanchuk.
In her opinion, for Biden's presidential campaign, it's not necessarily crucial for Ukraine to achieve an absolute victory as the Ukrainians envision it. It might be sufficient to simply stop the hostilities and bloodshed, which can be sold to the electorate. Biden, who won the elections with a promise to end wars (and barely managed to do so in Afghanistan), is now attempting to balance support for Ukraine and avoiding further escalation, potentially even a World War Three, especially involving nuclear weapons. Additionally, as Hetmanchuk points out, American voters' concerns about whether to continue supporting Ukraine and whether China (rather than Russia) is the main threat to the U.S. also play a role.
In summary, the fear of a nuclear war, the lack of an absolute Ukrainian victory in the war, and concerns about China as a threat to the U.S. are the components of American policy regarding the Russia-Ukraine war.
According to sources within the Ukrainian government, Western countries, including the United States, have two main red lines. The first is the liberation of Crimea through military means, and the second is the potential nuclear strike from Russia, which they will have to respond to, with all ensuing consequences. However, the worst-case scenarios for Western actions are not yet visible. They are determined to avoid them at all costs.
From a Western, particularly American perspective, the situation is complicated by the fact that the Ukrainian government deliberately and systematically burned bridges when it comes to peace agreements or any compromises. Their goal is singular and maximalist - the restoration of Ukraine's territorial integrity within the borders of 1991 (although the war won't necessarily end there), with no alternative exit strategies being developed.
This severely limits the space for conventional diplomatic maneuvers. Therefore, both the Ukrainian and American governments are largely driven by the demands of the current moment.
Ukraine will continue to demand military and financial assistance from the U.S., while the Americans will insist on addressing corruption. According to the information from a source, this topic was raised during Blinken's recent visit to Kyiv, but there were not many specific cases discussed, except for a bill strengthening the independence of the Specialized Anti-Corruption Prosecutor's Office, a condition for receiving funds from the IMF, among others. However, there was no mention of the arrest of oligarch Ihor Kolomoisky, despite the long-standing interest of American law enforcement in him. Nevertheless, this case may be suitable for improving the overall negotiation atmosphere.
"The more Ukraine's resilience is recognized, the more the issue of corruption will be emphasized. This serves as a counterbalance to our requests for faster arms deliveries. The louder our criticism, the louder they will raise questions about corruption, the rule of law, and so on. We ask them uncomfortable questions, and they create discomfort for us," says Alyona Hetmanchuk.
Another issue on the Ukrainian domestic agenda that American interests are focused on is holding parliamentary and presidential elections. Due to the martial law, the parliamentary elections that were scheduled for October will no longer take place. Conducting presidential elections within the defined timeframe next year is also in question.
On the official level, the topic of Ukrainian elections was raised last month by Republican Senator Lindsey Graham during his visit to Kyiv. "We will continue to fight to keep the weapons coming to you so that you can win a war that we cannot afford to lose. But you must also do two things at the same time. Next year, elections are to be held in Ukraine," Graham stated. In response, Zelenskyy assured that conducting elections during wartime is extremely challenging, but Ukraine is prepared to make necessary legislative changes, and the West needs to provide support, both financially and by sending observers to the front lines.
RBC-Ukraine's sources had varying opinions on whether Graham's statement was his personal initiative or if he was speaking on behalf of certain circles within the American establishment and how Ukrainian elections might benefit them.
In any case, during Secretary of State Blinken's recent visit to Kyiv, the issue of elections was also raised, with an important caveat: the Americans emphasized that they were not exerting any pressure on Ukraine in this regard. Conducting elections or not is a sovereign decision for Kyiv, and they are only ready to provide necessary assistance if needed.
However, the fact that the American leadership is discussing the elections in Ukraine is already indicative – thus, this topic is on the agenda and may gain relevance over time.
Presumably, the Biden administration is under pressure due to the efforts of the Trumpist wing of the Republicans, including the well-known host Tucker Carlson, who is vigorously trying to spin the topic of Ukrainian elections in their favor. In numerous broadcasts, podcasts, and social media posts, Carlson and his like-minded individuals propagate the thesis that Ukraine is an authoritarian state because it doesn't hold elections, so why Biden is helping such an undemocratic country. And even though claims about the authoritarian regime of Zelenskyy are entirely composed of populism, unreliable, and distorted facts, they find their audience in pre-election America.
Tucker Carlson: "Zelenskyy's secret police have raided monasteries" (Photo: screenshot from youtube.com)
"Americans need to train us constantly. They provide us with assistance, so we must fulfill certain tasks. The first is anti-corruption, the second is transparency in our use of their aid," says a representative of the "Servant of the People" party in a comment to RBC-Ukraine. Even in the public statements of Biden's team members, there are signals that Ukraine will not be their top priority soon, and obtaining funds for war will become increasingly difficult.
Nevertheless, at least in the short term, it is not advisable to expect the U.S. to abandon Ukraine, as they have already invested too much in us and have become deeply involved in our situation, according to another government insider. Of course, provided that Ukraine does not fall apart on the front lines or internally, for which there are currently no indications. Furthermore, achieving significant and visible victories on the front lines is even better for strengthening American-Ukrainian friendship – there's nothing better than winners for Americans.