Striking at 500 km: What's known about Taurus missiles and will Ukraine acquire them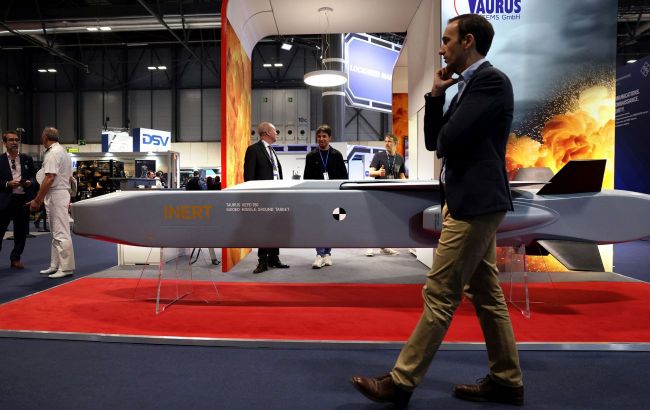 Taurus missile (Getty Images)
High-precision German Taurus missiles might soon become a reality for the Ukrainian Armed Forces (UAF). These missiles have the potential to strike targets deep beyond the frontlines and pose a substantial challenge to the air defense systems of Russian occupiers. The issue of transferring these missiles to Ukraine could find a resolution in the German Bundestag in the near future.
The Taurus missile, known for its precision and long-range capabilities, could play a key role in reshaping the course of military operations. A comprehensive report by RBK-Ukraine delves into the specifics of the Taurus missile and its potential effects on the ongoing war.
Will Ukraine receive Taurus missiles?
The German government has been engaged in ongoing discussions for several months regarding the potential supply of Taurus missiles to Ukraine. Following Britain's decision to provide Ukraine with Storm Shadow missiles with a range of 250 kilometers, a Bundestag deputy called for the consideration of supplying Ukrainian forces with German long-range Taurus missiles with a range of up to 500 kilometers. Although Ukraine officially requested this armament from Germany, it initially faced a refusal.
On August 3, German Minister of Defense Boris Pistorius stated that supplying Taurus missiles to Ukraine is not a priority, and there is no need for that. He also referenced the United States, as it has not yet supplied long-range ATACMS missiles to Ukraine.
As Bild reported, one of the reasons Berlin has hesitated to provide Taurus missiles is concerns that Ukraine might employ them to strike Russian territory.
Notably, support for supplying Taurus missiles to Ukraine has gained momentum among Bundestag deputies in recent weeks. Even within the ruling Social Democratic Party of Germany (SDP), Chancellor Olaf Scholz's party, a shift in position has occurred, with SDP members now advocating for the transfer of Taurus missiles to Ukraine.
Furthermore, the Head of the Permanent Delegation of Ukraine to the NATO PA Yegor Chernev has announced a significant breakthrough. He stated that an agreement has been reached among Bundestag deputies to transfer long-range Taurus missiles to Ukraine. An official decision is currently being prepared.
The Bundeswehr possesses a stock of 600 Taurus missile systems, of which 150 are suitable for deployment. While 450 of these missiles are currently non-operational, members of the opposition Christian Democratic Union (CDU) party have argued for their modernization for export purposes.
How Taurus missiles will help Ukrainian forces
The Taurus missile, often compared to the British Storm Shadow and the French SCALP, both already in the possession of the Ukrainian Armed Forces, boasts a significantly longer range of up to 500 kilometers. This range enables strikes against military infrastructure deep within territories occupied by Russian forces, including Crimea.
Proponents of supplying Taurus missiles to Ukraine contend that these German precision-guided missiles could assist Ukrainian forces in overcoming minefields laid by Russian troops and regaining control over crucial territories.
Taurus missile (Getty Images)
Ukrainian Air Force officials are hopeful for a favorable decision by Germany on the supply of long-range missiles, as Ukraine's military requires weapons like Storm Shadow, SCALP, and Taurus. These high-precision, long-range missiles have already demonstrated their effectiveness in targeting Russian storage facilities, bridges, and crossings, showcasing their devastating impact and limited countermeasures. As Ukraine inches closer to a potential victory, Spokesperson for the Ukrainian Air Force Yurii Ihnat emphasized the value of acquiring additional advanced missile systems like Storm Shadow, SCALP, and the German Taurus.
Ihnat highlighted a key advantage of these missiles – their ability to fly at low altitudes, making interception by conventional air defense systems extremely challenging for Russian forces.
Technical specifications and features of the Taurus missile
Taurus Systems GmbH, a joint venture between MBDA Deutschland and the Swedish company Saab Bofors Dynamics AB, has developed a high-precision air-to-ground missile known as Taurus. The missile was first introduced in 2005.
Taurus missiles are in service with Germany, Spain, and Sweden. An export version of the missile was produced for South Korea.
According to information from the Defense Express, the carriers of this missile type include Western aircraft such as the Tornado, Eurofighter, JAS 39 Gripen, and others. However, German experts express confidence that Taurus can be adapted for use with the Su-24 aircraft, similar to the SCALP/Storm Shadow missiles.
The basic version, TAURUS KEPD 350, is a subsonic air-launched cruise missile capable of engaging targets at distances of up to 500 km. It weighs 1.4 tons and has a length of 5 meters. Its flight speed ranges from 0.6 to 0.95 Mach.
Thanks to its powerful MEPHISTO warhead, it can engage heavily protected and fortified targets. The warhead contains two charges and is capable of penetrating concrete obstacles.
The warhead detonation system can be programmed for either airburst or ground penetration. In an airburst mode, both charges detonate simultaneously.
As Defense Express reported, the Taurus warhead can be programmed to detonate on a specific floor of a building.
The advanced warhead design features a tandem charge, with the main charge being high-explosive. It is housed in a robust casing optimized for penetrating concrete and tough soil. The weight of the explosive charge along with the casing is 400 kilograms, making the total warhead weight 480 kilograms.
Stealth technology is integrated into the missile's design, reducing its visibility to radar, infrared, and other detection systems. Taurus possesses a distinctive fuselage shape, leading some to compare the missile to a "flying kayak."
Another standout feature of the Taurus missile is its combined guidance system. The missile can fly over significant distances without relying on GPS, as its navigation system incorporates three subsystems:
IBN - Image-based navigation
TRN - Terrain-based navigation
MIL-GPS - Global positioning system
High precision is ensured through an autonomous inertial navigation system, which is periodically corrected during flight using radar data. Upon approaching the target during the final stage of flight, an infrared seeker head for autonomous guidance is activated.