Story of Ukrainian combat medic grieving loss of brother and husband in war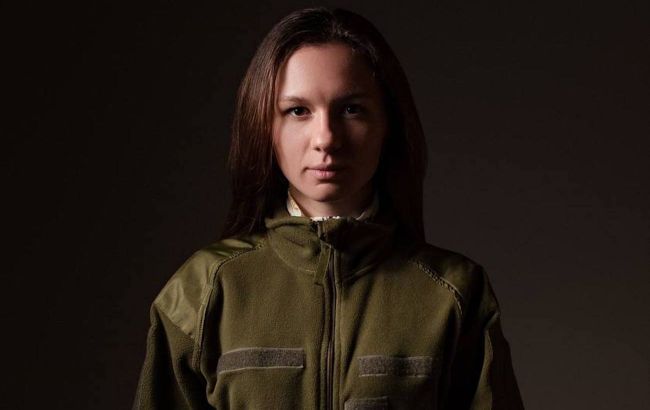 Anhelina Rymska, Ukrainian military
Military Anhelina Rymska shared about the loss of her two closest people - her brother and husband, who were combat medics.
Seeing how almost all the male members of her family took positions on the front lines, Anhelina Rymska herself decided to get closer to the hot zone. She had trained to be a journalist and had interned at "Radio Svoboda" publication.
Her brother Oleksii was serving in the "Vinnytsia Scythians" battalion in Svitlodarsk. One day, there was an attempted infiltration by sabotage groups near their positions, which they repelled. Anhelina decided to interview him. From that moment on, military journalism became her focus. Later, she signed a contract and began serving in the 59th Brigade of the Armed Forces of Ukraine in the press department.
Currently, her unit is stationed in one of the hottest areas of combat - Avdiivka. During the full-scale war, she lost her two closest people - her husband and brother. She shared her experiences of the war and the loss of her loved ones with RBC-Ukraine. Here is her direct speech.
On joining the army
I belong to the category of people for whom the war began in 2014. I remember when I was still in school, I tried to save my allowance, I saved as much as possible to donate to the army once or twice a month. I constantly watched the news. The war became personal for me when my brother signed a contract. Later, I studied journalism and decided to sign a contract myself.
As for my parents' attitude towards my decision, my mother died in a car accident back in 2018, so she couldn't say anything. And my father didn't care.
Another question is my brother and the husband I had just married. They tried to stop me, but in the end, I decided to still go down this path.
On her brother Oleksii
My brother was a second-group disability. He has been missing an eye since he was three years old, but he still chose to serve. It was a conscious decision, and he didn't shy away from it. He first graduated from the Bershad Medical College in 2015. He worked as an assistant to a family doctor in a clinic for several months, and then he went to the Pirogov National Medical University, specializing in family medicine.
Pictured: Oleksii(brother), Anhelina, and her husband Maksym.
Then he signed a contract with the 9th Motorized Infantry Battalion "Vinnytsia Scythians" of the 59th Brigade. He served as a combat medic and experienced the full-scale war in Oleshky, Kherson region. The brigade was surrounded, it was hell on earth. Russians used everything they could against them, from small arms to aviation. There were many wounded and killed. Oleksii provided medical assistance to everyone, from the platoon commander to the soldiers.
There was a moment when they were leaving the encirclement, and a shell hit our boys' armored vehicle. The fighters pulled out the wounded soldier and applied tourniquets incorrectly. My brother quickly ran to them and applied them correctly, saving the soldier's life. He lost his arm, but he was alive. And that man still thanks him to this day for saving his life.
On her husband Maksym
I met my husband a long time ago. Once, Oleksii came home with his friend Maksym. At that time, my brother was a combat medic in the platoon, and my future husband was a combat medic in the company. We talked, and later he messaged me on Instagram.
After the rotation, he took me to his village and said, "Let me show you something." He took me to an island near the river. We watched the sunset, and suddenly, he took out a bracelet from his bag and proposed to me. It was probably the most romantic moment in my life.
Then I joined the service. I was on training, but we kept in touch. He came home for the weekend. We were walking around the city when suddenly, he got down on one knee and proposed to me. At that moment, I realized that I had never dreamed of a better husband. He is the best thing that happened to me in my life.
Pictured: Anhelina and her husband Maksym
We were together during training. And although we lived in different barracks, we spent all our free time together. We got married on February 19 in Mykolaiv and went home for our vacation. Who knew that in 5 days, a full-scale invasion would start, and all I would think about would be "I hope my boys survive."
At that moment, I realized that there is nothing worse than having your loved ones constantly at risk. Later, my opinion changed: there is nothing worse than losing the people who were your life.
On the execution of her brother by the Russians
Oleksii was in the Zaporizhzhia direction, Maksym went to the Kherson region, to the second part of the battalion, and I was stationed at a permanent location point. I remember how much I worried about them. It was so hard. But every time I heard their voices, it was like they came alive again.
On April 21, Maksym called me and told me that Oleksii was no longer with us. He told me that they had just moved from the Zaporizhzhia region to Donetsk. There was confusion there in the first days, they didn't know the situation, and street battles were ongoing. Oleksii was near his platoon, but he heard on the radio that the marines needed a medic. He took his medical kit and rushed over to them immediately, although the guys told him, "Where are you going? You don't know what's really happening there." But Oleksii replied, "Those guys need me," and took off.
When he was providing medical assistance, an enemy sabotage group approached from the side and shot him at point-blank range. Even though he was a medic and raised his hands because he was unarmed, they didn't care. Moreover, when the Russians were leaving, they booby-trapped him with a grenade. Luckily, our guys found it when they were evacuating him. Otherwise, there would be nothing to bury.
My husband and I struggled a lot with the loss of Oleksii. It was at his funeral that we met for the first time after our wedding. It was a strange feeling.
Over time, my husband and I started arguing. We didn't understand each other. I begged him not to go to the frontline.
On the loss of a husband
During his nearly 7 years of service, Maksym saved dozens of lives, both civilians and military personnel. He participated in the battle for the Mykolaiv military airport "Kulbakino," where there were many wounded from the neighboring unit whom he provided assistance under conditions that required even engaging in combat. They repelled the airport from the Russians with their group.
The last time I saw him alive was on November 23, 2022. He asked for the day off for his birthday. Then, on the morning of December 9, 2022, I woke up at 4 o'clock with a bad feeling. I prayed fervently, hoping it would help. The day before, we talked a little more than usual, and he said, "I want the war to end so badly. To be demobilized and live a normal life with you. Raise our children and not think about anything other than everyday life." And his final words to me were, "I love you very much. Hugs to you, I miss you. Take care of yourself as I would take care of you."
The ground slipped from beneath my feet at 8:06 the next day, when a comrade messaged me and said that Maksym had been killed. He was in a neighboring position when the Russians approached our troops to surrender, but then the enemy began a mortar bombardment. My husband rushed to assist one of these Russians who wanted to surrender. He thought he could be exchanged for one of ours. But a missile fragment hit him, passing from his right shoulder to his heart. My husband gave his life to save an injured enemy. I could never do the same.
When I learned of his death, it felt like I wasn't there but somewhere else. I didn't understand what was happening around me. But the hardest part was when I went to the morgue for my husband. Because you can't believe it until you see it.
Maksym always wore his wedding ring on a chain around his neck during combat. I touched his chest and remember that ring. I asked the person working in the morgue if he had a cross and a ring. She handed me a small package. My hands were shaking as I took the ring out and put it on his finger, reciting our wedding vow. We kissed on February 19 after saying our wedding vows, and on December 9, I was bawling my eyes out as I kissed him on his hand. It was one of the hardest moments of my life.
He was buried on December 15. The 16th was my birthday, which we were supposed to celebrate together. We talked so much about it, and I know he was with me all day that day.
Pictured: Anhelina and her husband Maksym with their wedding rings.
On the hardest moments of war
In June 2022, I joined my husband and brother's battalion. I engage in journalism here on a freelance basis, as there are no "press officers" positions in battalions. I also volunteer for the VATRA organization, which does a lot for Ukraine's victory and supports the army.
The hardest part is losing comrades. Especially when there are people you've been through so much with, and every loss feels so personal. A piece of your soul dies with that person. I truly remember each one and try to write under almost every post on our battalion's social media page that we remember them.
But of course, the hardest thing for me was losing my beloved husband Maksym, my dear brother Oleksiy, and my best friend "Bombik."
On Avdiivka
We are currently on the Avdiivka front. The situation is difficult; there are far more occupiers than there are our soldiers. But we hold our ground with dignity, and the guys are amazing at it. Titans.
The exhaustion is tremendous. Many experienced comrades have fallen in battle. It saddens us, but the desire to live and make sure that our children don't see war is what motivates us. That's why our fighters stand like brave titans for their families and every inch of our land.
On war and Ukraine
I know the war won't end soon. I know there will be many more casualties. Each time, it becomes harder and harder to bear. But in the future, I see Ukraine with all its territories back. Every inch of it. With decent living conditions. Because it is for this that we lose our loved ones, the people we value the most.