'Our silence is their death': How families wait for captured Azovstal defenders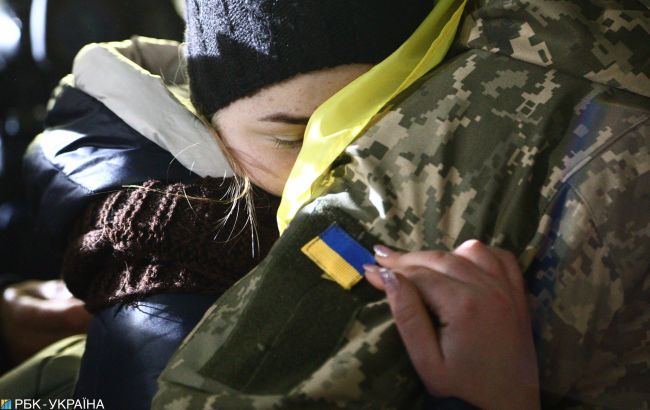 Relatives of the POWs are waiting for them (Vitalii Nosach, RBC-Ukraine)
The sister of Ukrainian soldier Artem from the Azov unit has been waiting for him from captivity for more than a year. About the girl's attempts to impact the exchange, her brother's defense of Azovstal Iron and Steel Works, and the broken Mariupol - below in the RBC-Ukraine article.
More than a year ago, the "heart of Mariupol" stopped, and hundreds of defenders who fought until the very end found themselves behind bars in the Russian-occupied regime. Azovstal became a symbol of this war due to its prolonged defense in complete isolation. After months in captivity, some Ukrainian soldiers were eventually freed, but not all.
Among them is Artem - the brother of Yevheniia Synelnyk, a representative of the Association of Azovstal Defenders' Families."Today, she does everything possible to bring her brother home. In their childhood, their parents told them, "You are the closest people in the world and should take care of each other." And today, the girl's top priority is to bring her brother back from captivity.
Yevheniia told RBC-Ukraine about Mariupol, Azovstal, and her desperate plea for help. Here is the story in her own words.
About her brother, childhood and family
We grew up without the support of grandparents or other relatives. We have a hardworking father and a mother who takes care of the house and children. Since childhood, our parents told us, "As brother and sister, you are the closest people in the world, and you should take care of each other." Our mother could leave us alone to go grocery shopping, and my brother was often the "older one" (even though I am two years older).
Like most families in the 90s, we had shared clothing. Initially, my brother would wear the clothes after me, and then I would wear them after him. But we didn't have any problems with that because our parents explained how things work and how life goes in this world. At a time when there was hardly any food at home, our father would mix bread crumbs in a raw egg as a form of entertainment and add a little salt to it. We really enjoyed it.
When computers and computer clubs appeared, I liked watching my brother play video games. He had a talent for it. I still think he could have been an esports player. Adults would constantly call him to the computer club to play on their team.
One of our favorite places to visit, where our parents took us for walks, was the World War II Museum. We enthusiastically climbed on the colorful toy tanks, examined the wall murals and photographs. During that period, apart from cartoons, we watched movies about war. My brother became interested in history and reading - it remains one of his greatest passions to this day. He seeks answers to all his questions in books.
Yevheniia and Artem in their childhood (photo provided by Yevheniia)
His other passion was sports; he attended martial arts sections. He participated in competitions, and what stood out the most was what his coach always said - "the best fight is the one we can avoid."
In 2014, during the Revolution of Dignity (the culmination of Euromaidan protests with deadly clashes between protesters and state forces in Kyiv resulted in ousting of elected President Viktor Yanukovych who provoked the demonstrations by refusing to sign a political association and free trade agreement with EU, instead choosing closer ties to Russia), his strong sense of justice led him to join. In the sports club where he trained with other boys, they held self-defense workshops for anyone interested. And on Maidan Square, he took part in the evacuation of the wounded.
Unfortunately, what he understood back then, I couldn't fully grasp, let alone others. Only now do we see how the meaning of the word "nation" reaches many Ukrainians. My brother later wrote about it:
"The motivations to go to Maidan, to Azov, are simple. It's nationalism. A common reason for the entire nation. It's strange for me to hear people associate this system with something terrible. No one takes into account countries like China, Japan, Hungary, Poland, Israel, where nationalism is a way of life in society. If the Cossacks didn't think about Ukrainians, would there be Ukraine and Ukrainians?"
From the age of 17, my brother and I lived together. Our parents moved out of city, and we learned to navigate adult life ourselves: working, managing utility bills, and paying them. We learned this and the common language because two teenagers living together can be challenging. We witnessed how difficult it was for our parents during our childhood, so we had a plan to do everything we could to help them. To the phrase "we are the closest people in the world, who have each other," our parents added, "because when we grow old and are no longer here, you will have your own families, lives, but whatever happens, you will be the greatest support for each other."
About February 24th
It was clear that something was going to happen the day before. I woke up to my mom's call around 4:30 in the morning. I packed a backpack and followed the news. I checked the shelter in the building. I realized I would have to go to the subway if necessary. I was most worried about my brother. I immediately messaged him.
I was in Kyiv the whole time and didn't go anywhere. We could even hear the artillery fire. The shortage of bread was noticeable. But, honestly speaking, it didn't scare me as much as the thought of my brother. At that moment, he couldn't share many details. The only thing he asked was for our parents and me to stay safe. It gave him peace of mind.
My brother serves in the Azov unit, and the base was in Urzuf (Donetsk region, near Mariupol). So the last time we saw each other was in the summer of 2021 when he came home for a few days on leave.
Artem before the Russian invasion of Mariupol (photo provided by Yevheniia)
During our conversation in the kitchen, we discussed ways to help our parents, as our father fell seriously ill and was hospitalized during the coronavirus pandemic. Every time he visited, he would prepare borscht, while I made waffles for him. So, before each visit, he would write, "Prepare the ingredients for borscht and waffles."
About Mariupol
My brother had written about the city being under siege as early as the end of February 2022, signaling that things were escalating. It was difficult for me to understand why no one was taking action or providing assistance. As the situation worsened, I, like other relatives, began raising this issue on social media. I wrote posts and cried out about the total hell happening in Mariupol.
My brother and I communicated whenever he had a connection and the opportunity. In early April, I found out that he had sustained shrapnel wounds and concussions, but it wasn't considered an injury there, so he continued his duties until being captured.
Reading farewell messages was hard because each time felt like the last. How could one accept such a reality? The most challenging part was waiting for communication, as one day, two days, three days would pass without knowing if it was all over. I checked out the status "last seen 12 hours ago/a day ago," and so on.
I remember writing to him about which worms are edible and how to purify water because by May, they were hardly eating or drinking anything. He probably laughed at that because I couldn't even imagine what it was like there. It was probably on the same level as when I wrote to him about the possibility of a blockade or evacuation. But those never came.
Attempts to influence the exchange
Later, we started participating in protests at Independence Square in Kyiv and connecting with each other. I remember when there were only 7 or 10 of us. It grew with each gathering. During that time, Kateryna Prokopenko (wife of the Azov commander Denys "Redys" Prokopenko) went with other women to the Pope, seeking religious intervention for extraction. There was hope then, a constant belief that the world wouldn't allow such a tragedy. But as we can see, the world and all those organizations are spineless.
So many films and stories portray happy endings, with heroes or people who help. I thought the world wouldn't simply watch as people died in real-time, surrounded, without food, medicine, or weapons. But it turns out they can. The feeling of helplessness, knowing you can't do anything, and the world can't do anything.
There were moments when you thought you were going crazy because you had to accept the fact that your loved one might die. There's no right answer to what to do when your loved one is captured. But for me, it's important to keep the information wave going. Because, essentially, that's what saved their lives. And now, if we fall silent, they will die in that silence. The fact that they're being tortured to death is undeniable. The attack in Olenivka is one example. So, if you imagine a rope, where on one side we pull and shout to the world about them, and on the other side, we remain silent, it's in that silence where they die.
I once visited the Dachau concentration camp, and it deeply affected me. It's like you understand what happened in reality, but you can't fully grasp it. Now, when I see what's happening to our guys in captivity, the conditions they endure, how they come out, it's madness. Again, it's hard to comprehend. No one deserves such torture.
About the Association of Azovstal Defenders' Families
Shortly after the soldiers left Azovstal, relatives of the servicemen formed the Association of Azovstal Defenders' Families to coordinate actions in assisting prisoners of war, providing information and emotional support to their loved ones. We (the relatives) came together online to organize events, appeals, and social media coverage of the events. That's how I met the girls.
The organization was created spontaneously at the request of the families, with the main goal of uniting representatives from different units to protect the interests of all. Most team members had no previous experience in volunteering for public associations before the organization was formed.
Yevheniia and other representatives of the Association of Azovstal Defenders' Families (photo provided by Yevheniia)
Apart from numerous interviews, briefings, conferences, and meetings with government representatives, we constantly engage in brainstorming sessions and wake up every morning with the thought: "What can we do today to save our heroes from captivity?"
Public initiatives include banners in support of the Azovstal heroes who are still in captivity, as well as banners in memory of the fallen. We do this only with the help of the Coordination Headquarters for the Treatment of Prisoners of War consulting with them to ensure that we do not cause any harm.
We consistently involve psychologists, lawyers, and rehabilitators in our work with the families of POWs and fallen servicemen. We organize rehabilitation trips. There may always be new challenges, but we are always ready to help.
Banner to remind about prisoners of war (photo provided by Yevheniia)
We organize international trips to advocate for the imprisoned defenders of Azovstal. We call on international organizations to take measures to regulate the conditions of POWs detention in accordance with the Geneva Conventions. I have also participated in several such trips. As of today, there are about 700 Azov members in captivity, and a total of 1,900 defenders have come out of Azovstal.
Our struggle continues, just like my personal one. I will do everything in my power to bring my brother back.