From support to the Amazon incident: What Ben Wallace did and how he will be remembered for Ukraine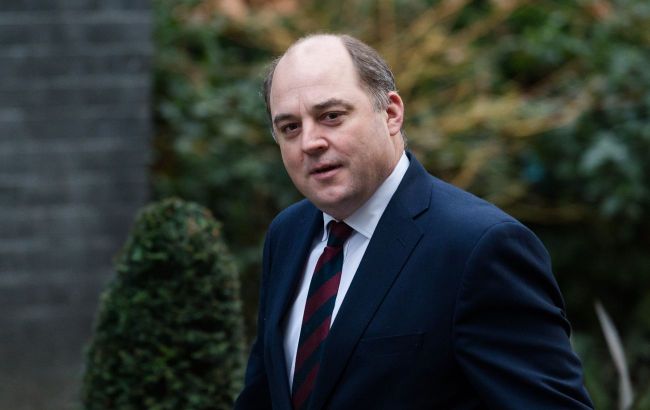 Photo: UK politician Ben Wallace became a great friend of Ukraine (Getty Images)
British politician Ben Wallace has resigned from his position as Minister of Defense. This event occurred against the backdrop of personnel changes in the government of Rishi Sunak. Read more on Wallace's contributions to Ukraine and his legacy in the RBC-Ukraine article.
What is known about Wallace's resignation
Wallace's resignation did not come as a surprise. As early as July, he expressed his desire to step away from politics. He did not relinquish his parliamentary mandate, but he will not be running in the upcoming elections.
As reported by British media, the decision is not connected to the crisis within the Conservative Party, so Wallace will remain a supporter of the current government.He elaborated on the reasons for his resignation in a letter to Rishi Sunak. According to him, his responsibility carries with it a 24/7 duty to be available.Secretary of State for Business, Energy, and Ind
"From Wannacry (a virus attack on hospitals), the 2017 terrorist attacks, the Salisbury Poisonings, Afghanistan, Sudan, and Ukraine, it has been an honor to serve alongside the men and women of our Armed forces and intelligence services who sacrifice so much for our security," Wallace noted.
He also praised the professionalism of the Armed Forces, demonstrated during the Kabul evacuation, and COVID response, as well as Russia's invasion of Ukraine. According to him, the Ministry of Defense he is leaving now is more modern and equipped he took over back in 2019.
"Ever since I joined the Army I have dedicated myself to serving my country. That dedication however comes at a personal toll to me and my family... After so many years, it is time to invest in aspects of life I've neglected and explore new opportunities," the politician added.
In a prior interview with the Sunday Times, he complained about spending "the last seven years with three phones by bedside."
Photo: Ben Wallace resigns to be closer to family (Getty Images)
The resignation of the British counterpart was commented on by the Minister of Defense of Ukraine, Oleksii Reznikov. According to him, Wallace's authority allowed him to realize the boldest plans and mobilize necessary resources.
"He set an example. His authority inspired other countries to join in assisting Ukraine. The military aid from the UK helped us repel the first wave of Russian aggression, initiate army rearmament, and switch to the offensive. Ukrainians appreciate this. I appreciate this. Thank you, Ben! Together to Victory!" he wrote.
The change of the British Defense Secretary took place in a single day. Grant Shapps, who was the Secretary of State for Business, Energy, and Industrial Strategy, has taken over this position from Ben Wallace.
Political Career
Ben Wallace was born on May 15, 1970, in Farnborough. After finishing school, he worked as a skiing instructor in Austria and then moved to the United States with his parents for seven years.
At the age of 19, he entered the Royal Military Academy Sandhurst and subsequently joined the Scottish Guards. During his military career, he served in Northern Ireland, Germany, Cyprus, and Central America until 1998. From 2003 to 2005, he served as the Director of Overseas Business for the defense company QinetiQ.
He entered politics in 1999, becoming a Member of the Scottish Parliament for the Conservative Party. In 2005, he won the election in the Lancaster and Wyre constituency and became a Member of Parliament in the UK Parliament. He was later elected in a different constituency.
From 2005 to 2010, he was a member of the Scottish Affairs parliamentary committee. In 2012, he became the Lord Commissioner of the Treasury but returned to being a regular Member of Parliament after the resignation of Secretary of State for Justice Ken Clarke.
In 2015, he was appointed as the Deputy Minister for Northern Ireland, and later, he became the Deputy Minister for the Home Department in Theresa May's government. Boris Johnson appointed Wallace as the Secretary of State for Defence in July 2019.
Since the full-scale Russian invasion of Ukraine, the UK has seen three prime ministers, but Wallace was consistently reappointed as the Defense Secretary.
In this position he worked for four years - longer than any other predecessor from the Conservative Party.
"Whisky" and weapons for Ukraine
Ben Wallace supported Ukraine in resisting Russian aggression and played a significant role in providing military assistance. The UK led the process of transferring advanced weaponry, including Storm Shadow long-range missiles, Challenger 2 tanks, and armed drones, to Ukraine.
During his tenure, the UK also took the lead in providing Western aircraft to Ukraine. In May, it was announced that the UK would join the initial stage of training Ukrainian pilots and support the transfer of F-16 fighter jets.
Photo: Ben Wallace in Ukraine in the summer of 2022 (president.gov.ua)
Over this month alone, the UK government has signed three contracts for the supply of air defense equipment. One of them involves the purchase of CORTEX Typhon mobile systems, which should help Ukraine repel drone attacks.
Currently, the UK is the second-largest donor to Ukraine after the United States, providing approximately $5.6 billion in weapons and other assistance.
Wallace did not hide his anti-Russian sentiments, often referring to Russia as the greatest threat to Europe and Vladimir Putin as the embodiment of fascism.
In a statement on May 9, 2022, he said, "Putin, his inner circle, and generals now reflect fascism and tyranny of a 70-years-gone era, repeating the mistakes of totalitarian regimes of the last century."
In an interview with the Sunday Times, Wallace revealed that at the beginning of the Russian invasion, he communicated with Ukraine's Defense Minister through encryption.
Before secure communication was established, he used whisky brands as code words for various weapons. For instance, anti-tank means NLAW was called Glenfiddich, anti-ship missiles Harpoon - Islay.
"I sent him (Reznikov) a message: 'I have some whiskey for you' or 'Whiskey is on its way,'" he explained.
Before the invasion, Wallace gifted a bottle of Glenfiddich whisky to Russian Defense Minister Sergei Shoigu, who reportedly did not understand the humor. Wallace later recalled that in early 2022, there was a belief in Moscow that Ukraine would not resist, and Western partners would not come together in support.
Not Amazon: Scandal or misunderstanding
Ben Wallace was rightfully regarded as a great friend of Ukraine. Therefore, his remarks about Ukraine needing to show more gratitude were met with strong reactions.
In July, during the NATO summit in Vilnius, Ukraine expected an invitation to join the Alliance. However, it did not happen. In response, President Volodymyr Zelenskyy called it absurd that NATO states did not set a timeline for the war-torn country.
"Whether you want it or not, people want to see at least a little gratitude... Sometimes you ask countries to give up their own stock (of weapons). Sometimes you have to convince lawmakers on Capitol Hill in America," Wallace commented on the sidelines of the summit.
Photo: July scandal "We're not Amazon" got Ukrainians angry (Getty Images)
He also recounted how in 2022, he traveled to Kyiv, was handed a list of required weapons, and responded, "You know, we're not Amazon."
The Ukrainian president took offense and assured that he would always be grateful to Britain. He also sarcastically asked for instructions on how to express gratitude so that "we are fully grateful."
"And we can wake up in the morning and thank the minister personally," he emphasized.
Later, Wallace explained that his words had been misinterpreted. He meant that Ukraine should understand that support in other countries is not as strong as in Britain. The mention of Amazon was intended to emphasize a partnership, not a commercial relationship.
The situation was eventually resolved, and Ukraine's Foreign Minister Dmytro Kuleba described it as an unfortunate misunderstanding.
What else Wallace said about Russia and Ukraine
One of Wallace's notable public statements was made at the Blavatnik Institute conference in July. In his view, despite Putin constantly talking about red lines, he would not dare to attack NATO.
"Russia has been very cautious about NATO territory. We haven't seen attacks on regions like Estonia or Latvia. They have been absolutely aware of NATO. They (the Russians) have been very careful not to provoke," he said.
Photo: Ben Wallace believes in Ukraine's victory (president.gov.ua)
He also noted that the Russia-Ukraine war had revitalized NATO, and in reality, Russia is weaker than it appears. Therefore, with the support of its partners, Ukraine can achieve victory.
"I think you can win a war. I think Russia is far more fragile than the Russians are willing to admit... The rift in the Russian military hierarchy is very real, the casualty rates are appalling," the Defense Secretary said at the time.
In an interview with The Times, Ben Wallace suggested that if Putin were to suffer a defeat in Ukraine, he would be deeply wounded, and this would affect him. He will look for the culprits and save strength for a new attack for another 3-4 years.
"If Putin loses in Ukraine, he will be deeply wounded, it will affect him. He has an air force and a navy - and we see that this navy is making quite aggressive maneuvers. Putin is not done with us yet," he emphasized.
Regarding timelines, Wallace believed in Ukraine's counteroffensive and that in 2023 and 2024, Ukraine would maintain its momentum and position of strength. However, the politician cautioned that Russia would not easily abandon its expansionist plans because Putin was prepared to throw even more people into "his meat grinder."