From Hostomel to Rubizhne: Story of infantry officer about heavy fighting against Russians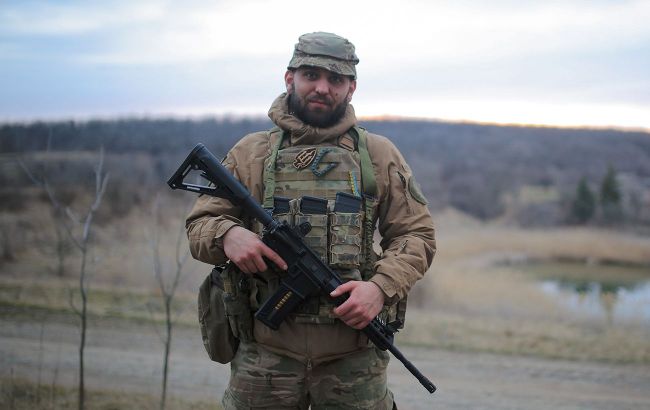 Infantry officer 'Metis' (Photo: Press Service of the 'Rubizh' Brigade of the National Guard of Ukraine)
An infantry officer of the 'Rubizh' Brigade of the National Guard of Ukraine 'Metis' recounts how the full-scale war started in February last year, where the crucial battles took place, what was happening in Rubizhne, and the current situation in the Bakhmut direction.
A soldier of the 'Rubizh' Rapid Reaction Brigade of the National Guard of Ukraine 'Metis' was born in the Kharkiv region. He has been fond of military art since he was a child. First, he studied at a military school, then – entered the National Guard Military Academy of Ukraine.
In 2004, his uncle returned from military duty, and his godfather was serving in the special police. In 2014, when Russia annexed Crimea, his uncle volunteered to go to war. That was the moment 'Metis' decided to pursue a military career. So, he started training to professionally defend his homeland.
He was 23 when the full-scale war broke out. The soldier became an infantry commander during the battles of Irpin and Rubizhne. After sustaining an injury, he occupied the position of press officer of his brigade, which is currently deployed in the Bakhmut direction. He tells the RBC-Ukraine about his participation in battles, mobilization, and attitude to the National Guard. What follows is the story in his own words. The soldier's real name is not mentioned for reasons of safety.
February 24 and Hostomel
That night I was sleeping. I was going to have a day off. At about 5:30 my phone rang and a soldier said:
- Senior lieutenant, alert!
- A drill?
- No, a red one. Irpin is being shelled, the Russians crossed the border.
So, I took my survival kit and went to the military unit. While entering, I saw my colleagues running and handing out weapons. I walked up to them. I did not realize what was happening yet. When I came to the battalion location site, a rocket hit the military unit. It was so close to me. At that moment, I realized how serious it was.
We gathered all guys at the site and started thinking about what to do. Telegram channels were bursting with the news about the Russians invading different regions of Ukraine. The first thing that came to my mind was to call my mother in Kharkiv and tell her to hide all my military staff to avoid problems in case of occupation.
In a few hours, a 'world-renowned air assault on Hostomel' began. The sky was full of enemy aviation, helicopters started landing on the take-off runway of Antonov Airport and near the unit. Russian paratroopers were backed by fighter jets, firing at everything caught in their sights. The guys at Antonov Airport held off the attack, and give us some time to regroup and retreat. We were running out of ammunition and could not fight against a superior enemy anymore.
Battles of Irpin
There was a group, including me and up to 10 soldiers, a couple of officers, and a staff clerk. I had a powerful group in the Kyiv campaign. For instance, Hena from Bucha – a huge man, call sign 'Henotsyd' ('Genocide'). An awful tragedy happened to him. When we were fighting in Irpin, his wife was volunteering. She was rescuing women and children, but her car was shot by the Russians. Hena was left alone with two kids.
Also, there were former reconnaissance officers of the 128th Brigade in our group. Professional soldiers who underwent several rotations and fought in Debaltseve. They taught me many things. Denis, a staff clerk, and I were always joking that together with Dany, an Australian guy, we were the most combative staff section.
I occupied the position of squad commander/BTR-70 (armored personnel carrier) crew commander. On March 5 our troop entered the city of Irpin. We bumped into the enemy on one of the streets. I can't even tell you how many Russians there were. They were moving in columns: lots of vehicles, infantry, and tanks. One of the enemy sub-unit began to drive at an intersection in front of us. There were BMD (airborne combat vehicles) and tanks there. Without any hesitation, our guys opened fire.
One of the BMD was damaged, and the combat began. During the combat, our BTR broke down. Very quickly we decided to continue fighting. At this moment, an RPG grenade was already flying in our direction. Fortunately, it got right underneath the armored carrier. And the cherry on the cake – an enemy tank came up and started a duel with our tank of the 72nd Brigade. It was a spectacular battle.
Having caused as much loss as possible, our sub-unit began to retreat. I can't remember how many BMDs were destroyed, but more than 5. This is the merit of our infantry troops who accepted the fight with dignity and didn't lose their heads.
'Metis' and comrades (Photo: Press Service of the 'Rubizh' Brigade of the National Guard of Ukraine)
Battles in the Liutizh direction
We left the city of Irpin. After a day of rest, we left for the village of Liutizh, Vyshhorod district. It was the place where I learned what fighting in wooded areas and trenches was, and how artillery influenced not only your physical condition but your mental state as well. We held the line near Huta-Mezhyhirska.
This part was challenging and crucial. Russians were trying to build river pontoons in that area. Sometimes they managed to do that, sometimes – not. The enemy was strong, prevailing in the number of electronic warfare, drones, and 'Orlans'. The defense of the city of Kyiv was not the easiest period of my life.
I was at the same time inspired and surprised by the territorial defense forces: guys from Liutizh, Novi Petrivtsi, and Stari Petrivtsi. They barely had anything – some of them did not even have bulletproof vests. Nevertheless, they fought till the end. They were ready to give away the shirt off their back to help us somehow.
I felt such an exaltation. That atmosphere unbelievably motivated me. When I saw those people, so dedicated to their country, I understood – we were fighting for them. Our nation was strong and united more than ever before.
Rubizhne
Then I was in Rubizhne, leading a group of foreign volunteers. At a certain point, I began forgetting how to speak Ukrainian. We spoke English all the time. We performed various tasks, blocked dangerous parts of the front, and worked at different positions.
Everybody who was in Rubizhne has only one thing to say about it: Rubizhne is a living hell. It seemed the enemy had an inexhaustible amount of artillery ammunition, their tank crews and infantry soldiers did not sleep at all.
The obliterated city resembled a landfill of wall and roof debris. Everything was damaged by shrapnel. For my team, who had only worked in the Kyiv region before, Rubizhne was an apocalypse. We were constantly training and adapting, which, probably, helped us to survive. It was hard, but our guys were holding on.
Wound
There was combat at the oil refinery in Rubizhne. A guy from the 24th Brigade and I were leaving positions. Suddenly, there was an explosion. A mortar bomb. My comrade was 2-3 meters away from the epicenter, and me – 5 meters away. When the bomb fell, I was standing right behind him. He was wounded in the face by a fragment of the bomb, and I was thrown back and fainted.
When I recovered, I saw our guys coming for us. My soldiers evacuated that guy. Together with other soldiers from my brigade, we decided to take up our positions, because the combat started. I still think that the guy from the 24th Brigade saved my life. I would like to find him and say thank you.
Currently, I can't serve in the infantry due to my health state. My job now is civil and military cooperation and informational support in the active combat zone. My colleague and I are working with journalists to show the situation on the front. Getting to know about the war from a 'couch expert' is not the same as from a soldier working in a specific part of the front.
Bakhmut
There is a bloody war in the Bakhmut direction. Both sides are determined: Ukraine wants to defend its territory, the Russian Federation – to seize it. And nobody is going to give up on their goals. Our soldiers proved that we can not only defend Bakhmut but also advance and attack. And succeed in it.
Now, the enemy is attacking all the time. Imagine, 10 soldiers are running, we kill them. In 10 minutes, everything repeats. The enemy is smart, but sometimes poorly prepared and demoralized. Their command can think and plan. Even though they devalue their soldiers' lives.
Ukrainian forces never leave their positions. It is easy to give it away, but difficult to get back. And the price of getting back a position can be much higher than of its defending. We will protect our people and do everything possible to put them in the most advantageous position.
Now we are preparing for larger offensive actions.
Bakhmut will withstand. Most probably, it will become a culminating point, after which our offensive and liberation of territories in the Donetsk and Luhansk regions will begin.
What motivates me the most is my comrades and their professional growth. During the war, they grew up and work as lions. Sometimes, I think I don't have as much fortitude as they do. And I wanted to be on a level with them.
Although I don't work in trenches anymore, I try to help soldiers with my informational activity. I feel my usefulness. I see us holding off this Horde invasion. I am from the Kharkiv region, have been to de-occupied cities, and saw the consequences of the 'Russian world'. I do not want my house to be on the territory of the Russian Federation. And I do not want to live by their thieves' code of law. I do not want my children even to know this Russia.
National Guard of Ukraine that allegedly 'does not fight'
I have an interesting story regarding this. Once, my comrade with a call sign 'Bordiur' ('Curb') was severely wounded. He was taken to the hospital, where guys from the Armed Forces of Ukraine were undergoing treatment.
'Bordiur' was cut with lots of fragments. When he recovered, a guy from the Armed Forces asked him if he was a paratrooper. He denied it and said he was an infantry soldier and had attacked positions with the National Guard of Ukraine. They were extremely surprised.
I don't know why the National Guard of Ukraine is rarely mentioned as a fighting unit. Every brigade has its special purpose: maintaining public order, ensuring the security of the President, guarding state bodies, and city patrolling.
The Rapid Reaction Brigade of the National Guard of Ukraine is fighting along with mechanized brigades of the Armed Forces of Ukraine. For instance, my brigade fought on the first line at Svitlodarsk Arc in 2019. Moreover, we fought side by side with the air assault brigade in Rubizhne.
Now we are all working towards one goal – the liberation of Ukrainian territories from the Russian invasion and keeping them away from the Ukrainian border.