Emotions or real threat? All about diplomatic scandal between Ukraine and Poland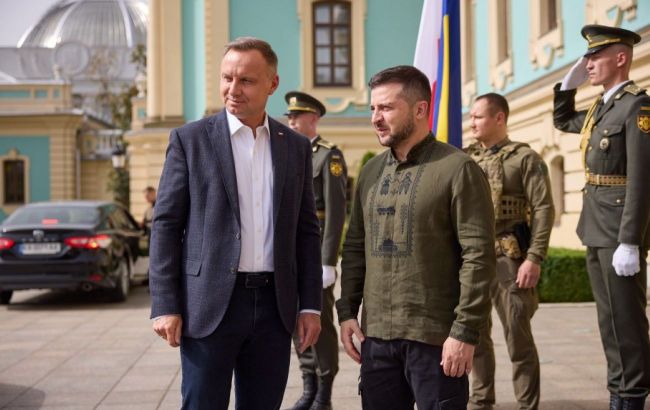 Andrzej Duda and Volodymyr Zelenskyy are to find a way out of the diplomatic scandal (president.gov.ua)
Relations between Ukraine and Poland have somewhat deteriorated in recent days. The reason is a statement by a Polish official that led to the ambassadors being "called on the carpet" and reactions from top officials.
RBC-Ukraine gathered everything known about the diplomatic scandal.
Scandalous statement
A diplomatic dispute has erupted following remarks by Poland's presidential office chief and head of the Bureau of International Policy, Marcin Przydach. During an interview on Monday, August 31, he commented on the blocking of Ukrainian grain exports to Poland.
Przydach said that Warsaw's top priority is to protect the interests of Polish farmers. He emphasized that Polish grain needs to be harvested, stored, and sold at a fair price. Regarding Ukraine, he pointed out the substantial support the country received from Poland and suggested that Ukraine should acknowledge and appreciate the role Poland played in recent months and years.
Context

In May 2023, the European Commission imposed a ban on the import of Ukrainian wheat, corn, rapeseed, and sunflower seeds to Poland, Slovakia, Romania, Hungary, and Bulgaria. This decision came after protests by farmers who were unhappy with the surplus of Ukrainian grain, which led to a sharp drop in purchase prices for local producers, threatening border closures and transit blockades. Additionally, Poland's Minister of Agriculture resigned amid the grain crisis.
The ban is set to be in effect until September 15. However, the five countries are insisting on extending it at least until the end of 2023. Despite President Andrzej Duda's promises to lift restrictions in mid-September, there have been increasing calls from Warsaw to block grain imports into the Polish market.
As Ukraine hoped that the European Union would ultimately propose an acceptable solution for all parties, the sabotaging of the grain agreement by Russia now jeopardizes the entire Ukrainian agrarian export.
In July, Prime Minister of Ukraine Denys Shmyhal called for a lending hand to Ukraine, while President Volodymyr Zelenskyy called it unacceptable to block land supplies after 15 September. Germany and France support Kyiv's position.
Ukrainian response

Naturally, Przydach's insinuation of Ukraine's alleged ingratitude sparked a response from Kyiv.
Diplomat and Deputy Head of the President's Office, Andriy Sybiha, dismissed "attempts by certain Polish politicians to impose an unsubstantiated notion that Ukraine does not value Poland's help." He labeled Przydach's statements as manipulation.
"Reality is a friendly and open dialogue between the Presidents of Ukraine and Poland, who enjoy a high level of mutual understanding and trust. Reality is the indisputable fact that Ukraine is grateful to Poland and other allied countries every day for the high sacrifice and bravery of our heroes on the battlefield. Polish weapons in the hands of the Ukrainian military effectively deter the Russian aggressor. And supporting us with weapons is not charity, but an investment in Poland's own security," Sybiha posted on Facebook.
According to Sybiha, talks of Ukraine not appreciating Polish aid are not in line with the spirit of fraternal relations.
"When Ukraine is at war, an attempt to 'bargain' something more from it is tantamount to treachery, which should have no place in our relations. Everyone knows the conditions in which a Ukrainian farmer works, putting his life at risk in mined fields and under rocket fire. In these circumstances, insisting that Ukraine accept the closure of its borders as part of its gratitude to Poland is tantamount to forcing us to agree to euthanasia. There is nothing worse than when your saviour demands a fee for rescuing you, even when you are bleeding to death," he added.
Sybiha said that this was a response to a public statement made by Marcin Przydach.
Diplomatic scandal
On the eve of August 1, the Ukrainian Ministry of Foreign Affairs decided to summon Polish Ambassador Bartosz Cichocki to express the unacceptability of official statements insinuating Ukrainian ingratitude for assistance.
"We are convinced that the friendship between Ukraine and Poland is far deeper than political pragmatism. Politics should not question the mutual understanding and strength of relations between our peoples," said MFA spokesperson Oleh Nikolenko.
In response, the Polish Ministry of Foreign Affairs took reciprocal measures and summoned Ukrainian Ambassador Vasyl Zvarych. However, Zvarych is attending an ambassadorial meeting in Kyiv, and instead of Zvarych, his deputy will visit the Polish MFA.
Such harsh rhetoric is similar to the situation with Polish Foreign Ministry spokesman Lukasz Jasina. In May, he lost his post after making statements about Ukraine and the Volyn tragedy.
When asked if the Ukrainian president should apologize to the Polish people, Jasina had said that Ukraine had not done so before, and Volodymyr Zelenskyy "should take more responsibility." Zvarych then called these words unacceptable, and Jasina was placed on indefinite leave. He is not expected to return to his position.
Top officials' comments
Taking everything into consideration, the Ukrainian reaction did not sit well with Polish Prime Minister Mateusz Morawiecki. According to him, summoning Ambassador Bartosz Cichocki for a dressing down was uncalled for, especially considering that he was the only ambassador who stayed in Kyiv during the full-scale Russian invasion.
"In international politics, during an ongoing war, and given the immense support Poland provided to Ukraine, such mistakes should not happen. We will always defend Poland's good name, its security, and no other country's interests will ever outweigh Poland's interests," he said.
Thus, Morawiecki hinted that he would work towards extending the ban on Ukrainian grain exports.
On the Ukrainian side, President Zelenskyy engaged in the polemic. He believes that now is not the time for scandals, and emotions should be cooled down.
"The nations of Europe know that the freedom of each individual is strongest when it is the common freedom of all. In Europe, we know how to unite and defend our values side by side, regardless of any seasons and moods, political trends, or personal ambitions. But now we see various signals that politics is sometimes trying to be above unity, and emotions are trying to be above the fundamental interests of nations," Zelenskyy wrote on Twitter.
Zelenskyy emphasized that Ukraine is grateful to all who are providing assistance. He also highlighted the historical support of Poland, which, together with Ukraine, became the shield of Europe, where "there cannot be a single crack."
"We will not allow any political instants to spoil the relations between the Ukrainian and Polish peoples, and emotions should definitely cool down. The freedom and well-being of our nations, the values of our Europe and the victory over the common Russian enemy are above all," he added.
Ukraine-Poland relations under threat?
Obviously, it may be too early to discuss this, but the fact of the diplomatic scandal indicates that relations between Ukraine and Poland are at least not perfect.
Today, Poland's Deputy Minister of Foreign Affairs, Paweł Jabłoński, said that there would be a "very honest conversation" with the Ukrainian diplomat during their meeting.
"We will convey our assessments of the state of our relations today, which, unfortunately, due to recent statements by some representatives of the Ukrainian authorities, are not the best. Nobody is hiding this," he said, acknowledging that both sides gave in to emotions.
At the same time, he stressed that despite facing a Russian attack, Ukraine should not attack its allies.
"Undoubtedly, there are many issues on which Poland and Ukraine have not reached an agreement. We are guided by the policy of Polish national interests. We support Ukraine to the extent that corresponds to the national interests of Poland. It was and it will always be like that," Jabłoński concluded.