War of attrition - How much resources Russia has, will they suffice for a protracted war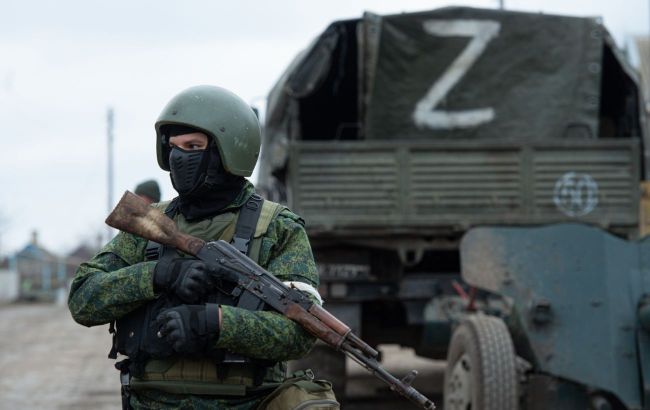 There are still stockpiles of old equipment and weapons in storage facilities in Russia (photo: GettyImages)
Putin has decided to wage a war of attrition, hoping the West will turn away from Ukraine. Russian propaganda is trying to convince that they still have countless weapons reserves for this purpose. Whether this is true or not read in the RBC-Ukraine article.
Since the beginning of the large-scale war, our General Staff has consistently reported the destruction of enemy equipment. When last summer the Russians on the front lines began to be seen with equipment from the 1950s and 1960s, it bolstered the belief that they would soon run out of resources for the war.
At the same time, in the Ukrainian information space, another "truth" began to spread. It claimed that vast reserves of tens of thousands of tanks and artillery pieces were stored somewhere beyond the Urals. This version was fueled by the Russians themselves with their statements like "we haven't really started anything serious yet" and narratives of increasing military capabilities.
The real armed potential of the aggressor is shrouded in the fog of war. However, with the help of numbers and facts, we can discern both encouraging and not-so-pleasant pictures in this fog.
Armored vehicles
According to the International Institute for Strategic Studies, which compiles the annual publication The Military Balance, the Russians entered the large-scale war with about 3,300 tanks in service. The Oryx project has recorded that since then, the occupiers have already lost 2,000 tanks – those with photos or video evidence. The General Staff reports a figure of 4,500.
In both of these cases, we are talking not only about the T-90M, T-72B3, and T-80BVM tanks but also about older tank models that the Russians were refurbishing and sending to the front last year. Roughly speaking, the Russians are losing between 110 and 250 tanks per month.
The biggest myth lies in how many tanks the enemy still has in storage. The International Institute for Strategic Studies indicated that as of the beginning of February 2022, Moscow had 10,000 tanks in storage, excluding the old T-55 and T-62 models. This year, IISS writes that the Russians have approximately 2,000 tanks in active service. In storage, there might be a maximum of 5,000 tanks of all types, including T-55 and T-62. The real question is how many of them can actually drive and shoot, and how many are already scrap metal. However, the Institute believes that the Russians may keep several hundred of their most modern T-90M tanks in reserve for potential confrontation with NATO.
"Why can data about tanks stored in depots be misleading? Because not all Russian tanks were stored in airtight facilities, or hangars, with proper maintenance. According to Russian standards, to assemble one fully operational tank, you need to disassemble three. So, the figure that was recorded at the beginning of this year – 5,000 tanks in depots – may mean that the Russians can assemble 1,500-2,000 working tanks in addition to what they have now," explains Ivan Kyrychevskyi, an expert from the Defense Express Media & Consulting Company.
The shot-up Russian T-55 tank (Photo: NMFTE Telegram channel)
According to him, certain facts indicate that the aggressor is beginning to feel a shortage of operational tank equipment specifically for active offensive actions. For example, in the Kupiansk direction, where the enemy has become more active, they hesitate to send tank units into the offensive, even though they have them. Instead, infantry is mostly engaged in battle, which, apparently, according to the Kremlin's logic, is a less valuable resource. Tanks are only used to support combat actions and as armored artillery.
In the end, the Russians have some potential for manufacturing new machines and restoring old ones. The Economist previously reported that in 2022, Moscow restored around 45 demothballed tanks per month and planned to reach 110 units this year. However, it seems that the adversary has not been able to achieve this figure.
Kyrychevskyi suggests that the Russians may be receiving up to 70 tanks of all types each month. This includes, firstly, 10-15 units of new T-90M Proryv tanks produced at the main tank factory in Russia, "Uralvagonzavod," which employs up to 12,000 workers, including contracted labor. Secondly, the repair and modernization of old T-72B and T-80BV tanks from storage, up to 50 units per month. Thirdly, the restoration of T-55 and T-62 tanks at the 103rd armored repair plant in Transbaikal, which amounts to about 10 machines per month.
The Russians are replenishing their tank equipment several times slower than it is being destroyed by the Ukrainian Armed Forces, Kyrychevskyi pointed out. This means that such a resource for the enemy is running out. As for armored vehicles that the enemy directly uses during combat and assaults, the situation is somewhat ambiguous. The occupiers may have around 3,000 such vehicles in their arsenal. If we consider BMP-1, BMP-2, and MT-LB, then de jure there may be more than 10,000 units in storage, according to Defense Express. However, the main question is their repairability. Given that the Russians prefer to decommission and use older MT-LBs rather than BMP-1 and BMP-2, it seems there are problems with restoring these machines.
"So, to say that they have unlimited capabilities in terms of armored vehicles is not accurate. In fact, that's why the Russians, during any offensive operations now or during counterattacks in the south or near Bakhmut, still rely on the infantry, which is commonly referred to as cannon fodder. In other words, for another couple of years of war with such losses and at such an economical pace of armored vehicles, they will have enough. But beyond that, they risk running out completely," Kyrychevskyi noted.
Artillery, drones, and aviation
Russians rely on mass artillery fire both during offensive and defensive operations, as they lack other effective tactics. At the beginning of the invasion, according to the Ukrainian Ministry of Internal Affairs, the aggressor had approximately 4,900 units of tube and rocket artillery in its arsenal, including multiple rocket launchers, howitzers, and heavy mortars. According to General Staff data, the enemy has already lost around 5,800 artillery systems and nearly 800 multiple rocket launchers. Over the last three months of the offensive operation in the south, Ukrainian forces have neutralized an average of 400-500 units.
To compensate for losses, the occupiers had to reactivate artillery units from storage as early as the first half of last year. According to the MIA, Moscow was supposed to have around 17,000 artillery systems of various types in its depots at the beginning of this year, though their condition is unknown. Some of them are inoperable, worn out, and require barrel replacements. Among these, there are even artillery pieces dating back to 1937-1938, essentially museum relics.
"The question is how many of these are combat-ready and capable of firing. Interestingly, toward the end of last year, the enemy was forced to reactivate not the more modern artillery systems like D-30 howitzers or Msta-B from the 1980s but rather D-1 howitzers from World War II. These guns have found their way into various units of the Russian armed forces, including the 1st and 2nd Army Corps and the regular Russian military, as well as among the Wagner mercenaries," states Kyrychevskyi.
According to the expert, the biggest threat to Ukrainian forces comes from Soviet self-propelled guns 2S7 Pion (or 2S7M Malka with a caliber of 203 mm) and 2S4 Tulpan. The enemy is focusing on them, primarily due to their range and destructive power. The enemy may have several hundred of these artillery systems in storage.
The Pion in the arsenal of the Ukrainian military (Photo: GettyImages)
The situation with the enemy's artillery is complex. Ukrainian forces have successfully eliminated a significant portion of the enemy's tube artillery through counter-battery fire. However, the enemy has been replacing them with multiple rocket launchers. Therefore, they have both vulnerabilities and challenges for us.
The weaker link is ammunition. According to Russian analysts' figures, in 2022, Russians were able to produce 12 million rounds of various types of ammunition, not just classic artillery shells but also rounds for BMP guns, etc. This year, they might produce 7 million or more, the expert added.
During the peak of the battles last summer, when the occupiers were advancing and firing intensively in the east, they were firing 40,000-80,000 rounds per day. Currently, this number has significantly decreased to an average of 15,000 rounds per day, which might indicate some ammunition shortage. If Moscow could cover its ammunition needs independently, it would not have sought supplies from Iran and North Korea.
At the current pace of production, the enemy genuinely cannot afford to fire more than 15,000 rounds per day. However, as Kyrychevskyi pointed out, the enemy is trying to compensate for reduced production volumes by improving firing accuracy and increasing the production of ZALA Lancet drones.
These armed UAVs are gradually becoming an alternative to artillery for the occupiers, posing a significant challenge to Ukrainian forces. Deputy Chief of the General Staff of the Armed Forces of Ukraine, Brigadier General Oleksii Hromov, stated that from the beginning of the large-scale invasion until the middle of this year, the enemy had produced 900 Lancets, and almost all of them (850 units) were used on the battlefield. This indicates that the enemy lacks stockpiles of these drones, but they can easily manufacture new ones.
"They install the Soviet hollow charge KZ-6 there – it's a fairly powerful warhead. In addition, an electric motor similar to those used in miniature homemade remote-controlled aircraft is installed there. In the Czech and Polish markets, they cost around 300 euros each. The paradox is that the Lancet has a takeoff weight of 12 kg, and they somehow attached these electric motors for 300 euros, which are designed for UAVs weighing 5 kg," explains the expert.
Another interesting fact is that Lancet drones do not have their own targeting camera. For this purpose, it requires a separate UAV called SuperCam. Due to this simplification and the primitive nature of these strike UAVs used by the Russians, unfortunately, there is potential for scaling up their production.
Earlier, RBC-Ukraine reported that Russia has started assembling another type of strike drone - the Iranian Shahed. Its assembly likely began this summer, as before, the aggressor used batches purchased from Tehran. According to preliminary data from the Ukrainian General Staff, the Kremlin plans to manufacture 1,300 units of these UAVs, which have been given the name Geran-2, by the end of the year. Overall, Moscow is currently working to establish a significant production of drones despite sanctions.
Lancet (Photo: mil.in.ua)
The same applies to missiles and aviation. According to information from open sources, in 2022, the Russian Aerospace Forces received 20 combat aircraft. This year, at least 10 new aircraft of the Su-35 and Su-34 types have already been delivered to the military. Moscow's plans include producing and restoring a total of 40 military aircraft of all types by the end of December. This figure may seem small compared to the data from the General Staff regarding how much aviation the enemy has already lost since the beginning of the war - almost 630 aircraft (including several strategic aviation units) and helicopters. However, this figure vividly illustrates how "effective" Western sanctions are.
Mobilized
People are a key and inexhaustible resource for Putin in the war. Currently, according to the General Staff of Ukraine, there are over 420,000 enemy personnel fighting in Ukraine. According to the latest estimates from the General Staff, approximately 268,000 occupiers have been killed in the war, with possibly an even larger number being wounded and withdrawn from the front lines.
Recently, The New York Times, citing American officials, provided slightly lower figures. According to their information, Russian losses are approaching 300,000, including approximately 120,000 killed and 170,000-180,000 wounded.
According to Bloomberg, in the past year alone, during both covert and overt mobilizations, the Kremlin managed to call up at least 400,000 individuals, with 300,000 of them being called up after the officially announced mobilization wave last autumn. Currently, there is speculation in the information space about whether Putin will dare to take such an unpopular step again.
Representative of Defense Intelligence, Major General Vadym Skibitskyi, says that the Kremlin continues to conduct covert mobilization. According to intelligence estimates, this year they have already called up between 90,000 to 100,000 Russians to replenish losses and create new units.
"Will they declare open mobilization like they did last autumn? Probably not. Right now, they will conduct these elections, and then start preparing for the presidential elections on March 17, 2024. Nobody will want to take such a risk right before the campaign by announcing mobilization. Perhaps it will happen later," says Skibitskyi.
However, he added that all the necessary organizational measures for this have already been carried out by the Kremlin. In Russia, they have passed the necessary legislation, introduced electronic registration, compelled everyone to go to the draft boards when summoned, and increased the responsibility for evasion of conscription. Additionally, according to Skibitskyi, Moscow has already calculated the number of people and from which regions they should call up. Currently, they are mobilizing people from all regions, especially from depressed areas where people go to fight to earn money, explains the General Staff.
"Right now, Putin doesn't need to declare open mobilization and say, 'We're calling up another 500,000 people.' This year, Russia announced plans to recruit another 400,000 contract soldiers and call up 240,000 conscripts. And then those who are conscripted, those who are called up for active military service, are encouraged to switch to contract service in the professional army (since conscripts also do not participate in combat operations)," Skibitskyi explained.
According to him, they convince people to sign contracts in various ways, including by manipulating them with the promise of higher pay and assigning them to less intense areas than conscripts. And so, this process is gradually moving forward.
According to the IISS, Russia's mobilization resource (operational reserve) is estimated to be around 1.5-2 million people. Currently, Russia has raised the conscription age, which will increase the number of conscripts who will be on the operational reserve after their service. So, Putin's human resource is indeed almost inexhaustible. The only restraining factor could be that the Russian state and mobilization infrastructure may not cope simultaneously with such a flow of military personnel, which need to be accommodated, fed, equipped, and at least minimally trained.
Imbalance of forces
Russia has indeed suffered significant losses in its most modern weaponry. It lacks the resources for building defensive enterprises, equipment procurement, and hiring qualified personnel. However, Moscow has inherited massive stockpiles of weaponry from the Soviet Union. It is these mountains of outdated technology, rather than innovative solutions or the establishment of new factories, that allow the Kremlin to continue the war.
Newly repaired or assembled "artisanal" weaponry often lacks the precision and quality provided by Western arms from Ukrainian partners. Furthermore, the information that North Korean leader Kim Jong Un is willing to strike a deal with Putin regarding the supply of weapons, as reported by the Financial Times last week, doesn't suggest that all is well in Russia.
Putin and Kim Jong Un may meet in September (Photo: GettyImages)
North Korea could indeed significantly bolster Russia's military capabilities. A source within Ukrainian intelligence asserts that there is currently no confirmation of this information. He emphasized that Pyongyang is unlikely to enter such an agreement without Beijing's approval. More clarity may emerge if Kim Jong Un meets with Putin in Vladivostok. According to the New York Times, such a visit could take place in September.
"Do the Russians have the potential to increase their own production, that is, replicas of Soviet weapons, more advanced and more accurate? They do, but they cannot manufacture weapons in the quantities necessary for conducting large-scale offensive operations. To conduct battles of the type they have been engaged in over the past year, they have sufficient weaponry. And they have already adopted the concept of a war of attrition to win time, during which something may change in the world," says military expert Colonel (Ret.) of the Ukrainian Armed Forces, Serhii Hrabskyi.
Putin doesn't hide that he is playing for attrition. However, this game can be played by two. Yes, with the available weapons, Moscow can continue for another two years at the current pace of hostilities. However, Ukraine can counter Russia in this war with more precision and effective weapons, provided that allies continue to provide assistance. The economic potential of Russia is incomparable to that of the EU or the US.
Information about what Ukraine can produce is mostly hidden. However, judging from open sources, everything that can be restored, everything that works on the principle of "moves and shoots," is likely supplied by our military-industrial complex, according to Kyrychevskyi.
"An interesting detail. This winter, Ukraine and Czechia agreed that our T-64 tanks would be restored in Czechia from conservation. The nuance is that this tank was only manufactured in Ukraine. So when Russian correspondents complain that we will never run out of T-64s – they have every reason to do so," the expert clarified.
Furthermore, a war of attrition could become an even greater challenge for Moscow if sanctions are strengthened, or at least if proper control is established over existing restrictions. So far, they only increased Russia's costs for purchasing necessary components through bypass routes, but they do not exclude this option entirely. Therefore, the Kremlin's stake on a protracted war may not necessarily work – the balance of power in the end may not favor it.