Ukraine digitalizing state, like Uber or Booking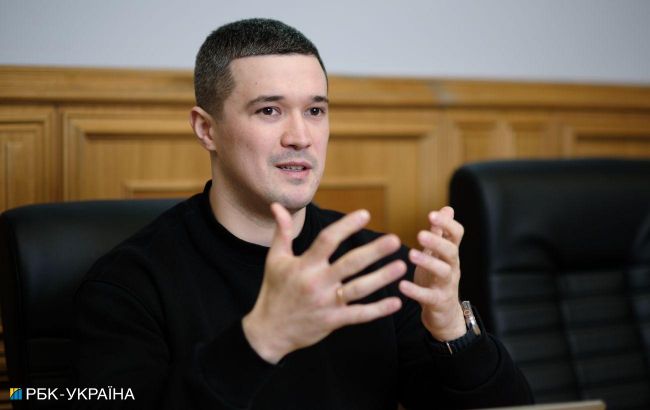 Vice Prime Minister, Minister of Digital Transformation of Ukraine Mykhailo Fedorov (RBC-Ukraine, Vitaliy Nosach)
Vice Prime Minister for Innovations, Development of Education, Science & Technologies — Minister of Digital Transformation of Ukraine Mykhailo Fedorov spoke at the European Parliament, presenting the vision of Ukrainian digital democracy and discussing the path of digitalization, the philosophy of the Diia app, and the Ukrainians trust in it.
The state as the most convenient service
Everyone knows what Uber is. You can quickly place an order: geolocation is automatically determined, and payments are processed automatically. You know what mobile banking is, it can be used in a few clicks. Or what Airbnb or Booking is. When you go on a trip, vacation, or business trip, you can simply book any apartments, flats, houses—whatever you need.
This is how Ukrainian digitalization began. In 2019, we asked ourselves, "What needs to be done to start a business in a few clicks or pay taxes? How can we communicate with the government in a few clicks?" Fedorov says.
We didn't just study the experience of other governments; we looked at how Uber, Booking, and Airbnb work because these products shape consumer culture. We wanted to create our own Uber in the public sector. This service must be the best, fastest, and most convenient in the world.
At the center of actions, thoughts, and dreams is the individual. We ask what concerns Ukrainians, what services they would like to receive. Yes, we decided to create an electronic passport to show as many Ukrainians as possible what a digital state is. It is important for people to say, "Okay, we trust you."
Trust in the Digital State
We could not only gain the trust of users but also change the political culture. In Ukraine, civil servants and ministers compete to launch their services on Diia app. First they think about how to create a quality service online and then offline. This is a key change we have achieved.
The fundamental question was how to make a service in a few clicks because Uber is two clicks, Booking is two or three clicks. Many officials in different countries forget about this. Government services and consumer culture are about speed and convenience, not about filling out paper documents and going through bureaucratic circles of hell to waste time.
Currently, 19 million Ukrainians use Diia. 70% of all smartphones have the application installed. We launch new services almost every week. This year, we will achieve our goal of digitalizing 100% of the most popular government services in Ukraine. The most important thing is to think about people's needs.
Digital Signature
An example of the revolutionary technology we launched in response to the demand is the convenient digital signature. It is an important component of the digital state that verifies the authenticity of receiving online services.
We compared facial biometrics with the biometrics in registries. These are fundamental technologies that are transforming the generation of digital signatures. Within a few months, we provided millions of Ukrainians with the ability to use a digital signature, and they began receiving online services.
First and foremost, we ask ourselves, "How can we make it convenient for citizens?" We think as Ukrainians, in the Ukrainian language, not as bureaucrats. And this helps generate higher-quality technologies.
Cybersecurity
As of now, there have been no information leaks. All registries are functioning smoothly. On the eve of full-scale war, we made important decisions. First, we passed a bill on cloud services, which allowed us to migrate our entire infrastructure to the cloud. This was crucial because later, in the first week of the full-scale invasion, a Russian missile hit the data center, and the civilian infrastructure was completely destroyed.
The next decision was to create the Red Team, our own team of white-hat hackers. We searched for vulnerabilities in our system to protect it. We also conducted bug bounties with partners, where white-hat hackers searched for vulnerabilities so that we could fix them, and no one could exploit those issues.
Anti-Corruption
When we talk about the mission to build the most convenient state in terms of government services, it is impossible to do it if bribes are required to start construction or to obtain sick leave. These are real cases that have been documented in Ukraine.
We started working on anti-corruption projects, and the first one was within the construction sector. It was one of the most corrupt areas, where the level of bribes amounted to about 3 billion UAH per year. To initiate any construction process, you had to pay a bribe because the construction registry was owned by a private individual.
That's why we carried out a true digital transformation. We launched the E-Construction system and essentially created new rules for the functioning of the digital state: all decisions must be open source, all actions must leave a digital trace for potential investigations.
Currently, about 70 construction services are provided online, and Ukrainians no longer face the problem of bribes when putting any construction object into operation.
Government's task
I am often asked, when will you have 25, 30 million users, what's next? That doesn't matter. The most important question is when will we solve the next problem of Ukrainians?
Governments are created to solve people's problems, to analyze how they were resolved, and to understand what could have been done better. Today, new technologies allow us to receive feedback from citizens faster and of higher quality. We can look at qualitative analytical data or conduct surveys.
Governments often forget that their task is to predict, analyze, and solve people's problems. IT solutions are the best tool for this.
That's why we are currently reforming the statistics service and working on implementing artificial intelligence tools that will analyze real-time social media interactions of real people. These tools will also analyze the work of ministers, people's issues, and what concerns the public.
Our key task is for every minister, civil servant, and official to know their citizens and their problems. That's why we are launching new tools in Diia for officials. This includes an assistant that will allow them to analyze all data and have it on dashboards. This will be a new technological era that will change the work of civil servants.
Governments of the future
What can I advise other countries in the European Union in general? Be fast and flexible.
Don't forget how democratic institutions work. I know the fundamental role of inclusive democratic institutions that work to ensure that every person has equal rights for their self-realization.
We must think not as officials but as citizens. The internet accelerates the world by hundreds of times. Information spreads rapidly worldwide. A new concept of the "social age" has emerged. As politicians and government officials, we need to be fast and flexible, with a people-centered approach. This is what helps us build the most convenient state in the world.