Zelenskyy visits Ukrainian soldiers in Donetsk region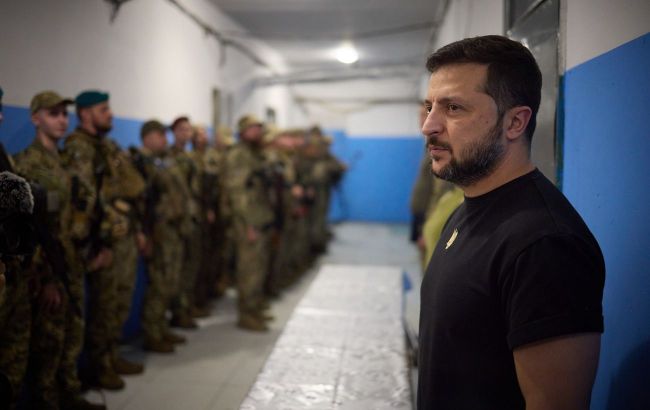 President of Ukraine Volodymyr Zelenskyy (Photo: president.gov.ua)
President of Ukraine Volodymyr Zelenskyy visited the Donetsk region. There, he had a conversation with Ukrainian soldiers, according to the head of the state on Facebook.
According to his words, during the visit, he met with the brigades that defend Ukraine as part of the Donetsk operational-tactical group. The President was accompanied by the commander of the Marine Corps and the Donetsk operational and tactical group, Yurii Sodol, and the First Deputy Minister of Defense, Oleksandr Pavliuk.
"Important reports, problematic issues, supplies that need to be increased, creation of an auxiliary management system to ensure the brigades' supply, increasing the motivation of our warriors," Zelenskyy wrote.
He talked to soldiers from eight brigades, including their commanders, about various issues. The brigade commanders frequently mentioned the increasing need for UAVs and anti-drone equipment, insufficient personnel in units, and shortages of certain types of ammunition.
At the same time, Zelenskyy and the military discussed the creation of a support system for brigades that would handle managerial functions, allowing commanders more time for combat work.
During the trip, the head of state awarded the title of Hero of Ukraine to the commander of the 36th Separate Marine Brigade of the Command of the Marine Corps of the Armed Forces of Ukraine, the unit that defended Mariupol. Defenders who displayed personal bravery also received the orders of Bohdan Khmelnytskyi (I-III degrees), "For Courage" (III degree), and Princess Olga (III degree).
Photo: Zelensky decorated Ukrainian soldiers (president.gov.ua)
Zelenskyy's trips to the Donetsk region
President Volodymyr Zelenskyy has visited the Donetsk region on multiple occasions, where active combat operations are ongoing.
The most recent visit took place on August 14th. The head of state met with soldiers from several brigades to inquire about the specific issues each unit faces.