Zelenskyy points out hazardous area in Ukraine because of mines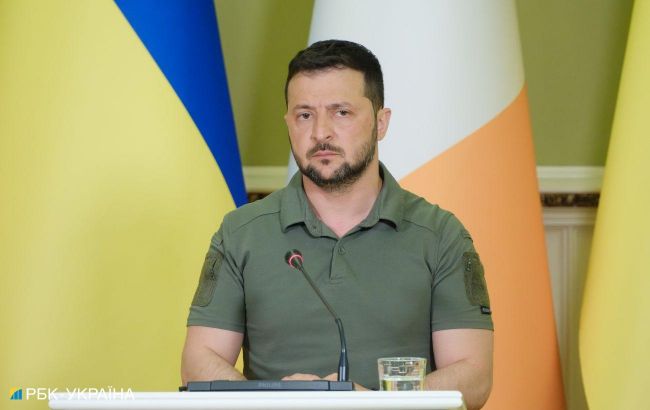 President of Ukraine Volodymyr Zelenskyy (photo: Vitalii Nosach, RBC-Ukraine)
As of today, 174,000 square kilometers of Ukraine's territory are potentially hazardous due to landmines and ordnance, says Zelenskyy in his adress.
"Currently, a total of 174,000 square kilometers of our country's territory are potentially hazardous due to unexploded landmines and ordnance. Our specialists are identifying hundreds of explosive objects daily," he stated.
According to the president, the more demining machines and specialized drones Ukraine has, the more rapidly safety will be restored.
"Ukraine needs equipment from its partners, and it is crucial to establish a production base in Ukraine so that we can clear our land from Russian mines. This task needs to be accomplished not in decades, but in years," he emphasized.
Zelenskyy also extended his gratitude to all Ukrainian experts involved in demining efforts.
"These professionals are truly working on the ground. They are demining fields, areas within settlements, power transmission lines, and infrastructure facilities. Over the past day, 133 pyrotechnic teams were active across the country, with the highest concentration in the Kherson, Kharkiv, and Donetsk regions. I extend my heartfelt appreciation to each and every one of you who are tirelessly clearing Ukrainian land from the scars of Russian terror," he remarked.
Demining in Ukraine
Amidst the Russian invasion of Ukraine and intense combat operations, our nation has become littered with explosive devices. Some analysts even characterize Ukraine as one of the most heavily mined countries in the world.
In response, Ukraine is launching a new state policy focused on humanitarian demining and is urging other countries to assist in this endeavor.
Furthermore, Minister of Internal Affairs Ihor Klymenko, in an interview with RBC-Ukraine, highlighted the priority areas for demining. According to him, the primary focus is on clearing routes under power lines and fields.