Zelenskyy holds talks with Biden: Discuss ATACMS and more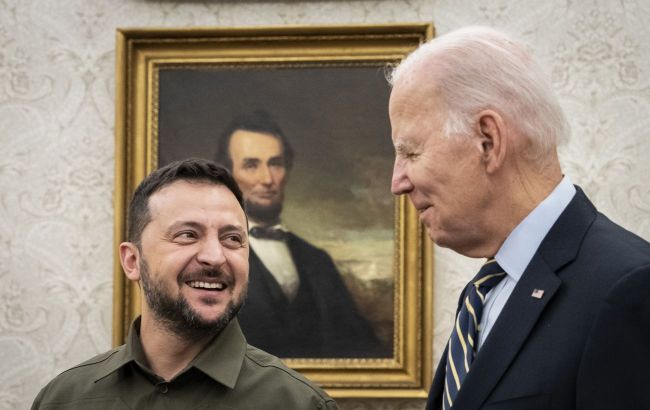 President of Ukraine Volodymyr Zelenskyy and President of the United States Joe Biden (Photo: Getty Images)
Ukraine's President Volodymyr Zelenskyy held a phone call with the President of the United States, Joe Biden. One of the topics discussed was the long-range ATACMS missiles, according to a statement of the head of the state.
According to Zelenskyy, he thanked Biden for fulfilling recent defense agreements.
"Ukrainians are greatly encouraged by the delivery of ATACMS, and our warriors are putting them to good use on the battlefield. We discussed further strengthening our long-range capabilities," the president explained.
He also thanked the U.S. president for the recent visit of the U.S. Special Representative for Ukraine Negotiations, Penny Pritzker, during which talks on the use of Russian assets began.
During the discussions, the leaders also touched on the law on politically significant persons passed by the Ukrainian parliament. This law is essential for advancing reforms and starting negotiations on EU accession.
Zelenskyy discussed with Biden the progress of the Peace Formula and welcomed the U.S. decision for their special representative to participate in the next advisors' meeting in Malta at the end of October.
"Ukraine is grateful for the vital and enduring US support in our fight for freedom and against Russian aggression," the head of state summarized.
Previous Zelenskyy-Biden talks
The last time Zelenskyy and Biden held talks was during the Ukrainian leader's visit to the United States at the end of September.
During that meeting, the presidents discussed military aid to Ukraine. As it became known later, Biden and Zelenskyy agreed on the transfer of long-range ATACMS missiles to Ukraine.
Such weaponry has already been delivered to Ukraine. Ukrainian soldiers recently used it to strike at airfields in the temporarily occupied cities of Luhansk and Berdyansk.