Wildfires spread across Mediterranean, including Croatia and Portugal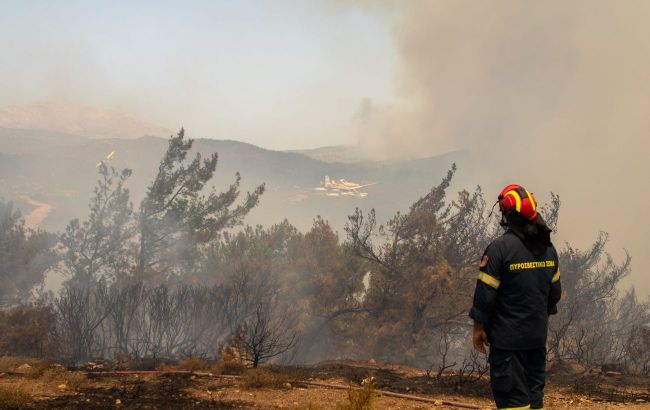 Wildfires in Rhodes, Greece (gettyimages.com)
Wildfires sweeping through Mediterranean countries have led to fatalities and mass evacuations. The Guardian reports that the blazes have affected at least nine countries in the region, including Croatia and Portugal. The firefighting efforts involve thousands of firefighters and dozens of aircraft and helicopters.
In Algeria, fires have erupted in 15 provinces, resulting in the evacuation of 1,500 people. Tragically, at least 34 people, including 10 soldiers, have lost their lives in several regions.
In neighboring Tunisia, the flames have spread to three areas in the northwest, leading to the evacuation of 300 people by both land and sea, with one person dying from smoke inhalation.
Syria's northwest coastal regions along the Mediterranean have also experienced wilfires, necessitating the use of helicopters to combat the disaster.
Italy has faced a deadly combination of stormy weather in the north and fires in the south, with seven fatalities reported, two of which were in a house engulfed by flames in Sicily, where 1,500 people were also evacuated from the Palermo region.
In Greece, wildfires have struck five regions, causing the evacuation of 20,000 people from homes and hotels on the island of Rhodes. 3,000 people have already been flown back to their countries. Tragically, during firefighting operations, two pilots lost their lives.
Photo: Aerial view of the fires in Greece (gettyimages.com)
France has seen wildfires breaking out near the international airport in Nice, while over 300 firefighters battled the blaze near the city of Arles.
Croatia faced fires spreading south of Dubrovnik on the Adriatic Sea, with strong winds hindering firefighting aviation operations.
In Spain, a wildfire on the island of Gran Canaria led to the evacuation of several hundred villagers. Approximately 100 firefighters and nine aircraft are working to extinguish the flames that have affected around 200 hectares of forest.
Portugal faced a fire in the mountainous area of Sintra-Cascais Natural Park, encompassing around 145 square kilometers. Multiple people were evacuated, and firefighting efforts involved 600 firefighters and aircraft.
Moreover, over a thousand firefighters worked to contain a fire that broke out in a forest near the Turkish resort town of Kemer in the province of Antalya.
As we previously reported, at the beginning of the week, Greece experienced fires in five regions. The situation remains critical as the wildfires continue to ravage the Mediterranean region.