Wildfires in Greece: 18 planes involved, thousands of tourists evacuated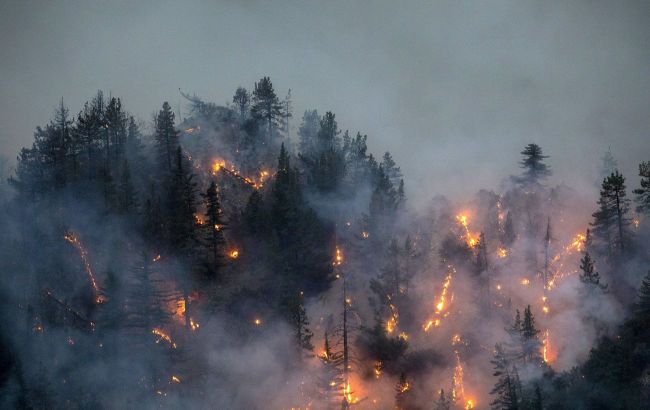 Over 19 thousand people have been evacuated due to wildfires in Greece (Getty Images)
Massive wildfires on the Greek island of Rhodes have led to the temporary closure of numerous hotels, affecting the plans of thousands of tourists. Approximately 19,000 visitors were evacuated as a result of the devastating fires, as reported by Reuters.
Some vacationers recounted their harrowing journeys of over 10 kilometers to reach safety. Renowned tour operators Jet2, TUI and Correndon cancelled flights leaving for Rhodes, which lies southeast of mainland Greece and is famous for its beaches and historic sites.
The Greek Ministry of Transport disclosed that TUI and Jet2, which cater to a significant portion of tourism on Rhodes, had arranged 14 evacuation flights from the Rhodes Airport.
The wildfires also posed significant challenges on other Greek islands and regions. Emergency services struggled to combat blazes on the island of Euboea, east of Athens, as well as near Egio, southwest of Athens, and on the island of Corfu, where authorities ordered the evacuation of several small communities as a precautionary measure.
More than 250 firefighters, aided by 18 aircraft, worked tirelessly to establish firebreaks to protect dense forests and residential areas. A spokesperson for the firefighting services reported that the fires had impacted 10% of the hotels in the central and southeastern parts of Rhodes, while the northern and western regions remained unaffected.
Coast guard vessels and private boats evacuated over 3,000 tourists from the beaches on Saturday. Fleeing the advancing flames, many people rushed out of their hotels as the fires reached coastal villages, including Kiotari, Gennadi, Pefki, Lindos, Lardos, and Kalatos.
The authorities transported the evacuees to conference centers and school buildings, where they were provided with food, water, and medical assistance.
Wildfires in 2023
The dry and arid summer has increased the risk of forest and steppe fires in several regions around the world. Notably, fire outbreaks have been recorded in North America, Europe, and Australia.
As of early July, wildfires in Canada alone have consumed over 3.3 million hectares of land, with smoke engulfing the entire North American region.
5,500 rescuers worked to extinguish the fires. However, according to forest fire expert Mike Flannigan, this number falls short by 2,500 firefighters, making the situation all the more challenging to manage.