Why Mirage 2000 aircraft isn't suitable for Ukraine: Expert lists several reasons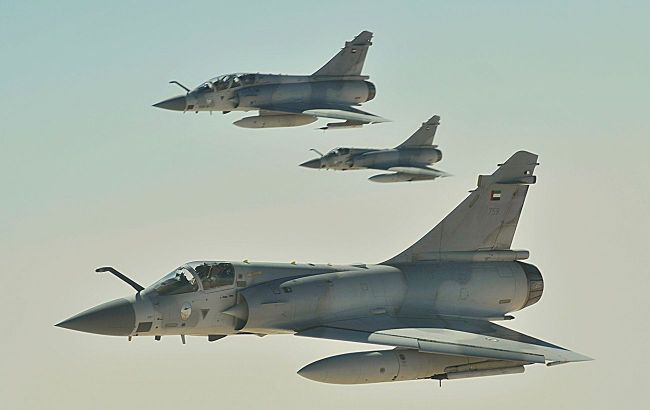 Mirage 2000 fighter jets (Photo: wikipedia.org)
Western media emphasize that Mirage 2000D fighter jets are optimized for low-altitude flights, ground attacks, and supporting ground forces, but this should not be considered a decisive factor in the selection of aircraft for Ukraine, according to Former Test Engineer at the Antonov Design Bureau Kostiantyn Kryvolap in a comment to RBC-Ukraine.
The Mirage 2000D, of course, is optimized for low-altitude flight, ground attacks, and support for ground forces. They can carry ASTAC electronic reconnaissance pods, laser targeting pods, and are equipped with the Link 16 data transmission system, allowing the combat aircraft to receive real-time information from various NATO reconnaissance resources.
In theory, this could be beneficial for Ukraine, but expert Kostiantyn Kryvolap has doubts, as not everything from the mentioned features should be considered advantages, especially not as a decisive factor.
Mirage 2000D for Ukraine: Pros and cons
"They write that the Mirage has a good terrain scanning system, it is adapted for low-altitude flights. Well, everyone already flies that way, even our pilots. When the Russians came from the north, our Su-24s bombed columns at such a low altitude, they barely missed the trees," he commented to RBC-Ukraine.
He emphasizes that, of course, the Mirage 2000D can work with Link 16 or the Ukrainian Delta situational awareness system, but its radars leave much to be desired.
"Our detection speed, for instance, against Russian Su-35s is higher than that of the French fighter. When the radar detects at only 100 km, you don't see the enemy aircraft. Su-35 can detect at 200-250 km, and while you're essentially blind, it can launch a missile. Even in our MiG-29s, the radar situation is better than in the Mirages," the expert added.
The only strong point of Mirage
intelligence Online points out another feature that may interest the Ukrainian Air Force. Mirage 2000D is adapted for the use of Storm Shadow (SCALP) missiles, so they could increase the number of platforms for their launch.
Previously, Ukraine, judging by certain episodes, quite successfully adapted its Su-24 or Su-27 aircraft for Storm Shadow. Recently, these missiles struck Russian Black Sea Fleet ships: the large landing ship Minsk and the submarine Rostov-on-Don in Sevastopol.
Before that, several Storm Shadow missiles hit the bridges connecting mainland Ukraine with occupied Crimea.
"Only if we lack Su bombers. I don't know how many of them are in service now, but according to various data, there are enough for launching British and French missiles. In any case, we don't need 25 aircraft to launch Storm Shadow. Not many of these missiles were made, and accordingly, not many were given to us," he explained to RBC-Ukraine.
A number of problems are associated with French fighters
However, there are several issues associated with Mirage 2000, which ceased production 16 years ago.
Firstly, spare parts for them were not mass-produced. Secondly, servicing one squadron would require a specialized unit.
"Thus, it all appears rather impractical. It's all outside the system of Ukraine's Air Force. On one hand, it's a combat aircraft, but just like Zhiguli is also a car. It became clear this spring that for Ukraine, F-16 should be the top priority, with Gripen possibly in second place. Everything else is either too expensive or so outdated that we simply don't need it," added the expert.
The fact that the French switched to Rafale after closing the Mirage 2000 production line indicates that there was no modernization effort for the Mirage aircraft. Unlike the American F-16s, which, in versions from Block 50/52 to Block 70/72, are considered the most modern combat aircraft.
More about Mirage 2000 and why they are not suitable for Ukraine's arsenal - read in RBC-Ukraine article.
Why did talking about Mirage 2000 begin
Earlier, there were reports in the media about Ukrainian pilots supposedly undergoing training on Mirage 2000 in France. Later, both countries' defense ministries denied these claims.
Yesterday, Western media once again stated that Ukraine was in negotiations with France regarding the transfer of Mirage 2000D fighter-bombers. Moreover, according to journalists, a Ukrainian delegation has allegedly traveled to France to discuss this matter.