Who is Ramzan Kadyrov and why does he matter to Putin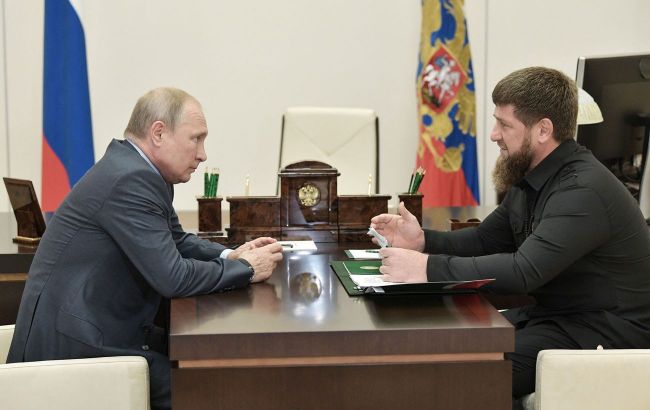 Ramzan Kadyrov and Vladimir Putin (Photo: Getty Images)
Ramzan Kadyrov is one of the main allies of Russian President Vladimir Putin. His own special forces unit named after himself as "Kadyrovtsy", actively participated in the aggression at the beginning of Russia's invasion of Ukraine. Critics of the Chechen leader were located and even killed, even beyond the borders of the republic. Recently, rumors have spread about his serious illness or even death.
Who is Ramzan Kadyrov, and what is known about his condition - below in the material of RBC-Ukraine.
During the preparation of the material, the following sources were used: public statements by Russian and Chechen politicians, Ramzan Kadyrov's social media, Wikipedia, and Radio Liberty.
A fighter from Tsentaroy village: Early years of Ramzan Kadyrov
Kadyrov Jr. was born on October 5, 1976, in the village of Tsentaroy, which was then part of the Chechen-Ingush Autonomous Republic. Ramzan is the son of the leader and former mufti (religious leader in Islam) of Chechnya, Akhmat Kadyrov. At the age of 17, after completing school, the young Ramzan joined the liberation movement in the republic, which was gaining momentum at the time. On October 27, 1991, Chechnya elected Dzhokhar Dudayev as its president. He declared that Chechnya was fully breaking away from Russia.
A year later, the First Chechen War erupted when Moscow sought to regain control of the rebellious region. It was during this time that Ramzan supposedly uttered the phrase that he "killed his first Russian at the age of 16." Ramzan, along with his father, fought on the side of the Chechen forces defending their independence. When his father became the mufti, Ramzan became his assistant and bodyguard.
After a ceasefire and Akhmat Kadyrov's alignment with federal forces, his son began a career in the elite security services of Chechnya and the Russian Federation. In 2003, he became the head of his father's security service, now the President of Chechnya, and took part in special operations.
Photo: Despite his youth fighting against Russians, Ramzan Kadyrov has received honorary awards (Getty Images).
In the years 2000-2004, he formed his own units of "Kadyrovtsy," primarily composed of former militants who voluntarily surrendered. Most of them were relatives and fellow villagers of the Kadyrov family. In 2004, he was awarded the title of Hero of Russia. Kadyrov's opponents claim that he organized the assassination of Aslan Maskhadov, the President of Ichkeria, and was involved in numerous kidnappings.
After his father's death, he was appointed as the first deputy prime minister of the republic. The government and parliament of Chechnya appealed to Vladimir Putin to make an exception and allow Ramzan Kadyrov to lead the region at the age of 28 (the minimum age is 30). However, Putin did not make any changes, although he entrusted the local branch of the United Russia party to Kadyrov.
At the helm of Chechnya
Ramzan Kadyrov soon took over the leadership of Chechnya after the resignation of President Alu Alkhanov in 2007 (Alkhanov immediately became the Deputy Minister of Justice of the Russian Federation and remains in that position to this day). At that time, Kadyrov declared the complete elimination of band formations and underground activities in Chechnya.
Since then, the republic has effectively been under the personal rule of the Kadyrov clan: his mother, sisters, children, and wife. It is not uncommon to hear about so-called public "apologies to Kadyrov," extrajudicial reprisals, abductions, and killings. If men went into the woods and became militants, their families often had their homes burned down (this practice was even condemned by Putin in one of his press conferences).
On the other hand, the Kremlin continued to buy Chechnya's loyalty with very generous subsidies from the federal budget. According to various estimates, up to 90% of Chechnya's treasury consisted of these subsidy funds. According to many testimonies, the Ahmat Kadyrov Foundation collects compulsory contributions that mysteriously disappear afterward (although they are theoretically supposed to go to charity).
During Ramzan's rule, there has also been a significant Islamization of Chechnya and attempts to introduce elements of Sharia law. They opened a large mosque called the Heart of Chechnya and various Islamic schools. Any elections are considered completely rigged, and candidates supported by the authorities often receive up to 99% of the votes. People who criticize Putin are referred to by Kadyrov as "his personal enemies."
War in Ukraine and the "Kadyrovtsy": From 2014 to the present
Since the occupation and annexation of Crimea and the beginning of the war in Donbas, Kadyrov directed his personal units into Ukraine. He faced sanctions for this, and the Security Service of Ukraine (SSU) opened several criminal cases against him. Kadyrov claimed that only volunteers were fighting, not regular units of the Russian army in Chechnya.
At one point, he even stated that "74,000 Chechens are ready to go to restore order in Ukraine" but no such order was given. His units were supposedly there to "defend Putin from the West." On Russian television, Ramzan Kadyrov referred to himself as a volunteer ready to go to fight in Donbas.
However, this never happened, neither then nor after February 24, 2022. Moreover, the head of Chechnya announced that there would be no mobilization in his region. Still, he referred to the war against Ukraine as a "great jihad" and called for the destruction of Ukrainian cities.
After the withdrawal of the Wagner PMC forces in the summer of 2023, it was Kadyrov's mercenaries who remained in Donbas, particularly near Bakhmut and received orders from Russia to go on the offensive. Previously, Kadyrov's forces, known in Ukraine as the "TikTok forces" (a name given because soldiers actively recorded videos for TikTok, even on the battlefield), primarily operated in the rear, with the exception of battles for Mariupol, Severodonetsk, and Lysychansk.
Many Chechens, including commanders, died during an unsuccessful landing at Gostomel Airport in the Kyiv region. According to the SSU counterintelligence, "the losses amounted to several hundred fighters." The main camp was located near Borodianka.
In general, as reported by The Guardian, the losses of Chechen fighters in Ukraine were disproportionately high. Chechens were poorly integrated into the Russian army, so they often acted and died independently. Recently, all they did was record videos talking about Kadyrov's fighting spirit and "terrorizing the local population."
Photo: Kadyrov and Putin may not survive without each other (Getty Images)
At this moment, there are many of his enemies in Chechnya, people he has killed relatives or burned their homes or businesses, according to Western analysts. Many locals despise him or hold deep grudges due to the bloody feuds.
For Kadyrov to survive, he needs Putin, and vice versa. At least two Chechen brigades fighting in the ranks of the Armed Forces of Ukraine harbor strong hatred for Kadyrov. So, he has reasons to be concerned, including for his life and power, especially when Chechen fighters were disgracefully sent home in 2022.
Is he dead, ill, or alive? What is happening with Ramzan Kadyrov
In the past week, various sources, including Ukraine's Defense Intelligence, reported a "critical condition" of the Chechen leader and even suggested his possible death. In response, his press service released a video in which Kadyrov is seen taking a walk in the park, but it's unclear when exactly it was recorded.
Since late 2022, Telegram channels associated with Chechnya have been covering the situation as "critical." Prominent opposition figure Tumso Abdurakhmanov stated that Kadyrov might be experiencing kidney failure, and "dialysis isn't helping." This was on July 1, 2023, but back then, Kadyrov and his cousin and another criminal, Adam Delimkhanov, just laughed it off.
Israeli doctor Mykhailo Fremderman, after watching the video, suggested that Kadyrov might be undergoing "serious intravenous therapy," as his entire hand appears to be punctured. According to Russian media reports, Kadyrov's plane has been in Moscow for four days, and he is reportedly receiving dialysis treatment at a local hospital. Many expensive cars with Chechen license plates were seen near the Central Clinical Hospital of the Presidential Administration.
Photo: Kadyrov may indeed be very ill, but his real condition is currently unknown to anyone (Getty Images)
Russian journalist Elena Milashina, who perhaps knows Chechnya better than anyone, explained that "this is indeed a serious illness with severe pain that prevents sleep. Even painkillers that typically work for the terminal stage of cancer aren't helping." Supposedly, he had already undergone a kidney transplant at the hospital, but it didn't take, so "Kadyrov's chances are slim."
Kadyrov himself and his inner circle are convinced that someone systematically poisoned him. And he even knows the name - the former Minister of Health of the republic, personal physician, and advisor Elkhan Suleymanov. He allegedly administered injections to Kadyrov that could have worsened his health. Since October 2022, no one has seen him.