Weapons, peace and grain: Ukrainian foreign minister on agreements with ministers in Spain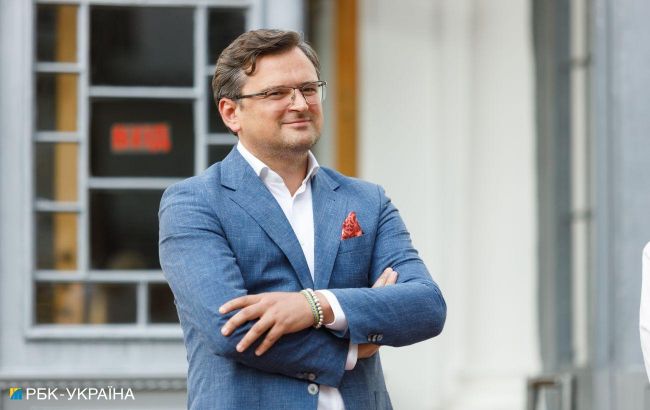 Ukrainian Foreign Minister Dmytro Kuleba (Vitalii Nosach, RBC-Ukraine)
Ukrainian Foreign Minister, Dmytro Kuleba, has shared details of his trip to Toledo, Spain, where he held an informal meeting with the EU counterparts. The parties discussed an increase in ammunition supply to Ukraine, the peace formula, grain exports, and more.
"The format of informal communication among EU ministers allows for the preparation of crucial decisions. Today, in Toledo, the focus was on Ukraine and the upcoming political season," Kuleba wrote.
According to him, today, August 31, the ministers agreed on decisions to be reached from September to December, including:
Increasing Ukrainian grain exports by sea and land routes.
Increasing the number of participants in the peace formula and moving closer to the Global Peace Summit.
Redoubling efforts to bring back Ukrainian children abducted by Russia.
Increasing joint arms production based on the results of the Defense Industries Forum in Ukraine.
Increasing the quantity of ammunition to be supplied as part of the EU's relevant initiative.
Mobilizing funds for humanitarian grain supplies from Ukraine to African and Asian countries at the second Grain from Ukraine summit.
Opening negotiations on Ukraine's EU membership by the end of 2023.
"The list is not exhaustive, but it gives you a general picture. Ministers will do their work, and our leaders will reach final agreements," Kuleba said.
Dmytro Kuleba's international tour to Czechia, France, and Spain
As previously announced, Ukrainian Foreign Minister Dmytro Kuleba is conducting visits to Czechia, France, and Spain this week.
The Ministry of Foreign Affairs' press service said that these trips were organized to "fulfill the urgent tasks set by Ukrainian President Volodymyr Zelenskyy for Ukrainian diplomacy."
The main topics of discussion at these meetings were reported to include: new arms supplies to strengthen the Armed Forces of Ukraine, particularly air defense systems, advancing the peace formula, preparations for the Global Peace Summit, and opening negotiations on Ukraine's accession to the EU by the end of this year.
Today, in the Spanish city of Toledo, Kuleba participated in an informal meeting of EU foreign ministers, and held a briefing after the meeting. In particular, he criticized those who have been critical of the slow counteroffensive by the Ukrainian Armed Forces.