War spillover into Russia worsens its economy - Bloomberg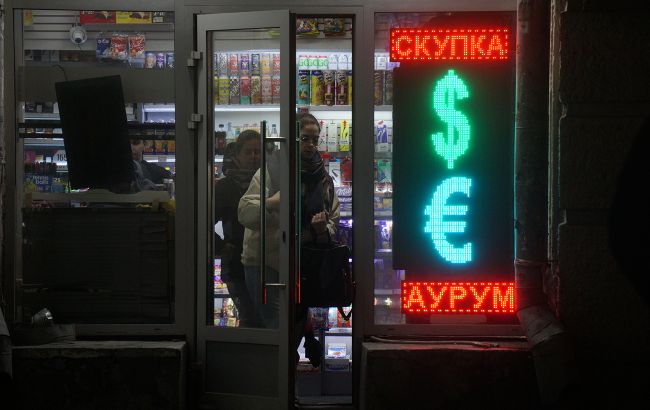 Photo: Russia currency exchange (Getty Images)
Putin's invasion of Ukraine has cost Russia billions of dollars as sanctions weigh on its economy and state payments sharply drop.
While the conflict has spilled onto Russian territory, the price of war is expected to increase even further, according to Bloomberg.
Bloomberg Economics estimates that the outbreak of full-scale hostilities in the regions bordering Ukraine could lower Russia's already light growth forecast to 0.8% in 2023.
The Belgorod region has repeatedly experienced shelling and attacks from Ukrainian rebels engaged in prolonged battles with Russian forces. There were reported about drone strikes in Kursk, Krasnodar, and Voronezh, in addition to an attack on Moscow last month.
"Everyone near the conflict zone is either leaving or considering it," said economist and former government official Yevhen Hontmakher. "These are long-term consequences, and people are unlikely to return quickly even under favorable developments."
Thousands of people in the Belgorod region have relocated to temporary shelters to escape violence or have been transferred to other areas of the country by local authorities. In Shebekino, where a well-known pasta manufacturer in Russia is located, the government has promised financial assistance to local factories forced to halt operations due to employee leave.
Problem's scale
According to Bloomberg Economics, as 10% of the country's population, totaling 143 million people resides in the border regions, the outbreak of full-scale hostilities will impact Russia's economic growth in the third quarter of this year.
The Bank of Russia forecasts a 2% growth rate for the economy this year, reaching pre-war levels by the end of 2024 as sanctions ease, while the Ministry of Economic Development expects GDP growth of over 1%. Russia's annual GDP decline has slowed for the third consecutive quarter, with a 1.9% contraction in the first three months of this year.
Tetiana Orlova, an economist at Oxford Economics, states that direct disruptions to household consumption in Russia can reach up to 1.7% if the hostilities spread to the Belgorod, Kursk, and Bryansk regions.
The escalation of turmoil in the border regions will shift the local economy from development to survival, and the outflow of residents from the conflict zone and damage to infrastructure will add to the costs, says Natalia Zubarevich, a regional specialist at Moscow State University. "Overall, the picture is unpleasant," she said.
The escalating turmoil in the border regions will hurt the local economy, with residents fleeing and damaged infrastructure, says Nataliia Zubarevych, a regional specialist at Moscow State University. Recent raids by the "Russian Volunteer Corps" in the Belgorod region have increased, leading to the shelling of Ukrainian territory by Russian forces.
Ukrainian President Volodymyr Zelenskyy has emphasized that Ukraine has no intention of seizing foreign territory and will not wage war on the region of a terrorist state.