Unique museum opened in Kyiv: No city in the world can boast such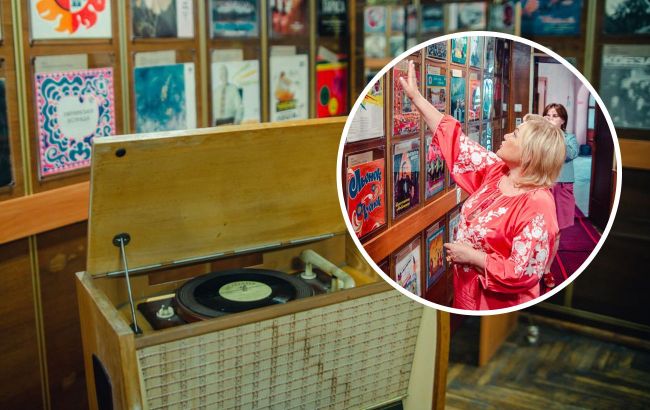 A unique museum opened in Kyiv (Collage RBC Ukraine)
A new unique museum of Ukrainian gramophone records has been opened in Kyiv. It contains 400 items from the main fund of Ukrainian music on various sound carriers. And this museum is located in a place that all Ukrainian musicians love - the Spivoche Pole.
Who created this museum?
The initiative to create the museum belongs to its current director, one of the pioneers of the Ukrainian electronic scene, Ivan Moskalenko (Dj Derbaster). The idea of the form and content belongs to the director of the Kyiv City Center for Folk Art and Cultural Studies, Fedir Balandin.
The museum's chief consultant is a well-known Kyivan historian and researcher Mykhailo Kalnytskyi.
The idea of a record museum
According to the Department of Culture of the Kyiv City State Administration, a record is a work of art that needs to be preserved and studied. The museum's leaders plan to expand, conduct cultural research, and organize expeditions dedicated to various aspects of the musical culture of Ukraine and the world.
The first recording of songs in Ukrainian took place in London in 1899. In the twentieth century, records of Ukrainian opera singing appeared - by the Krushelnytsky sisters, Oleksandr Myshuga, and Philomena Lopatinska.
In 1908-1909, Lesia Ukrainka organized an ethnographic expedition and recorded kobza singing on a phonograph for the first time.
And in 1909, the first 11 records with folklore repertoire were recorded at the International Extra Record studios in Kyiv, Odesa, Kharkiv, and Zhytomyr, by Mykola Lysenko with artists from Mykola Sadovskyi's troupe.
The Museum of Ukrainian Gramophone Records in Kyiv (photo: Kyiv City State Administration)
Where is the museum located and how does it work
The Museum of Ukrainian Gramophone Recording is located on the Spivoche Pole, 41 Lavrska Street. This museum is open on Saturday and Sunday, from 12:00 to 18:00. Admission is free.
It's worth noting that there is a museum in Ukraine with a similar theme, located in Odesa. But this is the Museum of Sound, and it is dedicated not only to sound media but also to the equipment that reproduces sound - about 5,000 exhibits from around the world.