UN Security Council rejects Russian resolution on truce between Israel and Hamas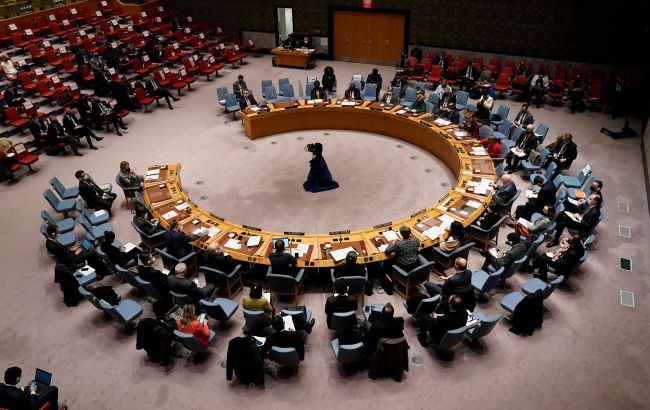 UN Security Council rejects Russian resolution on truce between Israel and Hamas (Photo: Getty Images)
The UN Security Council rejected a resolution calling for a ceasefire between Israel and the Gaza Strip without condemning the actions of Hamas terrorists. Russia proposed the resolution, according to the UN press service.
The Russian resolution received five votes in favor, falling short of the necessary minimum of nine votes. Four countries voted against it, and six abstained.
Russia, China, the UAE, Gabon, and Mozambique voted in favor of the resolution. Albania, Brazil, Ghana, Malta, Switzerland, and Ecuador were absent.
The United States, Britain, and France voted against it, citing the omission of condemning Hamas militants for the attacks on Israel.
The draft resolution called for an immediate humanitarian ceasefire and condemned any violence and acts of terrorism against civilians, but it did not mention terrorist groups.
Following the vote, U.S. Ambassador to the UN Linda Thomas-Greenfield stated that Russia put forward its resolution without consultations.
"By failing to condemn Hamas, Russia is giving cover to a terrorist group that brutalizes innocent civilians. It is outrageous, hypocritical and indefensible," she said.
Hamas attack on Israel
On October 7, Hamas terrorists attacked Israel from the Gaza Strip. The militants took hostages, killed thousands of civilians, and took control of some military facilities.
Israel declared a "state of war" and launched the counter-terrorism Operation Iron Swords.
Later, Israel pledged to destroy the Hamas terrorist group following a deadly attack on the civilian population, reminiscent of the Holocaust.
Yesterday, there were reports in the media about the alleged agreement on a ceasefire in the Gaza Strip. However, Israel denied this, stating that military operations continue in the southern Gaza Strip.