Ukranian troops liberated nearly 18 sq. km in past week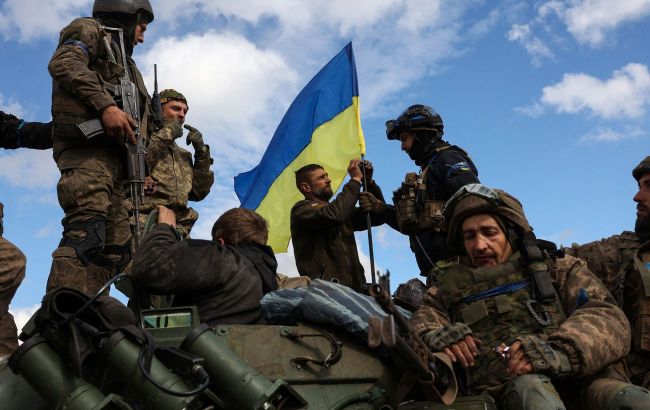 The defense forces have de-occupied nearly 18 square kilometers of territory over the past week (Photo: Getty Images).
Ukrainian forces have liberated nearly 18 square kilometers of territory from the occupation in the east and south over the past week, according to the Deputy Minister of Defense Hanna Maliar's statement on Telegram.
"Over the past week, a total of nearly 18 square kilometers of territory were liberated as a result of offensive actions. The overall liberated area since the beginning of the offensive amounts to 210.5 square kilometers," she wrote.
The situation in the south of Ukraine
Ukrainian forces continue their offensive operation in the Melitopol and Berdiansk directions. Notably, they have conducted offensive actions in the areas of Makarivka, Staromayorske; Novodarivka, Pryiutne; Mala Tokmachka, Novopokrovka; Piatyhatky, Grozove, with success.
Within the past week, there have been advancements in certain areas, penetrating enemy lines from our defensive positions. As a result, the liberated territories have increased by 10.9 square kilometers.
Overall, since the start of the offensive in the south, our defenders have advanced 9.25 kilometers, liberating a total area of 179.5 square kilometers.
Enemy losses
From July 10th to July 16th, Ukrainian military forces destroyed 134 units of Russian weaponry and military equipment, 36 ammunition depots, and two depots containing fuel and lubricants in the Tavria direction.
The destroyed equipment includes 6 tanks, 24 armored combat vehicles, 12 drones, 2 self-propelled artillery systems (2S3 "Akatsiya," 2S7 "Pion"), 5 howitzers 2A65 "Msta-B," howitzer 2S19 "Msta-S," 4 guns "Hyacinth-B," 5 BM-21 "Grad" multiple rocket launchers, 3 long-range visual surveillance systems "Murom-M," 4 D-30 howitzers, 2 Buk air defense systems, 2 Strela-10 air defense systems, 4 electronic warfare stations, portable radar system "Kredo-M," and 2 automated stations for obstacle deployment R330 "Zhitel," as well as various vehicles.
Additionally, the Defense Forces have taken 50 Russian soldiers into captivity.
The situation in the east of Ukraine
Over the past week, Ukrainian military forces liberated 7 square kilometers in the Bakhmut direction.
Meanwhile, the Russians are actively advancing in the Kupiansk direction in the Kharkiv region. They are attempting to identify weak points in our defense and conducting assault actions to try to displace our units beyond the barrier line of the Oskil River.