Ukrainians travel to Russia by bus despite ongoing war: How travel scheme operates without consequences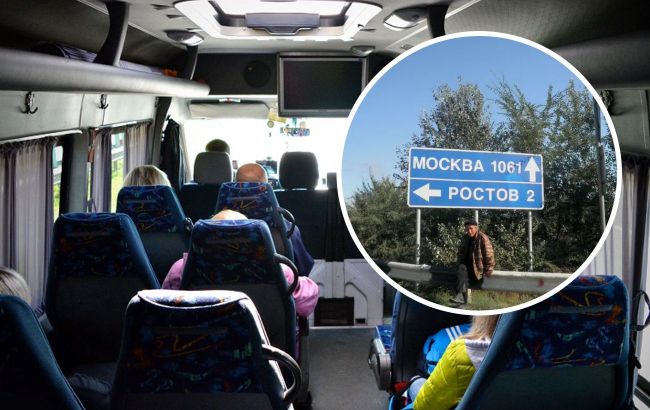 Despite the war, Ukrainians regularly travel to Russia by bus (Collage: RBC-Ukraine)
Despite Russia's full-scale invasion of Ukraine, some businessmen still offer our citizens to travel to the aggressor country. Moreover, it's possible to get to Russian (or temporarily occupied) cities by bus, and punishing carriers is not an option.
How do the schemes of traveling to the enemy state work? Why do they still operate? Are there prospects to change the situation? Find answers to these questions in the article below.
Carriers' position
Officially, there is currently no air, rail, or bus connection with the aggressor country. On the websites of most official carriers, you can find announcements stating that "due to Russia's war against Ukraine, flights to Russia are not operated."
However, in reality, private passenger transport from Ukraine to Russia still operates, often through European countries.
Travel scheme to Russia
RBC-Ukraine spoke with one of the private carriers who clarified the details of a potential trip.
To travel from Kyiv to Moscow, you need to call and book a seat three to four days in advance.
Depending on the number of passengers and the specific date, you can catch a microbus with either 8 or 18 passengers.
Similar routes run 3-4 times a week, and the cost of this trip is 280 euros.
For those with only Ukrainian citizenship, the route usually goes through Warsaw (Poland) and then through Lithuania or Latvia (depending on the specific route). There are no transfers involved.
If you have, for example, Russian citizenship, you can choose a route through Hungary.
For Ukrainians, only a biometric passport is required.
The journey from Kyiv to Moscow takes about one and a half to two days (depending on border queues). The carrier promises regular stops for rest and recommends carrying euros (or a sufficient amount of hryvnias on your phone for NFC payments).
Finally, travelers are reminded to check their phones for anything that "might not be liked by border guards or authorities before embarking on the trip."
Other options
Overall, based on various offers online, the cost of a trip to Russia ranges from 250 to 400 euros. You can travel through Poland, Hungary, the Baltic States (Lithuania, Latvia, Estonia), or Belarus. Finding carriers is not difficult, for instance, on Facebook.
In various groups, announcements regarding the possibility of traveling to Russia (specifically to Moscow) from Kyiv and other major cities in Ukraine (regional centers) appear almost daily.
Buses and minibusses regularly make trips to the aggressor country. They depart from Ukrainian cities and reach a "transit" point (most often Warsaw).
There, passengers:
Either transfer to another mode of transportation that takes them through Belarus, Hungary, Lithuania, Latvia, Estonia, or directly to their destination in Russia (practically any city in Russia).
Or take a break and continue the journey along the specified route in the same transport vehicle.
The duration of such a trip can be several days or more. It all depends on border queues, the number of rest stops, the number of passengers (who may join the journey in other cities), and the final destination (the distance to a specific city in Russia).
The same scheme applies in the opposite direction.
What "tourists" are promised
In announcements on social media targeting potential travelers to Russia, the following are usually promised:
Comfortable buses and minibusses (up to 50 seats).
Air conditioning and phone chargers.
Discounts for children.
The possibility of transporting pets.
Consultations regarding documents.
Accompaniment throughout the entire journey.
Assistance with transfers (if planned).
No need for border crossings on foot.
Cargo transportation (parcels, packages, etc.).
In addition to Ukrainian contact information, some announcements also include Belarusian and Russian contacts.
Most transport providers do not require an upfront payment. In some announcements, it is mentioned that payment for the trip can be made in various currencies, including hryvnias, dollars, euros, or Russian rubles.
Why aren't transport providers punished
According to lawyer Rostyslav Kravets, there are no penalties for transporting citizens from Ukraine to Russia. Instead, there is only "public condemnation."
"In reality, there is no responsibility for this because there is no transport operator that has a license and directly carries out such transportation of people, for example, from Kyiv to Moscow," he stated.
The expert explains that most often people are transported with transfers. For example, from Kyiv to Warsaw, from Warsaw to Vilnius, and from Vilnius to Moscow. In this case, the transportation chain is organized by intermediaries.
"There is no single operator because a decision was made to sever any connection (between Ukraine and Russia). Therefore, of course, no one directly transports people. Everyone does it with such transfers... The person who advertises this has made agreements with other transport operators and, with their help, organizes travel to the destination country or vice versa... Different operators, different licenses, different legal entities engaged in this business, and that's it," emphasized Kravets.
In the lawyer's opinion, when a transport provider promises a "direct" route without transfers, people are being deceived.
"I seriously doubt that a bus with Ukrainian license plates arrives in the aggressor country without any issues... I think that people still switch to another mode of transport," he added.
Can the situation be changed
The expert believes that this situation cannot actually be changed in any way.
"You can't establish responsibility for it, nor can you ban this (transporting citizens from Ukraine to Russia - Ed.). Such transportation cannot be blocked. What's the difference? A person can still go abroad," Kravets noted.
He clarified that theoretically, criminal responsibility for visiting Russia could be established, but in reality, such a ban would violate a large number of regulatory acts, including the Constitution and the Convention for the Protection of Human Rights and Fundamental Freedoms.
"This will not lead to any improvement in the situation," the lawyer concluded.
So, in essence, this issue is really only a matter of "public condemnation." Meanwhile, private transport providers profit by cooperating with hostile "businessmen."
Government reaction
Not long ago, Deputy Minister for Communities, Territories, and Infrastructure Development Serhiy Derkach assured on his Facebook that government officials have already started reforming the international passenger transportation sector. This primarily involves improving service quality and services.
The first step in this direction was the regulation of the list of international bus routes.
According to the decision of the relevant commission, 280 international car routes have already been closed, including:
Routes without appropriate permits from Poland - 118
Routes leading to Russia - 140
Routes to Poland, for which carriers have submitted closure applications - 22
Derkach noted that the verification of all international routes would:
Allow for a real understanding of the transportation situation
Facilitate the planning of the "eQueue" service (electronic border crossing queue)
Expand the transportation market
The government official added that after verifying the routes to Poland, the same work would be carried out with routes leading to other countries.
Special attention will be paid to routes that pass through temporarily occupied territories and cannot be operated fully or do not function at all (in which case the carrier must apply to the ministry to cancel or modify the route).
However, there is no mention of checking private carriers who, despite the war, transport Ukrainian citizens to Russia.