Ukrainian refugees in Sweden have access to high-level language learning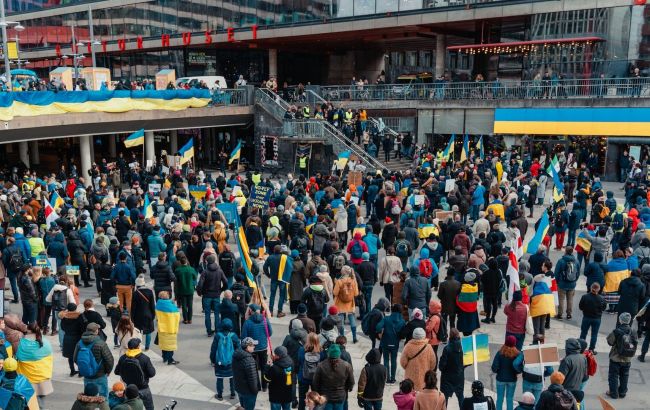 A rally in support of Ukraine in Stockholm (Photo: unsplash.com)
Ukrainian refugees in Sweden have been granted permission to study the Swedish language at municipal adult education institutions, Komvux. This means they can obtain a qualification equivalent to a complete secondary education.
This permission will enable Ukrainians to seek employment in schools and medical facilities, as reported by thelocal.se.
Johan Persson, the Minister for Employment and Integration in Sweden, announced this new measure. He emphasized that due to the ongoing war, Ukrainian refugees should be able to enter the Swedish job market.
"In many professions, particularly in elderly care and healthcare, and also in schools, a high level of Swedish is required to get a job. That is why the government now wants to open up Komvux to Ukrainians, so they can continue to study Swedish when they have finished SFI (Swedish for Immigrants)," said the minister.
According to Swedish legislation, adult Ukrainians who arrived in the country under the EU Temporary Protection Directive do not have the right to study the Swedish language in elementary school or at the upper secondary school level in adult colleges. That means they lose the right to free courses if they have already completed the free Swedish for Immigrants courses.
However, the highest level of the SFI course allows them to learn the language at a B1+ level according to the CEFR rating. To work as a teacher or teacher's assistant in schools in Sweden, they need to pass a national exam after completing the Swedish as a Second Language course at the upper secondary school level.
The changes in instructions allow municipalities to offer upper secondary school courses for Ukrainians, but this is optional. Therefore, local authorities will decide whether to offer such education to Ukrainians.
Since the beginning of the war, over 60,000 Ukrainian refugees have received temporary protection in Sweden.