Ukrainian new school year: online lessons or back to the classroom?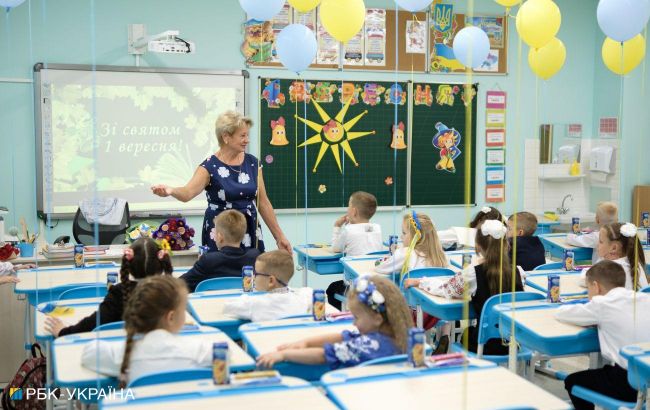 The new school year in Ukraine may start offline (Photo: RBC-Ukraine,Vitalii Nosach) 
Ukrainian educational institutions may transition from online to in-person classes from the new academic year. Such recommendations were recently given by the Ministry of Education and Science to universities and colleges. Schools are also preparing to welcome students back to classrooms from September 1. However, ensuring safety during air attacks is the main requirement for resuming offline lessons.
Maximizing in-person learning format and start date of the academic year The educational process in Ukraine has significantly changed in recent years. It started with the coronavirus pandemic, and later due to the full-scale Russian aggression, educational institutions implemented distance learning. This led to a deterioration in the quality of education.
The Ministry of Education and Science of Ukraine points out the following negative consequences and drawbacks of online learning:
Lack of effective feedback from teachers
Heavy workload with homework
Technical issues
Insufficient provision of students and academic staff with computer equipment
Limited communication
Lack of opportunities to gain practical experience
In a letter to educational institutions, the Ministry of Education recommends starting the academic year on September 1, 2023, and transitioning to in-person classes as much as possible, provided that there are shelters and sufficient capacity to accommodate everyone.
This applies to advanced vocational and higher education institutions, specialized colleges, academies, and universities.
The letter from the Ministry of Education is recommendatory. According to the law, the aforementioned institutions may independently determine the organizational and safety model for conducting the educational process.



The shelter is the main requirement for the resumption of offline education (Photo: RBC-Ukraine,Vitalii Nosach)
Continuation of distance learning
The recommendations from the Ministry of Education do not apply to regions with a complex security situation. Ongoing military actions may hinder on-site learning. This primarily concerns educational institutions in areas of armed conflict within the range of enemy missile attacks, such as those under the threat of RSZV and S-300 systems and similar weapons.
The condition for the return to in-person learning is the provision of safe conditions for the educational process. Therefore, the Ministry of Education suggests that educational institutions' management take measures during July-August 2023 to arrange existing shelters (specialized and adapted ones) for conducting classes during air alerts.
How schools will operate
Regarding the academic year 2023/2024 in schools, the Ministry of Education has not yet made official statements. In martial law conditions, decisions regarding the format of educational institution operations will be made by local military administrations and the founders of each educational institution.
Presumably, schools will operate following the model from the previous year - in-person, distance, or a combination of both formats, depending on the security situation and the presence of equipped shelters in the institution.
Cities ready to resume in-person learning
Kharkiv
The previous academic year for students of schools and universities in Kharkiv was conducted in a distance learning mode. However, starting from September 2023, educational institutions may return to in-person learning.
On July 7, the Kharkiv region Defense Council granted permission to restore traditional in-person learning for preschool, school, professional, advanced, and higher education institutions. The founders and leaders will make the final decision on the format of learning of each educational institution, but only if safety conditions are met.
According to Oleg Synehubov, the head of the Kharkiv Regional Military Administration, the main requirements include:
The presence of special shelters in the institution that meet the requirements of building norms and standards
Readiness of the alert system
Identification of evacuation routes
Provision of water and medication reserves
Conducting safety lessons on actions during air alerts
The Regional Military Administration also mentioned that parents of children will be offered to choose the preferred schooling format. Training for quick evacuation to shelters will also be provided to students and teachers.
Oleg Synehubov mentioned implementing a mixed format for both schools and universities. "In-person classes will be held for those subjects that cannot be taught online. For example, medical students or first-graders as they find it quite challenging to receive education in an online format. The classes will be held in shelters," he explained.

Kharkiv schoolchildren can return to their desks after a year of online learning (Photo: RBC-Ukraine, Vitalii Nosach)
The Poltava region
In the Poltava region, 87% of schools are ready to start the academic year 2023 in person. Of 526 secondary educational institutions in the area, 404 schools have equipped shelters, and 55 schools use shelters from other economic entities.
The head of the Regional Military Administration, Dmytro Lunin, shared that ensuring the safety of children is the top priority in preparing educational institutions for September 1.
He also expressed hope that all schools in Kremenchuk will be able to return to traditional in-person classes this year.
"Demonstrating a positive example is Kremenchuk. Last year, almost nothing was done for children to go to school. This year, active work is being carried out in 19 schools. If this continues, all Kremenchuk students will start the academic year in person," Lunin said.
Dnipro
The Dnipro City Council approved the return of students to schools for the academic year 2023/2024. However, the final decision on whether a child will attend school in person or engage in distance learning is left to the parents.
Parents can choose one of the proposed formats:
Mixed format - in-person classes and online lessons
Distance learning - synchronous and asynchronous online lessons
Individual format - external or family-based learning
Only after parents decide on the chosen format will school schedules be finalized.
In-person lessons will be conducted in schools where shelters are available. This applies to 116 out of 154 schools. Students from different schools will study together, so the educational process will be considered in two shifts, and some lessons will still be conducted online.
The Kirovohrad region
Since the start of the full-scale Russian invasion in the Kirovohrad region, shelters have been arranged in educational institutions. From September 1, 2023, the region plans to implement a mixed educational process.
If there were 86 shelters in schools at the beginning of the war, now there are shelters in 452 schools, which amounts to 92% of educational institutions in the region, according to Volodymyr Taboranskyi, the deputy head of the regional department of education, speaking on Ukrainian Radio Kropyvnytskyi.
"Our goal for September 1 is to have at least a mixed form of learning in all regional schools. The main form of education cannot be entirely distance learning; we need to return to communication between children and between children and teachers," Taboranskyi stated.
Previously, it was announced how Ukrainian children in Poland would be educated. They will continue to receive special conditions in the new academic year.