Ukrainian military has a heavy fighting for Staromaiorske, advantage on our side, say Armed Forces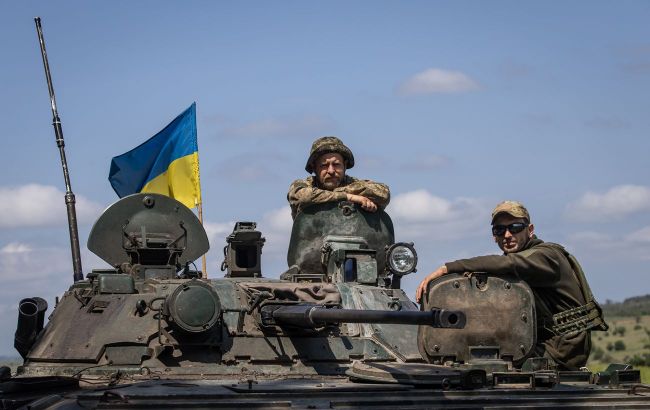 Ukrainian Military engaged in heavy fighting for Staromaiorske in Donetsk region on July 18 (Photo: Getty Images)
According to the statement of the spokesperson of the Joint Press Center of the Tavria Defense Forces, Captain Valeriy Shershen, during a briefing, Ukrainian military forces continue their advance on the Melitopol and Berdiansk directions. Specifically, intense fighting is currently taking place in the town of Staromaiorske in the Donetsk region, where the defending forces have a significant advantage.
"In the area of heightened attention, heavy fighting is underway for the populated settlement of Staromaiors'ke, south of Makarivka along the Mokri Yaly River. We have the advantage in this area," he said.
Success of the Ukrainian Armed Forces
Overall, according to the spokesperson, the Ukrainian Armed Forces continue their offensive operation on the Melitopol and Berdyans'k directions. They are consolidating their positions on the achieved front lines, conducting aerial reconnaissance of the terrain, demining activities, and counter-battery measures.
"Systematic work is ongoing in the Tavria direction. We have achieved certain successes in the offensive and are consolidating our positions on the achieved front lines. We haven't lost any defensive positions," Shershen added.
Enemy tactics
As mentioned by the spokesperson, Russian forces are primarily concentrating their efforts on the Avdiivka and Mariupol directions. In the past 24 hours, there have been 20 combat engagements, with 15 heavy assaults recorded in the area of Mar'inka alone.
"The Russian occupying forces aim to halt the Ukrainian advance, disrupt our plans for de-occupation, and specifically divert our reserve forces to the area of Avdiivka and Mar'inka. This is how the enemy seeks to weaken our offensive strength," he explained.
According to Shershen, that is why the occupiers are simultaneously operating in multiple locations.
"If we consider the entire front, there are five such points of enemy activity. The responsibility zone of the Tavria group involves Avdiivka and Marinka. This strategy is unsuccessful. We emphasize that on the Mariupol direction, the Armed Forces continue to successfully repel the Russian troops' advance in the area of Marinka and Krasnohorivka," the spokesperson noted.