Ukrainian military destroys 7 Russian sabotage boats in southern Ukraine in a day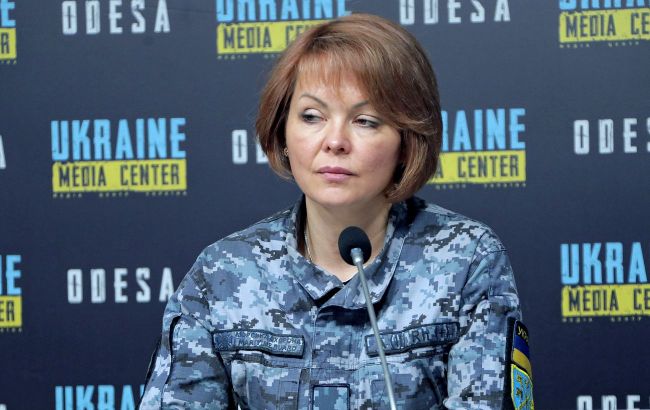 Head of the United Coordinating Press Center of Security and Defense Forces of the South of Ukraine Natalia Humeniuk (Getty Images)
Ukrainian defenders in the south destroyed 7 enemy boats in a day that were used by Russian saboteurs, as Head of the United Coordinating Press Center of Security and Defense Forces of the South of Ukraine Natalia Humeniuk says on Espresso TV.
"Every time the enemy attempts to reconnoiter what is happening on the left bank, they send their sabotage-reconnaissance groups on boats. In the past day, we eliminated 7 such boats from the occupiers. So, every time an enemy group goes out on a mission, they do not return," said Humeniuk.
The spokesperson also notes that Ukrainian soldiers are pushing back the enemy in the Kherson region, specifically on the left bank, where the occupiers are attempting to shell the liberated right bank.
"The enemy's attempts to approach closer to target the right bank have essentially stopped because, trying to advance there, they expose themselves to danger. They either detonate the mines they laid themselves or face our counter-battery fire," she added.
Successes of the Ukrainian forces in the south
Recently, the Institute for the Study of War (ISW), citing Russian sources, claimed that Ukrainian forces had landed on the left bank of the Dnipro River in the Kherson region and allegedly breached the Russian defense up to 800 meters deep. However, the Ukrainian Ministry of Defense later refuted this information about the alleged breach. Deputy Minister of Defense Hanna Maliar stated that some work was indeed conducted on the left bank.
Furthermore, the Defense Intelligence reported that reconnaissance troops of the Shaman battalion conducted an operation on the left bank of the Kherson region and eliminated a unit of Russian missile troops.
Humeniuk urged not to disclose the details of Ukrainian defenders' work, as violating information silence helps the enemy.