Ukrainian forces' breakthrough to Azov Sea to have strategic significance for Ukraine, Lithuania's MFA states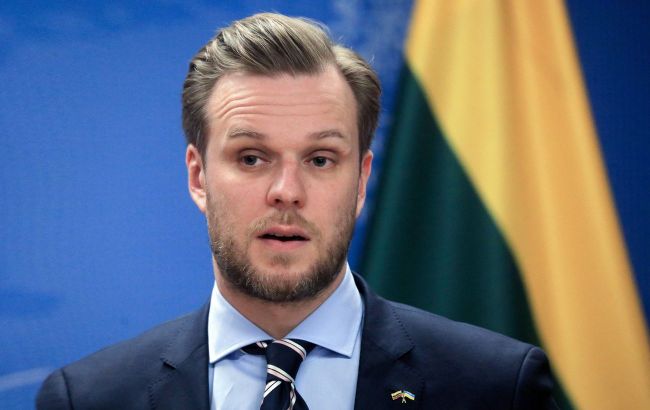 Minister of Foreign Affairs of Lithuania, Gabrielius Landsbergis (Photo: Getty Images)
The breakthrough of the Ukrainian Armed Forces to the Azov Sea, as well as gaining control over supply lines, will have strategic significance for Ukraine's victory in the war against Russia, according to the statement of the Minister of Foreign Affairs of Lithuania, Gabrielius Landsbergis, at an informal meeting of EU Foreign Ministers in Toledo.
"In my opinion, victory can be easiest defined as a strategic breakthrough in Ukraine on the battlefield, so it could be defined as a tactical breakthrough, but it provides strategic aftermath afterward. This breakthrough to the Azov Sea, the controlling the supply routes into Ukraine – these sorts of things would basically change of the theatre of the war in Ukraine," he stated.
According to Landsbergis, the Russians have had time to dig in, which poses certain challenges for the Ukrainian Defense Forces.
"Three defense lines are built in Ukraine, so Ukrainians are now, as we speak, breaking through the first line, but there are two more to go, and that requires a lot of commitment from our side. I feel there is weariness; some countries might feel tired and exhausted because the public is pressing – and this is all understandable. But we have to be very clear as to what it entails: if we don't support Ukraine until victory, then we are actually waiting for Putin," the minister pointed out.
He adds that freezing the war would now mean a victory for the Russian dictator Vladimir Putin.
"Yes, not a strategic victory as he didn't take Kyiv, but he can still do that. Do we want to live in this a reality?" Landsbergis questioned.
Southern offensive of the Ukrainian Armed Forces
Earlier, the Ukrainian command reported that the Defense Forces were actively preparing a foothold for an offensive in the south of Ukraine. This involved destroying enemy supply lines, command posts, and depots.
Recently, the spokesperson for the Southern Defense Forces, Natalia Humeniuk, announced new "gestures of goodwill" from the occupiers.
Furthermore, the Ukrainian Armed Forces struck at the concentration of occupiers in the Kherson region. Several units of enemy equipment and a drone warehouse were destroyed.