Ukrainian flag raised on left bank of Kherson region, it's a grey zone currently: Video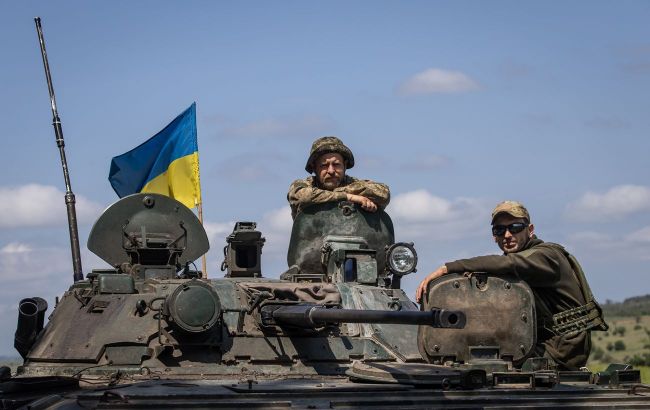 Ukrainian soldiers (Getty Images)
The Ukrainian Armed Forces raised the Ukrainian flag on the left bank of the Dnipro River in the Kherson region, it is currently a grey zone, the relevant video is spreading on Ukrainian social networks.
The video shows that the fighters raised the flag on one of the buildings on the territory of the Shliahovyk garden cooperative. Servicemen Andrii and Ivan noticed the flagpole there and decided to use it.
As the cameraman notes, next to the place where the flag was raised located the Antoniv Bridge, and the destruction was caused by flooding and shelling. He also asked another soldier to act fast, because the occupiers could see them.
"Let's tease them a little, let them know that this is our land," says the defender.
There is currently no official information on the raising of the flag. However, the Deepstate project has marked part of the territory near the Antoniv Bridge as liberated by the Ukrainian forces. It is about the settlement of Dachi between Antonivka and Oleshky.
Photo: Screenshot of the map (t.me/DeepStateUA)

The situation in the Kherson region
Earlier, the Ukrainian military leadership reported that the defense forces were actively preparing a bridgehead for an offensive in the south of Ukraine, destroying enemy supply lines, command posts, and warehouses.
Recently, a military representative, Natalia Humeniuk, announced new "gestures of goodwill" (fleeing) from the occupiers.
Recently, the Armed Forces of Ukraine struck the area where the occupiers were concentrated in the Kherson region. Several units of enemy equipment and a warehouse of drones were destroyed.