Ukrainian Armed Forces prepares to repel Russian advance along Kupiansk-Lyman line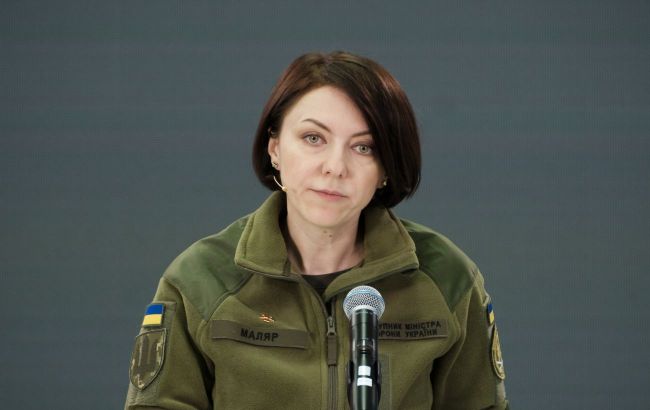 Deputy Minister of Defense, Hanna Maliar (photo: Vitalii Nosach, RBC-Ukraine)
The Russians plan to carry out a rotation in the Kupiansk-Lyman direction and deploy airborne assault brigades there, Deputy Minister of Defense of Ukraine, says Hanna Maliar during a telethon.
Currently, the Ukrainian Armed Forces are preparing to counter the enemy's actions in the Kupiansk-Lyman direction. To achieve this, the command is analyzing the situation, assessing the actions of the occupiers, and considering strategies to deceive them.
"All this work is being done to prevent the enemy from advancing in both the Kupiansk and Lyman directions," said Maliar.
On the other hand, the Russians are mobilizing reserves for an offensive on this front, including troops that were undergoing recovery and newly formed units transferred from Belarus.
"One part of the Russian forces was undergoing recovery - they will replace those who have become exhausted. They are bringing in troops from Russia - these are newly formed units. There was also a statement from Naiev (Commander of the Joint Forces of the UAF) that the Russians were taking their troops from Belarus and concentrating them where they are preparing reserves for an offensive in the Kupiansk and Lyman directions," Maliar noted.
In addition, the occupiers are deploying professional airborne assault brigades, although Maliar mentioned that a significant portion of these units has been destroyed by the Ukrainian Armed Forces in both the South and East.
Fighting in the Lyman and Kupiansk directions
Lately, the Russians have intensified their efforts to advance along the Kupiansk-Lyman line. According to the Mass Media Institute, they have occasionally made minor advances. The General Staff of the Ukrainian Armed Forces, in turn, reports that the Defense Forces are containing the enemy's advance.
Furthermore, British intelligence suggests that in light of the success of the Ukrainian Armed Forces in the south, Russian occupiers may intensify their offensive along the Kupiansk-Lyman direction over the next two months.
The head of the press service of the Eastern Group of Forces, Illia Yevlash, stated that the occupiers aim to establish a "corridor" in the Novoehorivka area of the Luhansk region.