Ukrainian Armed Forces consolidate success in Robotyne area - General Staff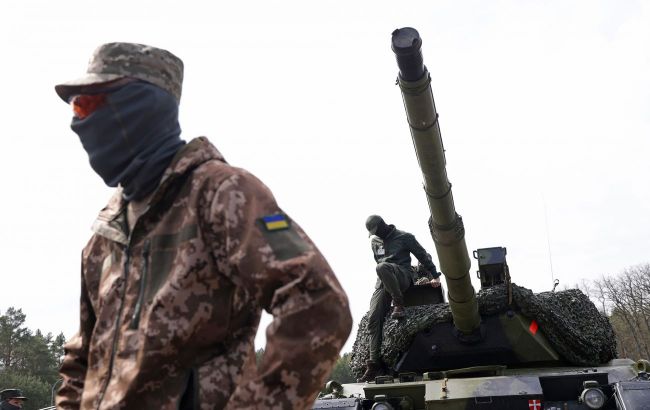 Ukrainian army advances in the south of the country (Getty Images)
Ukrainian Defense Forces continue their offensive operations in the area of Robotyne in the Zaporizhzhia region and have consolidated their positions, according to a statement from General Staff spokesman Pavlo Kovalchuk.
"The defense forces continue their offensive operations in the direction of Bakhmut and Melitopol. Progress has been made in the Robotyne-Novoprokopivka direction, and they are consolidating the achieved positions, inflicting artillery strikes on identified enemy targets and conducting counter-battery measures," he said.
According to Kovalchuk, Ukrainian Defense Forces are conducting offensive actions south of the city of Bakhmut. "The enemy is suffering significant losses in personnel, equipment, and vehicles, and is moving units and troops while using reserves," Kovalchuk added.
Robotyne area
Ukrainian counteroffensive on the southern front began around June 4. Approximately ten populated areas have been liberated since then. Progress is hindered by extensive minefields.
There have been positive developments in the Melitopol direction in recent days as well. After the liberation of Robotyne, Ukrainian forces are achieving success near Novodanylivka and Novoprokopivka.
The main battles are taking place to the south of Robotyne, northeast of Novoprokopivka, and west of Verbove.
The breakthrough resulted in crossing the "Surovikin Line." Currently, Ukrainian forces have advanced approximately 1.5 kilometers to the south and southeast towards Novoprokopivka, and are expanding their foothold in this sector.
Commander of the Tavria group, Oleksandr Tarnavskyi, said that Ukrainian forces are positioned between the first and second defense lines. According to him, Russia expended approximately 60% of its time and resources on the first line and 20% each on the second and third lines. Therefore, our forces may breach them more rapidly.