Ukrainian AN-225 'Mriya' aircraft: How it looks like after over a year of war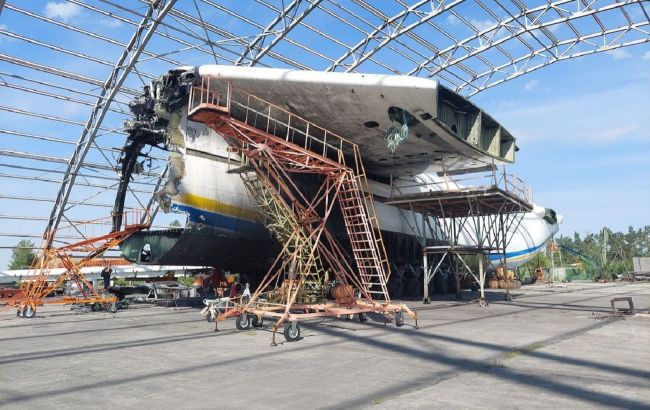 AN-225 "Mriya" airplane in August 2023 (Photo: Ihor Lesiv/aerovokzal.net)
Parts are being salvaged from the world's largest cargo aircraft, the Antonov AN-225 "Mriya," destroyed by occupiers in February 2022 at the Hostomel airport. These components will later be used for the construction of a new airliner.
Some of the engines from the demolished giant aircraft, the Antonov AN-225 "Mriya," continue to function in other Ukrainian planes, "Aerovokzal" shared exclusive footage with Avianews, revealing the condition of the legendary aircraft in August 2023.
Specialists are removing the surviving parts of the aircraft from the state-owned enterprise "Antonov." If a decision is made to create a new version of the plane, these spare parts can be utilized during construction.
The wings and tail of the AN-225 have already been dismantled, although the remains of the world's largest aircraft can still be identified from its fuselage.
During the conflict, the nose section of the aircraft sustained the most extensive damage. The fire destroyed the pilot's cabin and all equipment, the nose section of the fuselage, the engine, landing gear, and a portion of the wing.
The tail section remains intact and can potentially be used to construct a new AN-225. In the meantime, the engines from the "Mriya" have already been used on other planes for several months.
The surviving parts of the airliner are being removed by specialists of the "Antonov" state enterprise (Photo: Ihor Lesiv/aerovokzal.net)
The AN-225 was equipped with six D-18T engines, also used in the Antonov AN-124 Ruslan transport aircraft. The Antonov State Enterprise repaired three of the six "Mriya" engines. Two of these were placed as spare parts on the An-124. This information was shared in the spring of 2023 by the Deputy CEO of the Antonov State Enterprise, Maxim Sanotskyi.
The availability of these spare engines for the "Ruslans" plays a crucial role. Thanks to this, the aircraft can avoid prolonged technical maintenance and perform cargo transportation. This enables them to generate revenue for the state and assist in transporting defense equipment for Ukraine.