Ukrainian achieves 5 higher education degrees by age 24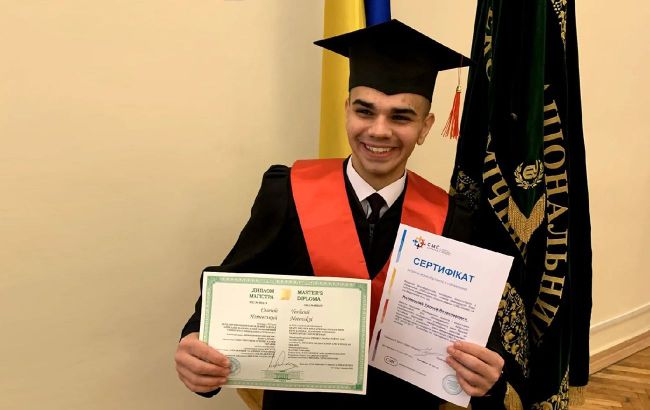 A Ukrainian has become a record holder in the number of diplomas (photo: facebook.com/Vetrova Lana)
Evgeniy Notevskyi managed to complete his education at 5 different higher education institutions in Ukraine by the age of 25, becoming a unique diploma holder among men.
From September 2016 to December 2022 (a little over 6 years), Yevhen pursued education in economics, law, a master's degree in management, a master's degree in public administration and local self-government, and a master's degree in food technology.
"4 out of 5 diplomas he received for higher education are with honors," emphasizes Lana Vetrova.
During his academic journey, Notevskyi received the following accolades:
Recipient of the President of Ukraine's Individual Academic Scholarship in 2019.

Awarded the Prize of the Mayor of Kyiv for Special Achievements by Youth in the Development of the Capital of Ukraine, the Hero City of Kyiv, in 2019.

Recipient of the Individual Academic Scholarship from the Verkhovna Rada of Ukraine in 2020.
Currently, Evgeniy Notevskyi is a second-year Ph.D. student in the field of Management at his alma mater, Kyiv National Economic University named after Vadym Hetman (KNEU).
Ukrainian record holder Evgeniy Notevsky (photo: facebook.com/EvgeniyNotevskiy)
He is also the president of the public organization "MOOLMS 'Youth - the Future of the Nation'" and heads the Volunteer Headquarters of the Mykolaiv Region.
At the record-setting event and award ceremony that took place today, September 18, Evgeniy admitted that he is proud of himself.
"I'm proud that my efforts have been highly appreciated at such a level. I'll be candid – completing education in 5 different fields is one thing, but graduating with honors in 4 out of 5 specialties and successfully writing and defending thesis papers is still a significant achievement!" - said the record holder.
Notevskyi is involved in volunteering (photo: facebook.com/EvgeniyNotevskiy)
He explained that he pursued education in the fields of "Economics," "Law," and "Public Administration and Local Self-Government" to strengthen himself in his chosen field of activity and to understand how the state functions.
Being a master of healthy eating is one of Notevskyi's hobbies. And he pursued "Management" to acquire team-building skills.
In addition, Evgeniy is passionate about sports and is currently a candidate for the title of Master of Sports in powerlifting and bicep curl.