Ukraine wants to produce European mechanized demining machines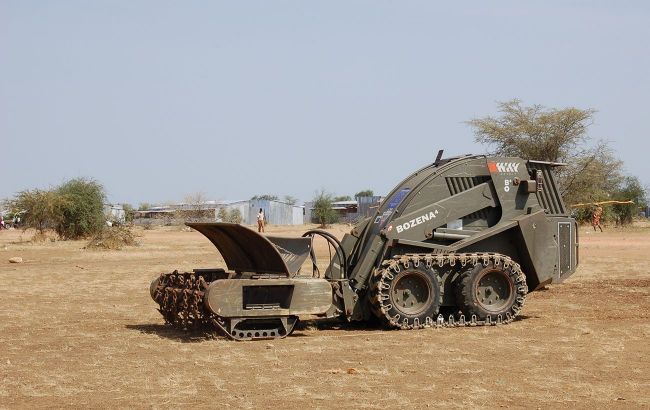 Ukraine wants to produce European mechanized demining machines (Photo: mbadefense com)
The Ministry of Defense of Ukraine is negotiating with Croatia's DOK-ING and Slovakia's Way Industries regarding the localization of mine clearance vehicle production in Ukraine, said Oleg Shuvarsky, Deputy Head of the Main Department of Demining Activities.
The discussions revolve around machines such as the MV-10, Bozena-4, and Bozena-5, which have proven highly effective in clearing explosive objects from previously occupied territories.
Ukraine will manufacture its mine clearance vehicles
Shuvarsky clarified that concurrently, the Ministry of Defense, in conjunction with the Ministry of Economic Development, certifies domestic models of mechanized demining machines that Ukrainian enterprises will produce.
"At the moment, this is still in progress. There are currently many [Ukrainian] manufacturers attempting to produce mechanized demining machines, but they do not meet safety requirements, leading to safety violations and civilian casualties," Shuvarsky noted.
The Deputy Head of the Main Department of Demining Activities explained an urgent need for 64 demining machines, while only over 20 mechanized complexes are currently in use.
Demining in Ukraine
Due to Russia's invasion of Ukraine and active hostilities, the country is contaminated with explosive objects. Some analysts consider Ukraine the most heavily mined country in the world.
Therefore, Ukraine is initiating a new state policy for humanitarian demining and calling on other countries to assist.
Ukrainian Minister of Internal Affairs Ihor Klymenko, in an interview with RBC-Ukraine, outlined priority areas for demining. He says this primarily includes routes under power transmission lines and fields.
Units from the State Special Transport Service's demining divisions identified and neutralized 1,718 explosive objects on Ukrainian territory from September 11 to September 16.