Ukraine's Usyk defeats Dubois with a knockout in the ninth round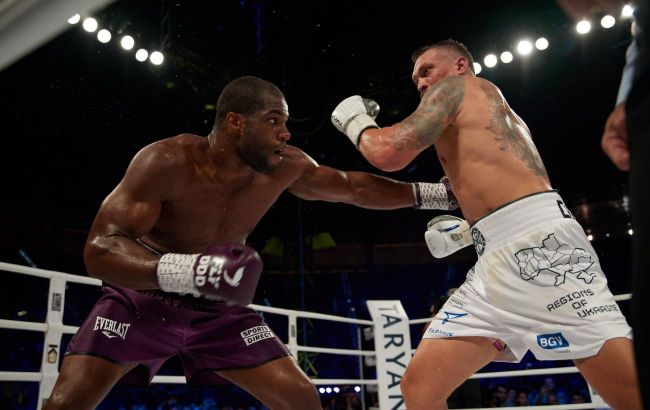 Photo: Oleksandr Usyk spent 9 rounds to secure victory (facebook.com/KnockOutPromotions)
Ukrainian boxer Oleksandr Usyk confidently defeated British boxer Daniel Dubois and retained the titles of leading world boxing organizations.
For more details about the fight read in the RBC-Ukraine report.
The bout, as predicted, began cautiously for both boxers. However, atypically for heavyweights, both Usyk and Dubois moved around the ring a lot and tried to react to each other's every move. In the second round, the Briton used a forbidden move for the first time, without consequences.
The Ukrainian boxer responded to a low blow with a successful double punch. The mandatory challenger had to "cool down" Usyk's emotions with careful defense and counterattacks. Gradually, Dubois stabilized his position. However, in the 5th round, he "dirty" hit the Ukrainian again, forcing the latter to take a forced break.
Another forbidden attack by the Briton increased the intensity of the confrontation. Usyk responded to the foul with a series of punches, after which Dubois miraculously held on. The challenger attempted to seize the initiative, but the Ukrainian champion easily got out of the corner and landed several headshots on Dubois.
In the eighth round, the British boxer found himself on the floor for the first time. He dropped to his knee, missing several powerful Usyk punches. However, Dubois found his inner reserves and returned to the fight. But not for long - the Ukrainian took advantage of his opponent's weakened breath and delivered a new series of punches, sending the Briton to the canvas for the second time. He barely got up, but the referee decided not to continue the fight.
Therefore, Oleksandr Usyk successfully defended the IBF, WBA, WBO, and IBO championship titles and The Ring magazine belt. The Ukrainian remains undefeated in the professional ring. Now, the 36-year-old boxer has 21 victories, including 14 by knockout.