Ukraine's President Office on returning of Azovstal commanders and future prisoner exchanges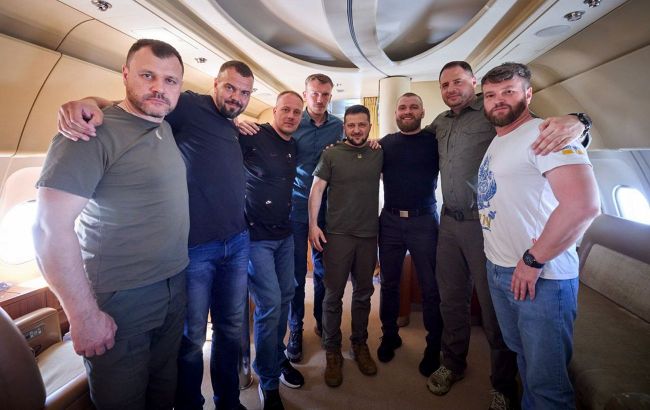 Azovstal commanders returned to Ukraine (t.me/V_Zelenskiy_official)
Azovstal commanders were returned to Ukraine as soon as it was possible and with the consent of the President of Turkey, Recep Tayyip Erdogan. It is unknown whether Russia was aware of this decision, as Head of the Office of the President of Ukraine Andriy Yermak said during a press briefing.
"We were in touch with our guys every week. It happened precisely when the opportunity arose and when Erdogan agreed to their return," Yermak said.
He added that he does not see any current threats that could affect further prisoner exchanges between Ukraine and Russia, including the return of Ukraine's commanders from Turkey.
Erdogan previously said that Turkey's decision to hand over the Azovstal commanders to Ukraine did not affect Ankara's relations with Russia. In fact, it all "came out positively."
Azovstal commanders in Ukraine
On July 8, the commander of "Azov" Denys Prokopenko "Redis," his deputy Sviatoslav Palamar "Kalyna," the acting commander of the 36th Separate Marine Infantry Brigade Serhiy Volynsky "Volyna," senior officer of "Azov" Oleh Khomenko, and the commander of the 12th National Guard Brigade Denys Shleha returned to Ukraine. from Turkey.
Their return caused a tantrum in the Kremlin. Dmitry Peskov, a representative of the Russian dictator, accused Turkey of violating agreements that the Azovstal commanders would remain on Turkish territory until the end of the war.