Ukraine's gas storages could avert European energy crisis - Bloomberg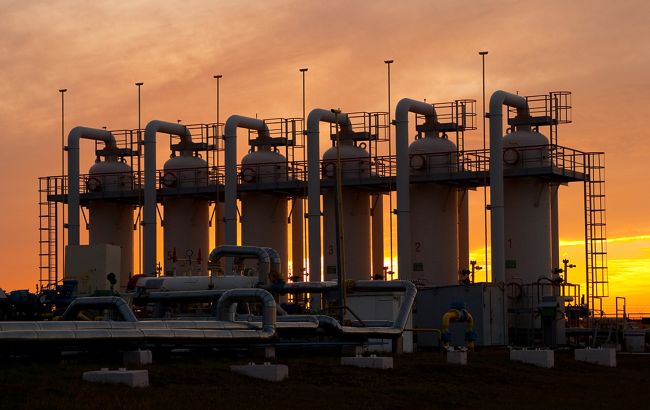 Ukraine's gas storage facilities can prevent energy crisis in Europe (utg.ua)
The utilization of Ukraine's underground gas storage facilities could become a vital part of the European Union's efforts to secure energy supplies and counter the Kremlin's weaponization of energy, as Bloomberg reports.
European officials are currently considering how to utilize the continent's largest network of gas storage facilities as winter demand and prices are expected to rise.
With EU storage sites nearing full capacity - currently filled over 70% - storing fuel in Ukraine could prevent an oversupply in the coming months.
"Ukrainian storage can help to balance supply and demand during the second half of the summer 2023, given their excellent connection to EU gas markets," said German utility company RWE AG, which has used Ukraine's storage in the past.
For gas storage in Ukraine to be viable, prices need to drop low enough to justify the costs. The EU may also likely have to intervene to provide protection against potential losses related to the war.
The initiative is part of an effort to prevent the panic that led to record prices last year. According to the analytical center Bruegel, to protect companies and consumers, EU governments provided 646 million euros in aid, but they can hardly afford a repeat.
While European energy companies stored gas in Ukraine before Russia's invasion in February 2022, supplying gas to a country engaged in combat has typically been unprecedented, and discussions reflect Europe's narrow range of options and how the war has changed risks.
Russia uses energy as a weapon
Energy has been a weapon in the conflict from the beginning. The explosion of the Kakhovka dam on the Dnipro River last week is the latest example. Last year, the Kremlin gradually reduced gas supplies, creating chaos in Europe's energy markets. These fears persist, and Ukraine is offering help.
Storing gas for Europe would not only provide Ukraine with much-needed revenue, but also strengthen ties with the EU and serve as a snub to Russia after the Kremlin tried to use energy to weaken support for Kyiv.
Secured gas storage facilities
The country's gas storage facilities, located a safe distance two kilometers below ground, hold more than 30 billion cubic meters. "Ukrtransgaz" (a state-owned company that provides operation of Ukrainian UGS facilities as well as upgrade and construct gas pipelines and its objects) provides a third of these areas, roughly equivalent to about 10% of the European Union's needs in the fourth quarter of last year.
"The Ukrainian market offers storage at a fixed cost rate, which makes gas storage in Ukraine a very attractive and competitive option," said Marco Saalfrank, the head of continental Europe merchant trading at Switzerland-based Axpo. However, he noted that risks needs to be low.
As the insurance industry shuns Ukraine, traders' readiness to store gas in the country depends on pricing and whether the EU is prepared to provide support.
The European Commission — the bloc's executive arm — is "exploring if and how guarantees issued by public institutions could perhaps support unlocking access to natural gas storages in Ukraine," Commission spokesman Tim McPhie said at a briefing with reporters last week.
"Ukrtransgaz" is working on implementing service guarantees to mitigate war-related risks, aiming to become a "power bank for Europe". It added that demand has surpassed its initial expectations.
Time is running short on getting the system in place. It is expected that Europe's storage sites will reach capacity limits as soon as early September. Demand for heating typically doesn't kick in until late fall, creating a risk of oversupply that could sharply change if a sudden cold snap occurs.
Without Russian pipeline deliveries, which have largely ceased, European gas markets are more balanced than last year. This means that demand surges or supply disruptions could have significant consequences.
According to Energy Aspects consultants, using Ukrainian capacities will help prevent a price collapse on the eve of winter, but if usage is "unexpectedly high," it also creates risks of lower rates next year. This makes storing in Ukraine or on tankers at sea an increasingly attractive option.
Swiss trader Axpo stored gas supplies in Ukraine before the war and is ready to do it again, but it is closely watching the situation, and state guarantees will be crucial.
"Since the start of the war, the risks related to energy infrastructure in Ukraine have increased tremendously, as we've unfortunately seen with the recent dam explosion," Saalfrank said.
Largest gas storage facilities in Europe
Ukraine's underground gas storage facilities are the largest in Europe (over 31 billion cubic meters). They are located at depths ranging from 400 meters to 2 kilometers, making gas storage entirely safe.
Earlier, the Ukrainian Cabinet of Ministers approved a list of underground structures where energy resources will be stored: oil, gas, other substances, and materials. This will allow establishing and maintaining reliable storage sites, inaccessible to enemies and other threats.