Ukraine's Embassy seeks help from Israel regarding entry problems for Ukrainians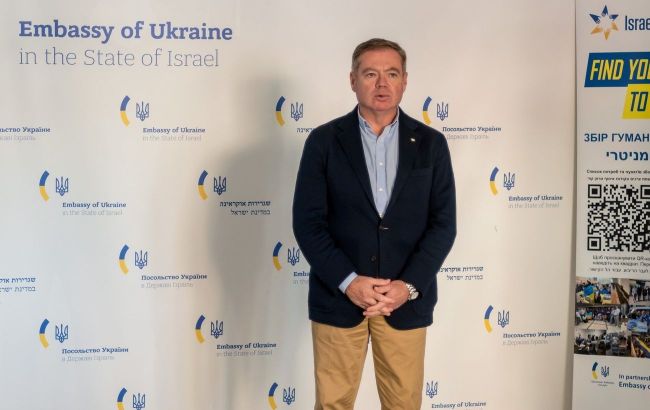 Yevhen Korniichuk, Ukraine's Ambassador to Israel (photo: facebook.com/UkraineInIsrael)
Ukraine urges Israel's government to address entry issues faced by Ukrainian citizens, according to a statement by Ukraine's Ambassador to Israel, Yevhen Korniichuk.
The Ambassador has appealed to Israeli Prime Minister Benjamin Netanyahu, urging a review of the entry policy for Ukrainians and intervention in this matter. Otherwise, according to him, the Ukrainian government will consider suspending the visa-free regime with Israel.
"The Ukrainian government will not tolerate the humiliation of its citizens upon entry into Israel. We will halt the operation of our bilateral visa-free agreements, as provided for in Article 7 of the intergovernmental agreement. This option is on the table for our government," Korniichuk stated.
The Ambassador also raised the possibility of banning Israelis from entering Uman, where Hasidic pilgrims annually celebrate the Jewish New Year (Rosh HaShanah).
"If Israel wants its citizens to be able to visit Ukraine as tourists, including Uman, I believe that Prime Minister Netanyahu should personally intervene in resolving the current situation," he concluded.
Ukraine's relations with Israel
Since the beginning of the full-scale war in Ukraine, Israel's government has declared its neutrality. However, Israel has provided humanitarian aid to Ukraine while refusing to supply weapons and defensive equipment, including air defense systems.
Ukrainians have also faced entry problems into Israel. In a comment to RBC-Ukraine, Ambassador Korniichuk stated that currently, one in every ten Ukrainians is not allowed into Israel. However, a source in Israeli diplomatic circles assured RBC-Ukraine that these problems arise not only for Ukrainian citizens but also for individuals from other countries who traditionally come to Israel for illegal employment purposes.
For more on Ukraine's relations with Israel, read the RBC-Ukraine article.