Ukraine's army representative provides frontline update along Kupiansk sector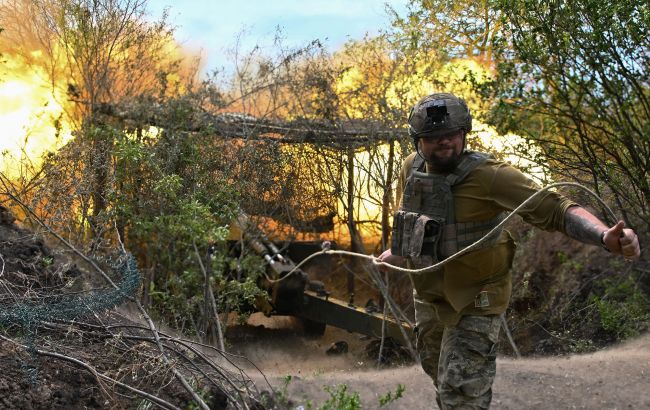 Ukraine's army representative provides frontline update along Kupiansk sector (Getty Images)
The situation on the Kupiansk front remains tense as Russian forces are attempting to mount attacks utilizing various artillery types, Spokesperson of the Operational Command East of the Armed Forces of Ukraine Serhii Cherevatyi said to Ukrainian TV.
Over the past day, Russian forces made five attempts to breach Ukrainian positions.
"They shelled us 502 times with all types of artillery, from mortars to salvo rocket systems. They are increasingly utilizing aviation in this sector—15 air strikes were conducted," Cherevatyi said.
He also noted that during the repulsion of hostile attacks, the Ukrainian Armed Forces eliminated 21 invaders, with 91 sustaining injuries and two being captured. Additionally, enemy hardware was neutralized, including two tanks and three howitzers.
"Though the situation on the Kupiansk front is undeniably challenging given the enemy's strength, it remains under control. We are well aware of their intentions, the formatting of their forces, and, most importantly, their vulnerabilities," emphasized Cherevatyi.
Speaking of the situation on the Lyman front, Cherevatyi mentioned that there were no clashes over the day, but the adversary heavily bombarded several settlements with artillery and aviation.
As for the situation near Bakhmut, he stated that active engagements are ongoing. "The Ukrainian forces hold the advantage and initiative here. The enemy is actively resisting and is also employing artillery," Cherevatyi added.
According to him, Ukrainian fighters on this front eliminated 63 occupants, wounded 127, and took five prisoners. Furthermore, five enemy tanks were destroyed, along with seven infantry fighting vehicles, two airborne combat vehicles, and three field arsenals containing ammunition.
Kupiansk front
According to data from the Institute for the Study of War (ISW), Russian forces continue offensive operations to the northeast of Kupiansk.
The General Staff of the Ukrainian Armed Forces reported that Ukrainian troops successfully repelled Russian attacks to the north of Synkivka (8 km northeast of Kupiansk) and near Ivanivka (20 km southeast of Kupiansk).
Cherevatyi said that Russian forces are attempting to seize the initiative on the Kupiansk front. He highlighted that Ukrainian forces have significantly bolstered their defenses in this area over recent days.