Ukraine's army crushes hundreds of Russian soldiers, advancing up to 1 km on Tavria front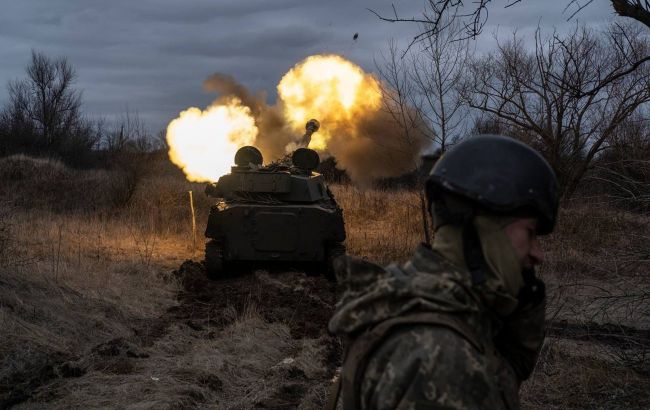 Ukraine's army crushes Russians on Tavria front (facebook.com)
Over the past day, Ukrainian Armed Forces have destroyed four Russian companies and targeted 53 enemy vehicles on the Tavria front, as the Commander of the Tavria Operational Strategic Group Oleksandr Tarnavsky wrote on Telegram. According to the Spokesperson for the Joint Press Center of Defense Forces in the Tavria direction Valerii Shershen, Ukrainian soldiers have successfully advanced from 200 meters to 1 kilometer on the Tavria front, thanks to counterattacks and flanking maneuvers.
"Over the last day, there have been 36 military clashes and 578 shellings. Rocket forces and artillery units of the Tavria defense sector have successfully completed 1,481 fire missions within a 24-hour period," Tarnavsky wrote. According to him, the Russian losses in manpower killed and wounded exceeded four companies.
Furthermore, 53 enemy military equipment have been destroyed or damaged, including:
12 tanks,
six BMP units,
six armored personnel carriers,
three MTLBs (armored fighting vehicles),
one armored personnel carrier,
one 2A65 "Msta-B" howitzer,
two ZALA drones.
Three Russian ammunition storage facilities and various automotive equipment were destroyed.
As the Spokesperson for the Joint Press Center of Defense Forces in the Tavria direction said, Ukrainian forces are maintaining their offensive actions and consolidating their positions at the frontlines on the Tavria front. "This particularly applies to the Melitopol, Berdiansk, and Mariupol directions. Our counterattacks and flanking operations in selected areas of the front have led to advancing from 200 meters to 1 kilometer into enemy-held territory", Shershen said.
He added that Russians have constructed defensive engineering obstacles along the Tavria sector, making every meter of land de-occupation challenging for Ukrainian troops.
In response to the Ukrainian offensive, Russian forces in southern Ukraine are reportedly putting up strong resistance, occasionally reinforcing their reserves from the second line of defense in certain sectors.
Ukraine's counteroffensive
In the past week, Ukrainian troops have successfully liberated seven settlements in the Zaporizhzhia and Donetsk regions, including Lobkove, Levadne, Novodarivka, Nenudne, Storozhove, Makarivka, Blahodatne. Overall, they have advanced 6.5 km on these fronts.
According to the Institute for the Study of War, Ukrainian forces have already achieved success in their ongoing counteroffensive operations on multiple fronts.