Ukraine's army chief on his first talks with U.S. Gen Milley: Cut off communication for a week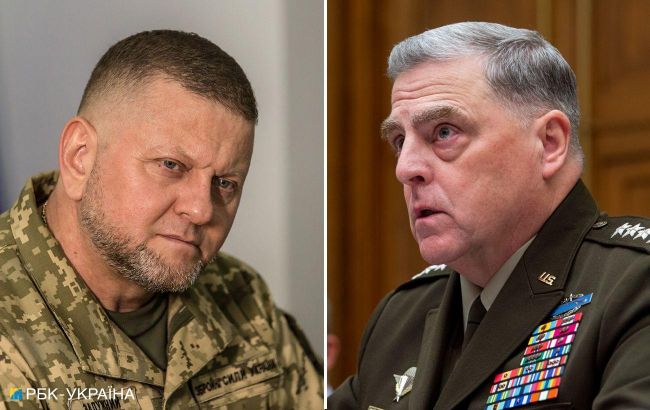 Photo: Valerii Zaluzhnyi and Mark Milley (RBC-Ukraine collage)
Commander-in-Chief of the Armed Forces of Ukraine, Valerii Zaluzhnyi, and former Chairman of the Joint Chiefs of Staff of the United States, General Mark Milley, had numerous phone conversations. However, their first talks were not a success, according to Zaluzhnyi's interview with The Washington Post.
Zaluzhnyi and Milley first spoke on the phone shortly after Russia's invasion of Ukraine. According to Zaluzhnyi, by the end of their first conversation, he felt like he was "talking to himself."
"Frankly speaking, due to my youth and stupidity, I admit that it was my mistake," Zaluzhny, who is 50, said. "It was actually a disaster."
"The moment was a setback in the crucial — and complicated — relationship between the two military commanders, who ultimately grew personally close as they worked together in Ukraine's existential fight," the media says.
However, the article notes that there were still disagreements between Zaluzhnyi and Milley, which sometimes turned into tension. American officials promised to continue the supply of weapons but were sometimes irritated by Ukraine's demands.
"I can't even imagine if it had been anyone else," Zaluzhnyi said. "We have a friendship. It's hard to imagine. He's an older man, but he's cool."
The Washington Post notes that Zaluzhnyi used to joke about Milley's age, but this was more a sign of comfort vibes between the two generals. The former U.S. Army chef denied having disagreements with Zaluzhnyi.
"He is a human being," he recollected in a recent interview with The Post. "His country has been invaded by hundreds of thousands of Russian troops. … His back is up against the wall. The level of pressure is intense. The fact that somebody gets a little angry and mad, is absolutely normal. And I understood that. I'm 5,000 miles away."
Disagreement over fighter jets
The media notes that there was a disagreement between the generals, particularly on the fighter jets for Ukraine. Zaluzhnyi assured that the U.S. intelligence data on Ukraine's aviation were inaccurate, and the military urgently needed aircraft.
The Washington Post points out that it remains unclear who was right on the fighter jets issue. Nevertheless, the U.S. eventually agreed to allow the transfer of F-16s to Ukraine.
"I always argue with him, but those disagreements were buffered by mutual respect," Zaluzhnyi said.
F-16s for Ukraine
Several European countries agreed to conduct training for Ukrainian pilots on F-16 fighter jets as part of an aviation coalition. The Netherlands, Denmark, and Norway will also transfer their aircraft to the Ukrainian army, totaling at least 61 fighter jets.
The United States also agreed to train Ukrainian pilots. Initially, the Ukrainians were supposed to undergo language courses in Texas.
As stated by the Ministry of Defense, Ukraine may receive the first F-16 aircraft no earlier than 6-7 months from now. However, the Netherlands and Denmark have promised to transfer the first aircraft in early 2024.