Ukraine's Ambassador to UN on Kakhovka dam blast: Russians use usual tactics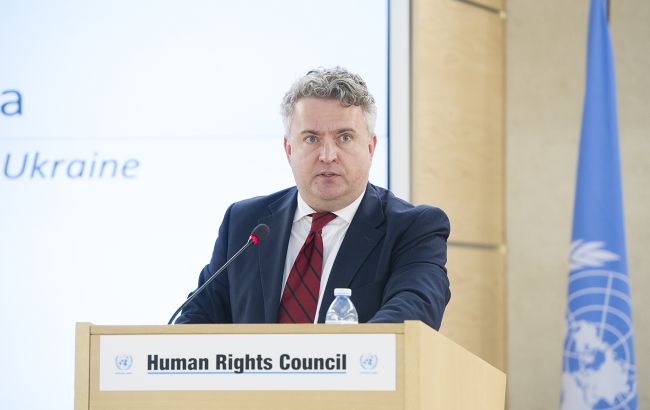 Permanent Representative of Ukraine to the United Nations Sergiy Kyslytsya (flickr com)
Russians admitted that they cannot control the occupied part of the Kherson region by blowing up the Kakhovka Hydroelectric Power Plant dam. Creating a technological disaster, they used the usual tactic of blaming a victim, as Permanent Representative of Ukraine to the United Nations Sergiy Kyslytsya wrote on Facebook.
"By resorting to scorched-earth tactics, or in this case to flooded-earth tactics, the Russian occupiers have effectively recognized that the captured territory does not belong to them, and they are not able to hold these lands," he wrote.
The diplomat noted that the world has already observed the same technique, used by Russians - blaming the victim for their crimes. "And there was little chance that the country which desperately denied its war crimes in Mariupol, Bucha, Izium, Zaporizhzhya NPP would acknowledge responsibility for today's technological disaster," he specified.
According to him, the explosion of the Kakhovka HPP dam is an act of ecological and technological terrorism, the largest technological disaster in Europe for the last decade, and yet another example of Russia's genocide against Ukrainians.
"This is the Kremlin's response to countries calling for peace talks with the Russian Federation. Russia has just reconfirmed by its actions that it is not at all interested in de-escalation or peace. It must be stopped and rendered harmless rather than appeased," Kyslytsya wrote.
He also reminded Russia has been occupying the dam and the entire Kakhovka station for over a year. "It is physically impossible to blow it up somehow from the outside by shelling. It was mined by the Russian occupiers. And they blew it up," the ambassador wrote.
As a confirmation, he added that a week before the explosion on May 30, the Russian government adopted a decision envisaging that technical investigations would not be carried out into accidents at hazardous production facilities and hydraulic facilities that occurred as a result of "military operations, sabotage and acts of terrorism".
On June 6, Russian occupiers blew up the Kakhovka HPP, it is completely destroyed and cannot be restored. About 80 settlements in the Kherson region, where about 16 thousand people live, were flooded. Ukraine's Main Directorate of Intelligence said that the Russians blew it up remotely, preparing the sabotage in advance.
According to NBC News, the US has intelligence data confirming that Russia blew up the station.