Ukraine's admission to NATO, Zelenskyy urges Sunak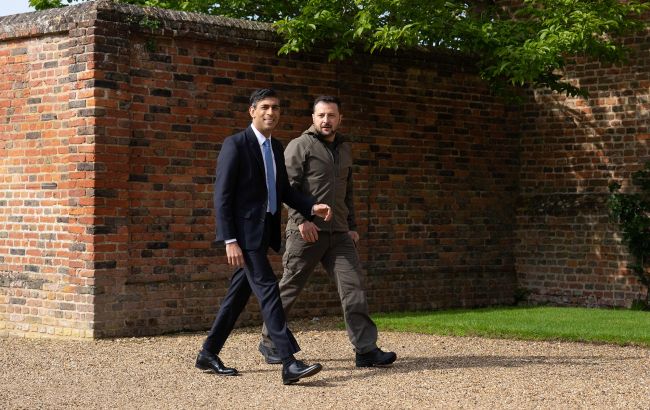 Photo: Volodymyr Zelenskyy and Rishi Sunak (Getty Images)
Ukrainian President Volodymyr Zelenskyy held a phone conversation with British Prime Minister Rishi Sunak, discussing the importance of providing Ukraine with prospects for NATO membership, according to a statement released by Zelenskyy's office.
The politicians discussed the course of hostilities, Ukraine's defense needs, and further cooperation to enhance Ukraine's capabilities on the battlefield, mainly through long-range weapons.
Zelenskyy expressed his gratitude to Sunak for organizing the conference on Ukraine's recovery in London on June 21-22 and for Britain's leadership role in consolidating international support for Ukraine.
"We have coordinated positions ahead of the Vilnius NATO Summit. It is important to provide Ukraine with specific membership prospects. We also discussed the steps for implementing the Peace Formula and preparing security guarantees for Ukraine," wrote the President.
Zelenskyy also emphasized that Russia is increasing the production of missiles using Western elements.
Therefore, during the conversation, he informed Sunak about the need to intensify sanctions pressure on the aggressor state.
NATO summit in Vilnius
Ukraine expects decisive steps from NATO regarding its membership. Zelenskyy has stated that Ukraine needs explicit security guarantees from the West documented on paper.
At the same time, NATO Secretary General Jens Stoltenberg has announced that Ukraine will not receive an invitation to join the alliance during the summit in Vilnius. According to him, the summit plans to assume a package of long-term assistance to Ukraine.