Ukraine receives demining robots from Canada (photo)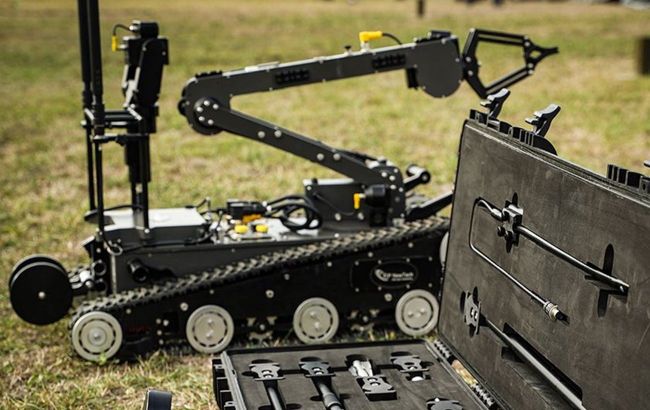 Demining robots arrived from Canada (facebook.com/mvs.gov.ua)
Ukrainian rescuers have received another shipment of aid from Canada, announces the State Emergency Service (SES) of Ukraine.
It consists of robotic systems designed for remote demining of territories.
"Another batch of technical assistance has been received by the State Emergency Service of Ukraine from the government of Canada - new robotic complexes DIGITAL VANGUARD-S. These will assist Ukrainian pyrotechnics in neutralizing explosive ordnance in populated areas," says the statement.
It is noted that the robotic complexes DIGITAL VANGUARD-S have been handed over to pyrotechnic units in the Mykolaiv and Zaporizhzhia regions, as well as to sappers of the Luhansk garrison, currently operating in the Kherson region.
The Mobile Rescue Center of the SES of Ukraine (MRC of SESU), the Interregional Center of Rapid Reaction State Service of Emergencies of Ukraine (ICRR), and the 2 Special Rapid Response Center of the State Emergency Service of Ukraine have also received them.
About the DIGITAL VANGUARD-S robot
DIGITAL VANGUARD-S is equipped with three installed cameras, allowing the operator to monitor manipulations in real time and receive clear, high-quality images of the work site.
These technological capabilities enable the robot to stay at a safe distance from explosive objects. Due to its compact size and maneuverability, the robots can be used in hard-to-reach places.
Demining in Ukraine
Due to the Russian invasion of Ukraine and active combat operations, the country is contaminated with explosive devices. Some analysts consider Ukraine to be the most mine-contaminated country in the world.
In late September, Switzerland approved a $110 million package for demining in Ukraine, scheduled for the period from 2024 to 2027.
It was also previously reported that Norway announced financial assistance for demining in Ukraine, totaling $18.5 million.
.