Ukraine pushes for NATO membership ahead of Vilnius summit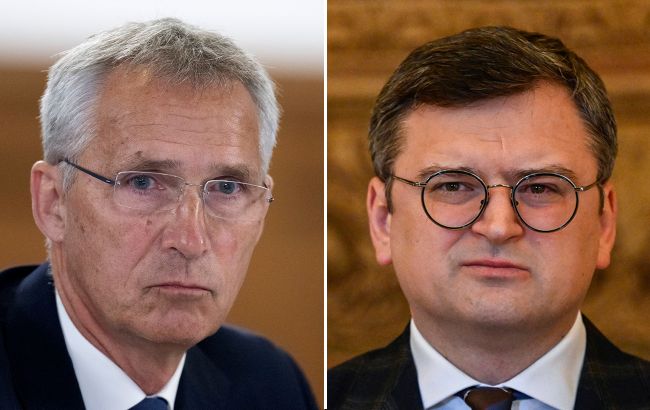 Ukraine's Minister of Foreign Affairs Dmytro Kuleba and NATO Secretary General Jens Stoltenberg (RBC-Ukraine)
Ukraine's Minister of Foreign Affairs Dmytro Kuleba held a phone conversation with NATO Secretary General Jens Stoltenberg, emphasizing the importance of taking a step toward Ukraine's NATO membership ahead of the upcoming summit in Vilnius, as Kuleba wrote on Twitter.
"I spoke with Jens Stoltenberg and thanked him for his efforts to make Vilnius summit a success for NATO and Ukraine. I also stressed the importance of taking a step toward Ukraine's membership, in particular by dropping MAP (Membership Action Plan). It's time to align NATO decisions with the new reality," Kuleba wrote.
NATO Summit in Vilnius: Ukraine hopes to receive a "clear signal" regarding its membership
The forthcoming NATO summit is scheduled for July 11-12, 2023 in Vilnius, the capital of Lithuania. President of Ukraine Volodymyr Zelenskyy has been invited. However, he said that Ukraine would not participate in the summit if NATO member countries do not send a clear "signal" that the Alliance wants to see Ukraine as a member.
At the same time, Stoltenberg assured that Ukraine would receive this signal. However, not all allies agree on this issue. While some states - especially those located closer to Ukraine and Russia - advocate a more concrete path for Ukraine's accession to NATO after the end of the war, allies - particularly in Western and Southern Europe - believe that Ukraine's accelerated integration might be "too provocative and risky," even after a cessation of hostilities.