Ukraine joining NATO in the near future is unlikely - White House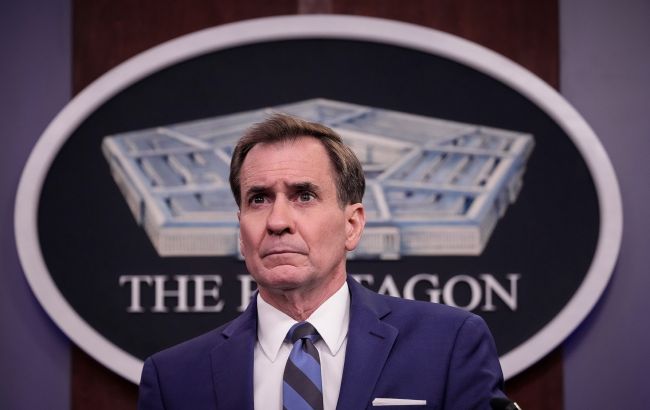 Photo: John Kirby (Getty Images)
Ukraine's accession to NATO is unlikely in the immediate future, as it means the Alliance's involvement in a war with Russia, stated the White House National Security Council's Strategic Communications Coordinator John Kirby in an interview with CNN.
"We believe that NATO is in Ukraine's future. I mean, that's something that the Alliance agreed way back in 2008," he said.
At the same time, Kirby noted that Ukraine has to implement specific reforms before joining NATO.
"Now there's some reforms — good governance, rule of law, political reforms — that Ukraine needs to work on, and we understand it's hard to work on some of those reforms when you are at war. Of course, they are at war right now. So, NATO membership in the immediate future isn't likely because that would put NATO at war with Russia," he said.
At the same time, Kirby acknowledged the disappointment of President Volodymyr Zelenskyy, who criticized NATO, as Kyiv received a signal that partners were discussing the wording of the Summit without Ukraine on the sidelines.
"Yes, there are frustrations, there are desires to end this war quickly, all of that we understand, Kirby said. "Of course, we share many of those concerns," he added.
Exclusive from RBC-Ukraine: Ukraine may not be invited to NATO

NATO Summit in Vilnius
Ukraine understands it would not be able to join NATO during the war against Russia but wants to be invited to join the Alliance at the Summit.
U.S. Secretary of State Anthony Blinken said that Ukraine should receive a robust support package at the Summit, including a path to membership.
At the same time, Lithuanian Ambassador to NATO, Deividas Matulionis, believes Ukraine will not receive an invitation. However, the Summit will define a more precise procedure for Ukraine to receive it.
Earlier, White House spokesperson Karin Jean-Pierre also said that Ukraine should implement reforms to meet the standards of NATO member states before joining the Alliance.