Ukraine does not recognize so-called 'presidential elections' in Karabakh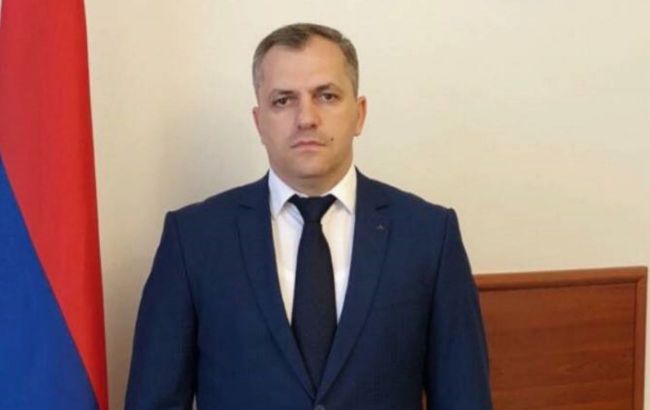 The new "head" of the self-proclaimed republic is Samvel Shahramanyan (photo: Russian media)
Ukraine does not recognize the so-called "presidential elections" in the territory of the self-proclaimed Karabakh, states the Ukrainian Ministry of Foreign Affairs.
"The Ministry of Foreign Affairs of Ukraine condemns the holding of the so-called 'presidential elections' that took place on September 9 in the territory of Karabakh (Azerbaijan Republic)," stated the Ukrainian Ministry of Foreign Affairs.
According to the ministry, the conduct of these so-called 'presidential elections' contradicts the norms and principles of international law, and their results are meaningless.
"Ukraine once again expresses its support for the sovereignty and territorial integrity of the Republic of Azerbaijan within its internationally recognized borders and advocates for the resolution of the Karabakh conflict through political and diplomatic means," added the Ministry of Foreign Affairs.
Elections in Nagorno-Karabakh
Today, the "parliament" of Nagorno-Karabakh elected Samvel Shahramanyan as the new leader of the self-proclaimed republic.
Shahramanyan was the sole candidate, and his candidacy received support from 22 out of 23 deputies, with one voting against.
The previous head of Nagorno-Karabakh, Araik Harutyunyan, announced his resignation on September 1st. He had held the position of president since March 2020. After his resignation, he stated that the defeat in the 2020 war with Azerbaijan and the difficulties associated with it "significantly undermined trust in the region's leadership."
The situation in Nagorno-Karabakh
The armed conflict in Nagorno-Karabakh has been ongoing for over 30 years. At the dissolution of the Soviet Union, its territory, which was part of the Azerbaijani SSR, was predominantly inhabited by Armenians. In 1991, with the support of Armenia, the region declared "independence" and named itself the Nagorno-Karabakh Republic.
In April, representatives from Yerevan and Baku conducted a new round of negotiations in the United States. In mid-May, the parties agreed to resume talks on border demarcation and the normalization of relations between the two countries.
In May, the authorities of Armenia expressed readiness to recognize the territory of Azerbaijan, including Nagorno-Karabakh, covering an area of 86,600 square kilometers.