Ukraine-Africa ties: Embassy in Tanzania and first MFA visit to South Africa in 25 years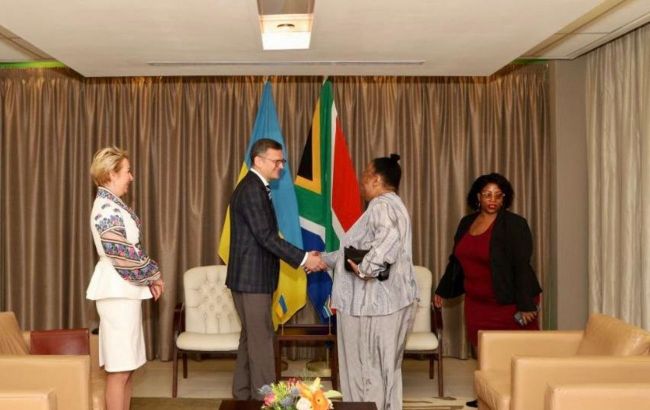 Ukraine's Minister of Foreign Affairs Dmytro Kuleba and Minister of International Relations and Cooperation of South Africa Naledi Pandor (mfa.gov.ua)
Embassy in Tanzania
A Ukrainian parliamentary delegation visited the Tanzanian parliament for the first time. During the meeting with the department's Speaker, Tulia Ackson, the MPs discussed the opening of Ukraine's embassy in Tanzania and the recognition of the Holodomor by the Tanzanian parliament.
Photo: Ukrainian MPs visited Tanzania (facebook.com/verkhovna.rada.ukraine)
They also met with Tanzania's Minister of Agriculture, Hussein Mohamed Bashe, to discuss cooperation in the agricultural sector.
First visit of the Ukrainian Foreign Affairs Minister to South Africa in 25 years
Meanwhile, Ukraine's Minister of Foreign Affairs, Dmytro Kuleba, visited the Republic of South Africa. This is the first visit of the Ukrainian Foreign Minister to South Africa in 25 years.
"Ukraine aims to take cooperation with the Republic of South Africa to a new level for the renaissance of Ukraine-Africa relations. We propose a partnership based on mutual respect and benefit. And I am pleased that the South African government shares our aspirations," Kuleba stated at the meeting with his South African counterpart, Naledi Pandor.
The Ukrainian Minister informed her about the situation on the front and the consequences of Russian aggression. He also praised South Africa's participation in promoting Ukraine's Peace Formula.
Kuleba invited South Africa to join Ukraine's Grain from Ukraine initiative, discussed cooperation in the digitalization of public services, and proposed holding a business forum in Kyiv with companies from Ukraine and South Africa.
Following the negotiations, the parties signed a memorandum of cooperation in diplomatic education and research between the Ministry of Foreign Affairs of Ukraine and the Department of International Relations and Cooperation of South Africa.
Kuleba also invited Pandor to visit Ukraine.
Ukraine's relations with Africa
Back in August, Kuleba expressed Ukraine's intention to improve relations with African countries. The country aims to help African states free themselves from the Kremlin's influence. He noted that this continent "requires systematic and long-term work" from the Ukrainian side.