UK intelligence reveals Moscow's goal in exiting grain deal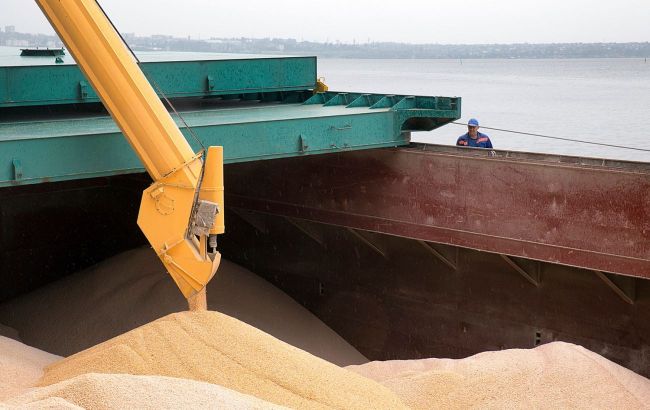 UK intelligence reveals Moscow's goal in exiting grain deal (Getty Images)
The goal of Russia's withdrawal from the grain deal was to undermine Ukraine's economy during the war. Alternative routes are unlikely to compensate for the marine food export routes, according to the UK Ministry of Defense.
The successful export of Ukrainian grain within the framework of the Black Sea Grain Initiative helped reduce global prices and food security. During the initiative, over 32 million tons of food entered the world market, and the Food Price Index fell by 23% compared to its peak value in March 2022.
Latest Defence Intelligence update on the situation in Ukraine – 08 September 2023.

Find out more about Defence Intelligence's use of language: https://t.co/4nCId2hgxy

#StandWithUkraine pic.twitter.com/eh3jQvBhrY

— Ministry of Defence (@DefenceHQ) September 8, 2023
"Developing nations have especially benefited from lower prices as well as from direct imports of grain from Ukraine," the report said.
According to British intelligence, Russia's exit from the grain deal has led to a reduction in Ukraine's exports, which is a clear attempt to undermine Ukraine's economy and its ability to sustain military efforts. The agricultural sector accounted for 40% of Ukraine's exports before the war and remains vital; food exports in 2021 amounted to $28 billion.
"Ukraine has found success using alternative methods like river, rail, and road to export its grain; however, it is unlikely that this will match the capacity of the Black Sea export routes," the UK Ministry of Defense said.
Grain deal
In July, Russia announced its withdrawal from the grain deal, which allowed safe food export from the ports of Odesa for a year. In August, Ukraine announced the opening of temporary corridors in the Black Sea for trading vessels.
Turkish President Recep Tayyip Erdogan visited Vladimir Putin on September 4th in an attempt to restore the grain deal. The negotiations ended in failure.
The National Bank of Ukraine forecast assumes the grain corridor not function until the end of the war. According to the NBU's forecast, Ukrainian agro-exporters will be able to export "all export-oriented production" during the entire marketing year, from July to June of the following year.