U.S. State Department deems arresting Putin unfeasible while he holds office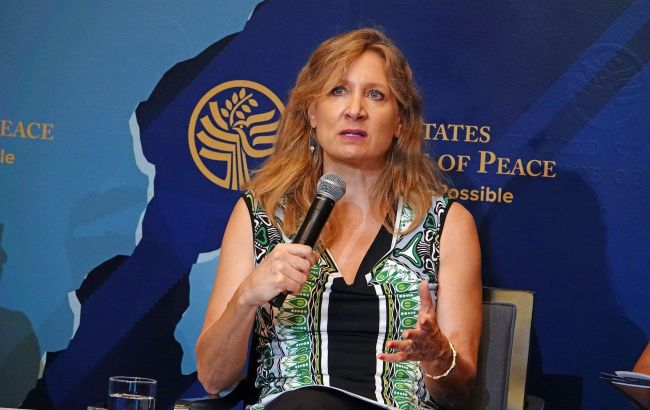 US State Department's Representative for Global Criminal Justice, Beth van Schaack (Photo: flickr.com/usipeace)
Russian dictator Vladimir Putin is unlikely to be arrested for crimes in Ukraine as long as he remains in office as the head of state, according to Beth van Schaack, the US State Department's Representative for Global Criminal Justice, in an interview with "Babel".
"National courts cannot overcome the immunity of the head of state, as well as the heads of government and defense ministers. But it is unlikely that someone will arrest Putin while he is the head of state. If he ends up in custody of a foreign court, the ICC, or a Ukrainian special chamber, it will most likely be because he is no longer the head of state. So, that's not a reason to abandon the internationalized model," she stated.
Van Schaack added that "it doesn't mean you can't start an investigation, prepare charges against him and other individuals in the chain of command."
"Even more so against officials of the Ministry of Defense who planned and carried out the aggressive war but do not have immunity," the U.S. State Department representative noted.
Responding to a question about whether a tribunal that cannot overcome the president's immunity is worth the effort, Van Schaack responded affirmatively.
"Definitely worth it. There are many other high-ranking officials in Russia who are responsible for the war in Ukraine. They hold top leadership positions, make decisions, and direct actions that constitute Russian aggression. These individuals must be held accountable for the crime of aggression, for any war crimes and atrocities. Therefore, the Special Chamber for the Prosecution of Aggression still makes sense," she said.
Arrest warrant for Putin
In March 2023, the International Criminal Court issued an arrest warrant for Russian dictator Vladimir Putin. An arrest warrant was also issued for Maria Lvovova-Belova, authorized by the President of Russia for children's rights.