U.S. Defense Secretary aims to meet with Zelenskyy at Pentagon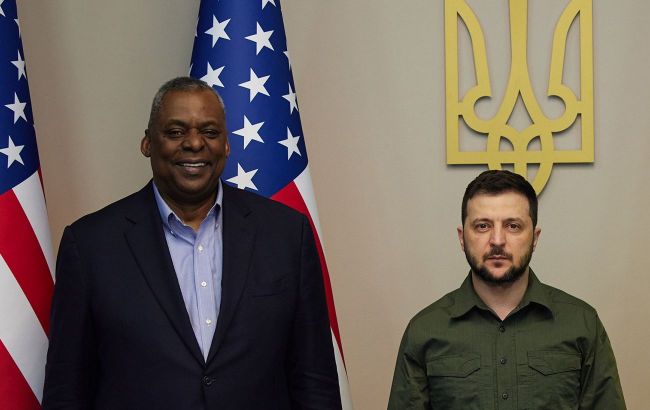 Lloyd Austin and Volodymyr Zelenskyy (Getty Images)
The U.S. Secretary of Defense, Lloyd Austin, aims to meet with President of Ukraine Volodymyr Zelenskyy, as he says this during a briefing after the Ramstein meeting of Ukraine's allies.
According to Austin, the meeting with Zelenskyy will take place on Thursday at the Pentagon.
"This is the 15th meeting, and each time I am impressed by the commitment of more than 50 countries gathered here to assist Ukraine in its defense. For the first time, Ukraine's Minister of Defense, (Rustem) Umerov, has joined us. I also expect to meet with President Zelenskyy on Thursday at the Pentagon," he said.
Austin also notes he is currently satisfied with the results of the meeting.
Ramstein-15 meeting
The meeting of the Ukraine Defense Contact Group at Ramstein airbase took place on September 19. Ukraine is represented by its new Minister of Defense, Rustem Umerov, for the first time.
According to experts, one of the key topics of the new meeting is the urgent needs of Ukraine.
Analysts agree that one of the urgent needs for the Armed Forces of Ukraine is artillery, as Russia, with possible assistance from North Korea, could return to the "fire barrier" tactics. Additionally, ahead of the heating season, Ukraine requires a large number of air defense systems.
For more detailed information on the Ramstein meeting, you can refer to RBC-Ukraine's article.